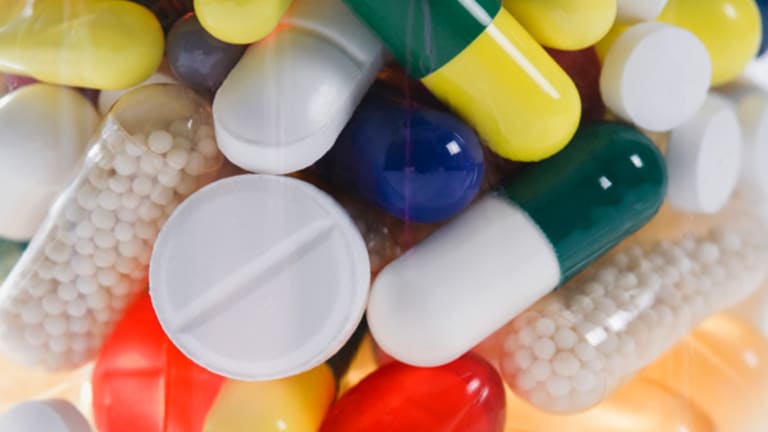 Doc Offers Glimpse Into Arena Pharma Weight-Loss Combination Therapy
Patients lost 12% of their body weight following 12 weeks of treatment with Arena's Belviq plus phentermine.
BOSTON (TheStreet) -- The Areniacs -- my term of endearment for the retail-investor supporters of Arena Pharmaceuticals (ARNA) - Get Arena Pharmaceuticals, Inc. Report  -- have been burning up the Internet message boards for the past few days with talk of weight-loss results from a combination of Belviq and phentermine.
With Belviq sales underwhelming to date and Arena's stock price near two-year lows, the company and its supporters are hoping that combining the drug with phentermine, a long-used, generic weight-loss drug, might be the ticket to accelerated commercial growth and a rebounding stock price.
The "Bel-phen" combination aims to mimic the weight-loss efficacy of the old fen-phen doublet but without the serious heart valve safety problems which forced the FDA to remove fenfluramine from the market. American Home Products (later Wyeth, later Pfizer (PFE) - Get Pfizer Inc. Report ), the maker of fenfluramine, eventually paid billions of dollars in damages to patients who suffered heart damage from taking fen-phen. Belviq is a chemical cousin of fenfluramine designed to bypass the heart safety risks.
On Monday, I spoke with Dr. Robert Huster, the Missouri obesity specialist who conducted his own, informal study of the so-called Bel-phen combination therapy. Huster presented his findings at a meeting of bariatric surgeons this past weekend, and it's these data which found their way onto the Arena stock message boards. Huster is not affiliated with Arena or its marketing partner Eisai.
An Eisai spokesperson told me via email that the company is aware of Huster's research but didn't have a comment. Eisai is nearing completion on its own phase II study of the Bel-phen combination therapy. The company hasn't said when or how it will communicate results from its Bel-phen study. 
With all that background, let's discuss Huster's study. Huster treated 30 patients from his Liberty, Missouri medical office with a half-dose of Belviq plus the standard, 37.5 mg per day dose of phentermine. The mean body mass index for these patients was 37.9. Huster said he used half the approved daily dose of Belviq to reduce costs and to play it safe with respect to heart safety.
Twenty-two of the 30 patients completed 12 weeks of Bel-phen therapy and lost an average of 12% of their baseline weight, or 28 pounds, Huster said. [Average baseline BMI for the patients was 37.9.]
"This was not a blinded, randomized or controlled study so the results are difficult to extrapolate, but I'm encouraged by the weight loss seen with the [Bel-phen] combination," said Huster. 
Huster has been managing weight loss for obese patients for 18 years. He's never used Belviq at the approved dose in his patients because the drug, on its own, has not shown significant results, he says. A handful of his patients have tried Vivus' (VVUS) - Get VIVUS, Inc. Report Qsymia, but the results have been similarly underwhelming, he added. Orexigen Therapeutics (OREX) secured approval for its weight loss drug Contrave just last week.
Most of his patients are either candidates for stomach-reduction surgery or adhere to a "very low calorie" diet which restricts them to about 800 calories per day. Huster says 12 weeks of the diet regimen yields a similar, average 12% weight loss from baseline as the Bel-phen combination therapy in his study. 
Eight patients treated by Huster didn't complete the 12 weeks of Bel-phen therapy. Four of the patients decided to switch to the very low calorie diet regimen, the other four patients stopped visiting his office and couldn't be reached for follow up. 
The 12-week study was too short to pass judgment on Bel-phen's heart-safety profile, which Huster says will be "overwhelmingly" the most important factor deciding the combination therapy's role in future obesity management. The tortured ghosts of fen-phen still linger. 
Without a control arm, it's difficult to put the 12% weight loss seen in Huster's version of Bel-phen into context. Certainly, the combination appears to be better than Belviq alone, which yields 5-6% weight loss from baseline after 52 weeks. If you look at charts from Arena's BLOOM study depicting weight loss over time, you can make a rough guesstimate that Belviq-induced weight loss after 12 weeks of treatment is around 4% of baseline weight. 
What about phentermine on its own? Huster says phentermine weight loss can be highly variable but generally speaking is around 6% of baseline weight, in his clinical experience. If you go back to one of the original, randomized, blinded and placebo-controlled studies of fen-phen published in 1984 (Weintraub et al, Arch Intern Med 1984; 144:1143-1148), phentermine monotherapy for 20 weeks resulted in an 11% weight loss from baseline. 
It's not surprising at all combining Belviq with phentermine results in more weight loss than Belviq alone, but without analyzing each drug separately in the same study, it's difficult to know if the combination is truly synergistic. And relatively short duration studies will not pick up the potential heart safety risks. For that, longer studies will be needed. 
As I mentioned above, Eisai is conducting its own phase II study of Bel-phen, which uses the approved, twice-daily dose of Belviq plus 15 mg or 30 mg of phentermine. Treatment duration is 12 weeks. Unfortunately, the study does not have a phentermine-only arm.
Adam Feuerstein writes regularly for TheStreet. In keeping with company editorial policy, he doesn't own or short individual stocks, although he owns stock in TheStreet. He also doesn't invest in hedge funds or other private investment partnerships. Feuerstein appreciates your feedback;
to send him an email.