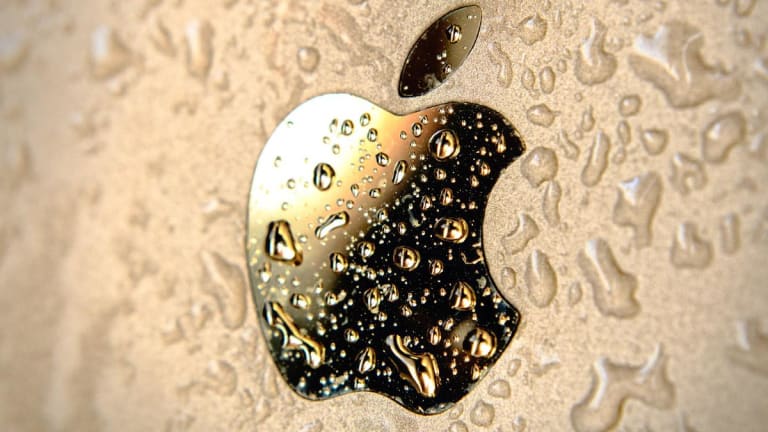 Do Apple Investors Have the All-Clear to Buy Stock?
At it's lows, Apple was down almost 40%, a bargain for long-term investors.
The selling really started in earnest in early October for the major moving averages. The Nasdaq, S&P 500 and Dow Jones were all under pressure, but the country's largest company by market cap was hanging tough.
At the time, Apple (AAPL) - Get Report still touted its $1 trillion market cap, a sign of strength amid a sea of turbulence. Going into its always-strong holiday quarter, Apple stock was quickly becoming a safe haven. Not just for tech investors, but all investors looking for some shelter.
If it's good enough for Buffett, it's good enough for them, too. Or so they said. Even with Apple's $100 billion buyback plan in place and surely a few billion from Buffett himself ready to dump into Apple on a decline, the stock has been hammered since it reported earnings on Nov. 1.
The numbers were mostly solid, although the company's decision to remove unit sales from its reporting surprised some investors and analysts. While not a material difference maker, this move gave investors an excuse to sell during a time where nearly every asset was under pressure. And sold they did.
Shares of Apple from $234 at their highs to sub-$147 just a few days ago. That's an $87 per share drumming in just a few months, good for a decline of 37%. Apple's $1 trillion market cap has dwindled to "just" $740 billion and investors have only paused once in the last 12 weeks to slow the selling.
So what now?
Apple is a holding in Jim Cramer's Action Alerts PLUS member club. Want to be alerted before Jim Cramer buys or sells AAPL? Learn more now.
Trading Apple Stock
With Apple stock down 11 of the past 12 weeks and almost 40% from its highs, something has to give, right? Either the world is ending and people are dumping their iPhones for fishing poles and firewood or we're seeing an overreaction.
My money goes to the latter.
We now have a company that's expected to grow revenue 4.6% and 4.1% this year and next year, respectively, while growing 2018 and 2019 earnings by 11.6% and 10.2%, respectively. It's got a fortress balance sheet, a $100 billion buyback, cash flows that make your jaw rest comfortably on the table (even when standing) and a 1.9% dividend yield.
So what's the valuation of this juggernaut? A casual 11.7 times this year's earnings, cheaper than the S&P 500 and near the lower end of its 10-year range.
While the iPhone business is obviously great, it helps that Apple also has a high-margin Services business churning out $10 billion in sales per year and growing at more than 25% year-over-year. At some point, investors need to close their eyes and just throw this thing in their long-term accounts. As Jim Cramer says, invest in Apple, don't trade it. 
The $150-ish level looks like a solid starting point to either add to an existing holding or initiate a new position. In this type of market, I wouldn't go all in at any one price in particular. But ~35% off the highs is a good place to start when we're talking about a high-quality name like Apple.
This article is commentary by an independent contributor. At the time of publication, the author had no positions in the stocks mentioned.