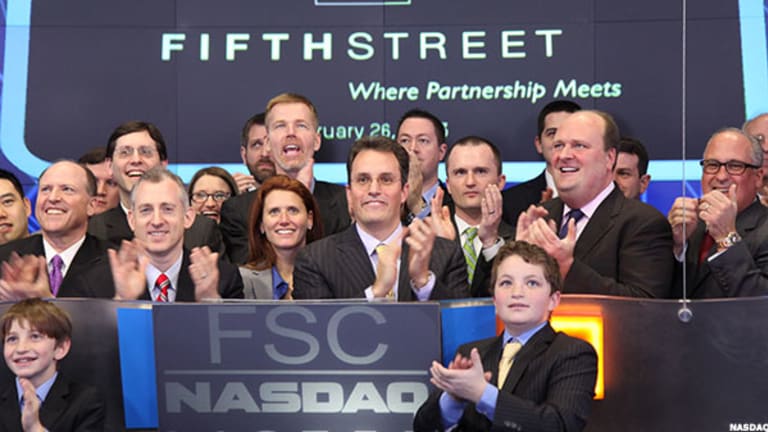 Do Fifth Street and Medley Dividend Cuts Signal Trouble for BDCs?
Fifth Street and Medley Capital slashed dividends Monday, but the outlook for investors in business development companies, or BDCs is generally pretty good.
NEW YORK (TheStreet) -- Fifth Street Financeundefined and Medley Capital (MCC) - Get Medley Capital Corporation Reportcut their dividends Monday, but the outlook for investors in business development companies, or BDCs, is generally pretty good, according to an analyst who follows the sector.
While there are "headwinds for the group," shares of BDCs have already been beaten down significantly and credit issues are likely to be manageable for most companies in the sector, according to Keefe, Bruyette & Woods analyst Greg Mason.
Business development companies lend to middle-market companies and -- like real estate investment trusts -- typically pay out most of their income to investors in the form of a dividend. Some also make equity investments. They often use leverage to enhance their returns.
While BDCs have been around since 1980, they have become popular in recent years among investors hungry for yield in an extended environment of low interest rates. BDCs have also been able to find better lending opportunities at higher yields because banks are doing fewer middle market loans than they used to in the wake of the credit crisis. Middle market loans refer to loans of roughly $100 million or less.
Still, yields have come down on loans, and Mason argues that isn't likely to change. That's because he believes the Federal Reserve will keep interest rates lower for longer than many investors anticipate, and the demand among investors for high-yielding loans to reasonably creditworthy borrowers far exceeds the supply.
Declining yields will be a factor for both Whitehorse Finance (WHF) - Get WhiteHorse Finance, Inc. Report and TICC Capital Corp. (TICC) , two more BDCs Mason expects to cut their dividends at some point later this year.
Whitehorse "set the dividend too high when interest rates were wider and you could charge more for your portfolio," Mason told TheStreet. Still he sees no credit issues in its portfolio.
TICC is a similar story. It invested in the equity portfolio of collateralized loan obligations sold before the financial crisis. Some of these investments generated a whopping 35% yield.
"When that rolls off you can't find 35% yielding investments today," Mason said.
With those exceptions, however, Mason -- who had expected the dividend cuts at Fifth Street and Medley -- isn't forecasting other dividend reductions.
"Most of the dividends in the BDC space are actually very strong and secure," he said.
Another positive for BDCs is they have already sold off substantially, suggesting downside is likely to be limited. Prospect Capital Corp. (PSEC) - Get Prospect Capital Corporation Report and American Capital (ACAS) , the largest BDCs, are down 23% and 9%, respectively, over the past 12 months. Following a near-15% drop Monday, Fifth Street is down 27.5% over the past 12 months.
Mason sees several reasons for the selloff, though probably the most important factor was the decision by Russell Investments to remove BDCs from its indices. That decision reduced the pool of BDC investors by some 11%, according to Mason.
Since Russell made its decision, BDCs have traded below book value, essentially preventing them from issuing new shares. Mason believes BDCs can eventually return to trade at or above book value, as opposed to the 90% where many of them trade today. However, he thinks it may be a long time before they return to peak valuations of 1.15% seen a roughly a year ago.
Another concern for BDCs is rising defaults. Fifth Street, for example, disclosed Monday that four new loans had gone into default in its fiscal first quarter ended Dec. 31 and a fifth has defaulted since that time. Mason believes BDCs as a group are likely to see a rise in defaults, but he expects the issue to be manageable 
"I don't see major credit issues across the BDC space," he said.