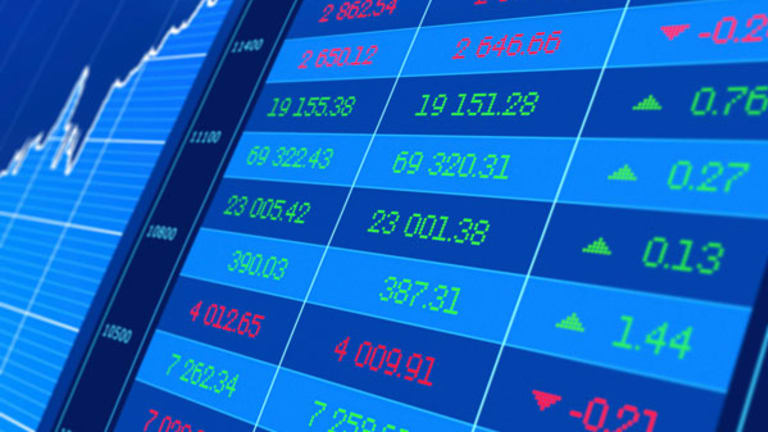 NEW YORK (TheStreet) -- There is no question that a well-chosen selection of dividend-paying stocks can be an asset to any portfolio. However, not all dividend-paying stock are the same.
In some cases, corporations that have some kind of difficulty will hike the stock dividend in order to attract yield-hungry investors. It's important to keep in mind that while a strong dividend can signal good things about a company, an exceptionally high yield may signal the opposite.
For instance, the highest dividend yield in the Dow Jones Industrial Average I:DJI is approximately 5%. While there's no hard and fast cut-off for yields that might be too high, keep in mind that having a dividend yield north of 10% is higher than what investors can earn on most junk bonds.
Don't let a high dividend lead you to neglect doing the basic fundamental research on a stock. In particular, you need to look for cash and growth.
Dividends are paid out of cash. If the company lacks cash, it will have to fund the dividend either through debt or selling stock, neither of which is sustainable.
Before you buy into a company, examine how it has been funding its dividends. Look for any threats to the cash supply, such as high debt or factors that restrict its use of cash. (For example, a large portion of a company's cash might be in tax havens and not available without triggering large taxes.) You can do your own calculations or rely on analysts' consensus.
Dividends are typically paid from cash, and cash comes from earnings. Future earnings will be tied to growth.
Any threat to earnings and growth, therefore, could be a harbinger of a future dividend cut.
Even with a company that has good cash flow, map both the earnings path and the annual dividend rate before you consider investing. If the earnings are far below the dividend rate, consider doing more research.
Even with good cash and growth, a company can cut a dividend. Keep that in mind. Stocks paying dividends are not guaranteed: the company's board chooses whether or not to pay out cash dividends to shareholders.
In the challenging last quarter of 2008 alone, 288 companies cut dividend payouts, according to Standard & Poor's. By the end of 2009, another 804 dividend payments were cut by public companies.
As a side note, not all dividend cuts are signs of looming financial catastrophe. Pfizer (PFE) - Get Pfizer Inc. Report, for instance, cut its dividend in half to fund its acquisition of Wyeth.
Furthermore, investors need to realize that yield is relative and that dividends are taxed.
Many investors seeking high dividends search for stocks based on the dividend yield without realizing that yield is relative. The yield is based on the dividend and the stock price. If the dividend itself increases, or the price of the stock decreases, then the dividend yield can go up. A yield can climb because the company increased the dividend payment or the company's share price may have taken a dive.
Also, many investors seek out dividends without figuring in the tax consequences. From a tax perspective, a stock's price appreciation may be more valuable than dividends because with price appreciation the investor is not taxed until the equities are sold. With dividends, taxes kick in when the company pays out.
All in all, choosing an investment purely for its high dividend or high dividend yield can cause a variety of unplanned issues that could rob the investor of some or all of the profit derived.
At the time of publication, the author held no positions in any of the stocks mentioned.
This article represents the opinion of a contributor and not necessarily that of TheStreet or its editorial staff.
Jim is chief investment officer of
Wealth Enhancement Advisory Services
, the Registered Investment Advisor arm of Minneapolis-based Wealth Enhancement Group. The advisors at Wealth Enhancement Group are registered with and offer securities through LPL Financial, Member
/
. Wealth Enhancement Group and Wealth Enhancement Advisory Services are not affiliated with LPL Financial. Prior to joining Wealth Enhancement Group, Jim served as chief investment officer and portfolio manager for a Chicago firm, where he oversaw investment programs, launched a hedge fund-of-funds and consulted with clients. He has a B.S. in Economics and Performance Studies from Northwestern University, and an MBA from the University of Chicago Booth School of Business.