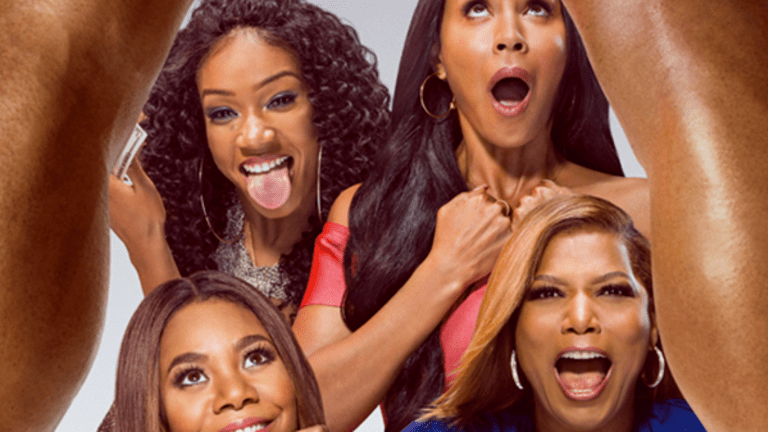 Diversity in Film Is Translating Into Big Box-Office Receipts
The recent success of "Girls Trip" highlights a larger trend in Hollywood.
This past weekend, three of the top five films at the box office featured black protagonists.
Sony's (SNE) - Get Sony Corp. Report  "The Dark Tower" likely had Idris Elba to thank for its No. 1 showing, as many moviegoers no doubt hope that the Stephen King adaptation serves as a warm-up for a future "James Bond" outing. Fellow newcomer "Kidnap," starring Halle Berry, opened to a solid $10.2 million despite its release from a novice distributor, Aviron Films. And "Girls Trip," an R-rated comedy from Universal (CMCSA) - Get Comcast Corporation Class A Report  that stars four black women, grossed $11.3 million in fourth place, good for an $85.4 million total through its third weekend.
In fact, "Girls Trip" is already the year's highest-grossing comedy and will ultimately surpass the lifetime total of "Bad Moms" ($113.3 million) to become the highest-grossing R-rated comedy in three years.
That's an impressive showing for a film that was produced for $19 million and highlights a fact that studios are slowly coming to realize: blockbusters do not need to star white male protagonists in order to be successful. In fact, some of the year's most profitable films have starred people of color. 20th Century Fox's  (FOXA) - Get Fox Corporation Class A Report  "Hidden Figures" and "The Big Sick" from Amazon Studios (AMZN) - Get Amazon.com, Inc. Report both crossed over from specialty releases to mainstream hits this year, blowing past expectations in an industry that still seems consistently surprised by the success of films that don't center around white characters.
The profitability of these films should come as no shocker, though, considering that about half of movie ticket sales in the U.S. come from people of color, as per research from the Motion Picture Association of America.
"Audiences like to see themselves reflected on the big screen," said comScore  (SCOR) - Get comScore, Inc. Report  senior analyst Paul Dergarabedian. "And when that representation is coupled with a great movie, it's magic."
One of the best-reviewed movies of the year--as well as the most profitable, based on revenue to production cost--is "Get Out," a social satire from Jordan Peele and Universal's Blumhouse. The film cost $5 million to produce and has grossed $252.4 million worldwide, an incredible return on investment for Universal.
The thriller quickly developed a reputation among moviegoers as a must-see when it opened in February, both for its campy thrills and its commentary on race relations in modern-day America. The villains of the movie are white people who profess to being socially conscious while actually engaging in racist activity--a perfect film to capture the zeitgeist a month after Trump's inauguration.
"The good movies are like tuning forks: they resonate with the culture," added Dergarabedian.
Indeed, the summer's biggest hit played into the zeitgeist in a huge way to achieve its heroic box office grosses -- promoting diversity through female empowerment. Warner Bros.'s  (TWX)  "Wonder Woman" has broken all kinds of records since its June release, due in part to its status as the first major super-heroine film in the modern era of big-screen spandex. Women have turned out in force to support the film, but it is also a bona fide four-quadrant hit, as most moviegoers have tired of seeing white men be the hero of every story.
The success of films like "Get Out" and "Wonder Woman" continues an encouraging trend in Hollywood. Some of the most lucrative blockbusters of the past few years have featured female protagonists ("Star Wars: The Force Awakens"), multi-ethnic casts ("The Fate of the Furious") and messages that are unmistakably pro-diversity ("Zootopia"). The Best Picture victory for "Moonlight" at this year's Oscars suggests that some in Hollywood have recognized the importance of bolstering films with diverse casts.
Of course, that doesn't mean that the entire industry has turned a corner--far from it. A recent study from the University of Southern California's Viterbi School of Engineering found that films still predominantly feature white men and are likely to reinforce stereotypes through women and minority characters. The recent blockbuster "Dunkirk" has been criticized for erasing the presence of the Indian and African soldiers who were also stranded on Dunkirk beach (the film's cast is all-white).
Veteran casting director Ellen Chenoweth said that though studio executives had grown more receptive to the idea of casting diversely, the full potential of diversity in film has yet to be realized.
"There are more stories to tell--gender fluid stories, for instance," Chenoweth said. "All it takes is someone putting that toe in the water before everyone else does."
Gender fluid stories are still notably absent from cinemas, as are stories about Asian characters. It is becoming increasingly difficult to justify the absence of these films. If there is anything that 2017 has proven so far, it is that movies featuring underrepresented protagonists have no shortage of potential at the box office.
"Even if studios are looking at nothing else but the bottom line, it makes financial sense to make sure your films include diverse talent," said Dergarabedian. "2017 has been a watershed year so far, and hopefully it will inspire young filmmakers from all backgrounds to enter this industry."