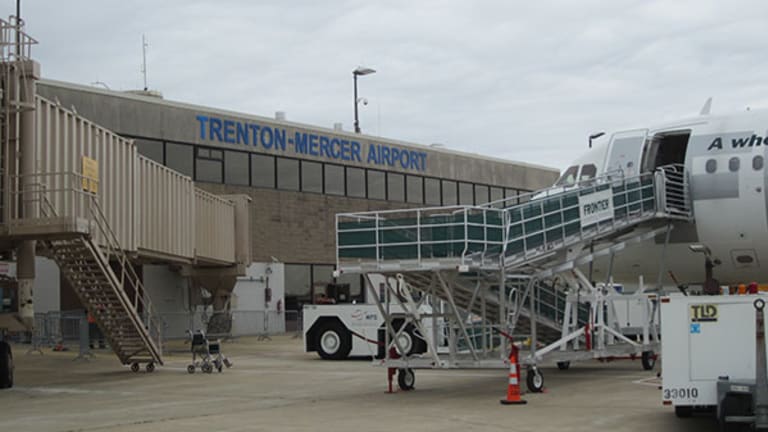 Disrespected Trenton Airport Takes On Philadelphia, US Airways
Frontier Airlines plans to serve 11 destinations from Trenton Airport, just 50 miles from US Airways' Philadelphia hub.
TRENTON (
) -- Once again, an airline is looking to grow at Trenton-Mercer Regional Airport, which for years has been an airport with a bright future, never realized.
Although Trenton-Mercer is in the middle of a vast population center, the airport's growth has been stymied by proximity to Philadelphia International Airport, which is 50 miles away, along with noise concerns and inadequate infrastructure. At one time,
Southwest
(LUV) - Get Southwest Airlines Co. Report
was thought to be considering service to Trenton, but that dream never materialized.
In the big picture of commercial aviation, as major carriers tighten their strangleholds on the nation's principal airports, outliers like Trenton-Mercer present one of the few options for growth by smaller airlines seeking to compete on the basis of low fares.
Frontier Airlines, a subsidiary of
Republic
(RJET)
building service at Trenton, said last week it will begin flying from Trenton to Cincinnati and Charlotte on Feb. 12, 2014. Frontier calls Trenton "the gateway to New Jersey's state capital, all of central New Jersey and Southeast Pennsylvania, including metro Philadelphia."
US Airways
(LCC)
operates its second largest hub at Philadelphia.
Central New Jersey residents also use Newark Liberty International Airport, a hub for
United
(UAL) - Get United Airlines Holdings, Inc. Report
.
Once Charlotte and Cincinnati are added, Frontier will fly from Trenton to 11 destinations, including Atlanta, Chicago Midway, Columbus, Detroit, Fort Lauderdale, Fort Myers, Orlando, Raleigh-Durham and Tampa.
All of the service is temporarily suspended because Trenton Airport shut down Sept. 9 for construction projects involving the runway, terminal and parking lots. The main runway, which at 6,006 feet long is short, requires an Engineered Material Arresting System, or EMAS, crushable concrete blocks that could stop runaway aircraft. The airport will reopen Nov. 8.
Over the years, Trenton has been served by about a half dozen airlines, some barely known and, except for Frontier, all gone. Among them was US Airways, which flew to Pittsburgh; United, which flew to Chicago; and
Delta
(DAL) - Get Delta Air Lines, Inc. Report
regional partners which flew to Atlanta and Boston. Officials of Mercer County, which operates the airport, courted Southwest in the 1990s, but the carrier "never set up shop," said county spokeswoman Julie Willmot.
Perhaps the most notable effort to use Trenton was by
Eastwind Airlines
which established a small hub in the mid 1990s, serving Atlanta, Boston, Greensboro, N.C., Providence, R.I., Richmond and a handful of Florida markets. "Folks here are starved for a home-based airline that's convenient and cheap to use," onetime
Philadelphia Inquirer
reporter Tom Belden wrote in August 1995, as the service was launched. N.J. Governor Christie Todd Whitman showed up for the event.
Belden wrote that Trenton Airport was renamed Trenton-Mercer at Eastwind's request, in order to enhance marketing efforts. (Today Frontier markets the airport as Trenton/Princeton.) In a subsequent story, Belden described the "boxy little terminal." Eastwind, setting the stage for Frontier, relied on low fares to attract passengers. In 1998, it sought to expand into Philadelphia, from which it served three routes. In 1999, it shut down due to financial problems.
Aviation consultant Robert Mann said Trenton may not be the best place to set up shop. "Trenton is a state capital, a federal court house is there, and it has (a large) catchment area, but it's also a mini-Detroit, a former manufacturing center that is past its peak," he said. "There is a band of wealth around Trenton, but it is not near Trenton."
Mann call Frontier's effort a classic chicken-and-egg situation, where low fares, frequent service and desirable destinations could lure passengers, but an airline needs sufficient passengers to establish such service. Succeeding at Trenton will be tough, he said, "absent huge fare stimulation and a fair amount of cannibalizing Philadelphia or Newark business."
Frontier's Charlotte plans offer a glimpse of its service model. The carrier will use Airbus A319s seating 138 passengers. (On the same aircraft, US Airways seats 124 passengers.) The flight will operate Monday, Wednesday, Thursday and Sunday, departing TTN at 5:35 p.m. and arriving in Charlotte at 7:10 p.m. The aircraft makes a 40-minute turn, departing Charlotte at 7:50 p.m. and returning to Trenton at 9:30 p.m. (The Cincinnati service also has a 40-minute turn.) Introductory fares start at $39 one-way.
A US Airways spokeswoman declined to comment. Typically, airlines do not welcome low cost competitors at their hubs, although four weekly evening non-stops to Trenton is barely a gnat compared with US Airways' 613 daily Charlotte departures. Nor do airlines welcome the creation of satellite airports near their hubs, which require a critical mass of flights and passengers to operate successfully. For instance, Delta opposes the creation of a new airport, Paulding Northwest Atlanta Airport, in Paulding County about 38 miles from downtown Atlanta.
In mid-morning trading on Tuesday, US Airways shares were up 13 cents to $20.71. Shares are up 53% year-to-date. Shares of Republic were down 4 cents to $11.19. Republic shares are up 96% this year.
Coincidentally, Frontier CEO David Siegel, is a former US Airways CEO, and Frontier was recently purchased by Indigo Partners, which is headed by Bill Franke, formerly CEO of US Airways predecessor America West Airlines and former chairman of
Spirit
(SAVE) - Get Spirit Airlines, Inc. Report
Spirit, by the way, has 145 seats on its A319s, perhaps an indication of the direction Frontier might take going forward, as it seeks to maximize revenue.
Brent Cagle, interim director of Charlotte Douglas International Airport, said "Trenton is a market that is underutilized" and that benefits from being in a highly populated area. He said Frontier officials have been talking with Charlotte Douglas officials since early this year, seeking to determine operational costs and gate availability but not revealing what market they intended to serve.
"We're excited when any new entrant comes to Charlotte," Cagle said. "In general, competition is good."
-- Written by Ted Reed in Charlotte, N.C.
>To contact the writer of this article, click here: