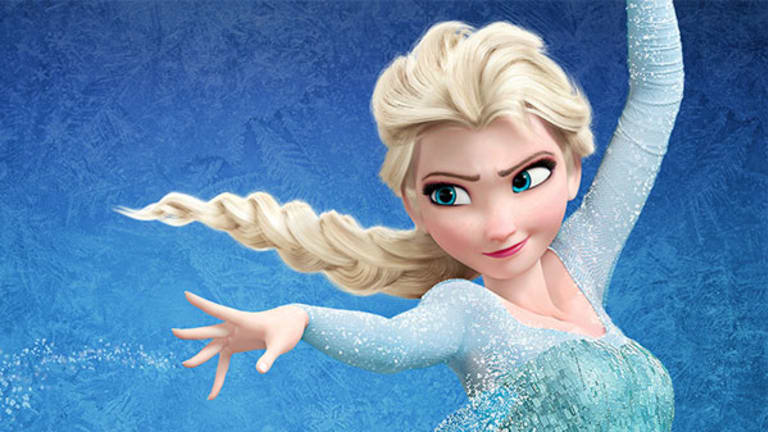 Disney's 'Frozen' Will Become the Biggest Franchise Ever
Disney has shown it's preparing to ride 'Frozen' in products, theme parks and sequels that could last for decades.
Disney has shown it's preparing to ride 'Frozen' in products, theme parks and sequels that could last for decades.
NEW YORK (TheStreet) -- Disney's (DIS) - Get ReportFrozen is no longer a movie, it's a global brand, a larger than life franchise built around products, theme parks and sequels that could last into the next century.
"It's become massive," said Phil Contrino, chief analyst at BoxOffice.com, in a phone interview. "The film part of Frozen has been the launching point into merchandising, to when it hits Broadway, to any sequels which will further the brand. Disney is going to be selling Frozen merchandise for a long time."
In just one year since its release, Frozen has become the biggest selling animation film ever, with box office receipts in excess of $1.27 billion, according to Rentrak (RENT) , the media measurement company. For the three-month period ended Sept. 30, Frozen drove a doubling of operating profit at Disney's film studios. The story of a pair of princess sisters battling evil, cold weather and a conniving would-be prince continues to generate revenue from home entertainment channels worldwide as well as international cinemas. 
Frozen is poised to outstrip other successful franchises such as Harry Potter, Hunger Games, Lion King and even Star Wars, the movie that spawned the franchise label, said Paul Dergarabedian, a Rentrak media analyst. 
"In the pantheon of franchises, you have to include Frozen," Dergarabedian said in a phone interview from Los Angeles. "For Disney, Frozen is an essential part of its long-term strategies, which start with movies and then everything branches out from there. The box office results for Frozen shows just how powerful that brand is and can be."
For Burbank, Calif.-based Disney, which also owns ESPN, ABC, Marvel Studios, Pixar and theme parks around the world, Frozen is just one part of the world's largest entertainment conglomerate but it is an essential part of three of its four units: movie studios, theme parks and consumer products. The film, inspired by Han Christian Andersen's The Snow Queen, helped to drive a 21% increase in operating income to $13 billion at Disney during the 12 months ended in September. Sales for the company were $49 billion during its fiscal 2014, a rise of 8%. 
On Thursday, Disney laid out more its future movie slate, revealing the name of the seventh installment of its landmark sci-fi franchise as Star Wars: The Force Awakens, scheduled for release in December 2015, and Toy Story 4, yet another in that series due to open in June 2017. Two weeks ago, Marvel Studios unveiled its slate of Avenger films clear through 2019 highlighted by Avengers 2, Ant-Man and Star Wars next year and Black Panther in 2017. Guardians of the Galaxy, another Marvel superhero film released in August, has been the top-grossing film this year with $329.4 million in sales. 
As for Frozen, Disney has been mum about its plans for the story but Dergarabedian said it's likely the film will spawn multiple sequels, theme park rides, stage plays and lots more merchandise. Already more than three million Frozen dresses have already been sold worldwide. 
For the latest quarter, Frozen also helped to drive sales at Disney's theme parks, which accounted for 31% of the company's revenue and 20% of its operating profit. Because Frozen is animated, it travels well internationally, a point CEO Bob Iger emphasized when he announced that Disney will reveal an opening date for its Shanghai Disneyland theme park early next year. Even considering costs associated with the Shanghai project and weakness at its Paris park, income at Disney's theme parks still climbed 20% to $687 million in the latest quarter. 
"Our films have done particularly well in China, particularly the ones that drive consumer products," Iger said, adding that Disney's movies, not its theme parks, are the main driver of consumer products sales.
Disney is making fewer films than in years past as it focuses on so-called tentpole movies with wide appeal, especially internationally. That's important as audiences become more splintered, a trend made clear by declines in television ratings and the increased popularity of standalone digital offerings led by Netflix (NFLX) - Get Report and Google's (GOOG) - Get Report YouTube, said Dave Morgan, chief executive of New York-based Simulmedia, an advertising-technology company focused on television.
"In a fragmented media world, brands and franchises become exponentially more important," Morgan said in a phone interview in New York. "You really see that abroad where companies are not in control of distribution as much as they are in the U.S. and your brand has to stand up on its own. Disney has shown that it really executes well in taking brands across borders and across their business channels."
Frozen, together with the 2010 film Tangled, marks the return to glory for Walt Disney Animation Studios, which stumbled under Iger's predecessor Michael Eisner, and was rejuvenated in part by Disney's acquisition of Pixar Animation Studios in January 2006 for $7.4 billion. Iger became CEO in October 2005. 
The Pixar purchase, said Tim Maleeny, global chief strategy officer at advertising firm Havas Worldwide, revitalized Disney Animation by showing that the company made famous by Mickey Mouse could make animated films that were modern and complex yet still appealed to children. Hit films Toy Story, Cars and most recently Monsters University helped to remake Disney, he said. Toy Story 3, which came out in 2010 starring Tom Hanks and Tim Allen, ranks second all-time among animated films with sales of $1.06 billion; Frozen is number one.
Frozen, Maleeny said, has succeeded by combining multi-dimensional characters with classic storytelling, spinning a tale of two strong-willed sisters who persevere through an evil spell and a cold winter landscape to reunite with the help of a lovable snowman and a handful of catchy songs. In the process, Disney gave a modern generation of young girls, and sometimes boys, a film they could embrace, and a lot of theme park rides and merchandise they could buy.  
"Disney is back in the empathy business," Maleeny said in a phone interview in New York. "For kids to go see a movie, to want to participate in it, to buy the stuff, it had better be a great story. Disney seems to have gotten its mojo back and has created a very big franchise." 
--Written by Leon Lazaroff in New York
Contact by Email.
Follow @LeonLazaroff
Leon Lazaroff is TheStreet's deputy managing editor.