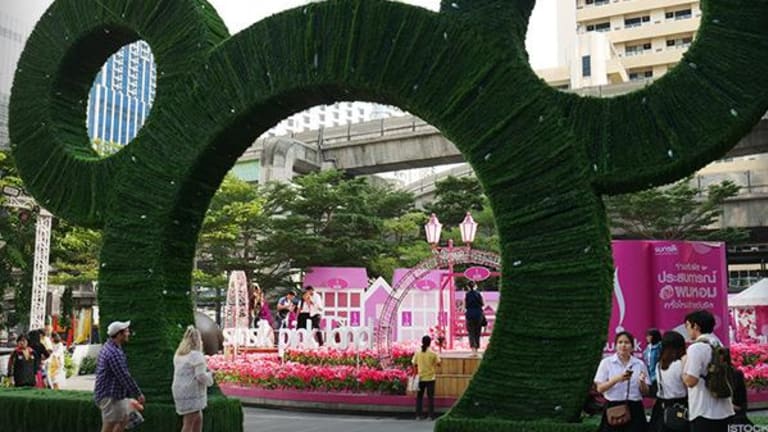 Publish date:
Netflix Won't Be Seriously Hurt By Disney's Upcoming Streaming Service
The strength of Disney's franchises should allow its streaming service to pay off. But Netflix and Amazon's momentum will continue, as will cord-cutting.
The strength of Disney's franchises should allow its streaming service to pay off. But Netflix and Amazon's momentum will continue, as will cord-cutting.
When I first read on Tuesday that The Walt Disney Co. (DIS) - Get Report won't renew its movie-licensing deals with Netflix Inc. (NFLX) - Get Report when it expires at decade's end, and instead put its films on a rival streaming service, my first thought was, "this is a bit like pulling the plug on Skynet after it's become self-aware."
In hindsight, that was a little off. It's more like pulling the plug after Skynet is self-aware, and then waiting another two years to react to Skynet's moves. The market's realization of how belated Disney's move will be explains why Netflix fell a mere 1.5% in response to it -- shares are still up 42% on the year -- much less than the 3.9% drop Disney recorded in the wake of a disappointing June quarter report.
There was a point in Netflix and Amazon.com Inc.'s (AMZN) - Get Report history as streaming providers where a concentrated effort by Disney and other media giants to avoid licensing popular movies and shows to third parties in favor of only airing them on their own streaming services may have succeeded in preventing Netflix and Amazon from becoming monsters (admittedly, Amazon's resources and Prime bundling strategy would've made it tougher to thwart).
Now, Netflix and Amazon have reached a point where the likes of Disney and Time Warner Inc.'s (TWX) HBO can merely hope that consumers will buy their streaming services to complement what they're getting from Netflix/Amazon. And in the process, they'll only serve to heighten the long-term pressures faced by legacy revenue streams.
Disney says its company-branded streaming service, due at some point in 2019, will be the exclusive home of Disney and Pixar films starting with its 2019 theatrical slate. Disney will also supply the service with original shows and movies, and library content that includes "Disney and Pixar movies and Disney Channel, Disney Junior and Disney XD television programming." The service, along with an ESPN service launching next year, will rely on streaming infrastructure provider BAMTech -- Disney just paid $1.58 billion to up its stake in BAMTech to 75% from 33%.
Watch More with TheStreet:
Who Holds the Biggest Share of Snap?
It's Not Just North Korea, This is a Stronger Time for Gold
Notably, CEO Bob Iger says Disney hasn't decided on whether to show Marvel and Lucasfilm (Star Wars) films on the Disney-branded service. He suggests the company is open to either continuing to license Marvel/Lucasfilm content to Netflix or a peer, or to offer them through "a proprietary Marvel service and Star Wars service." Iger also noted Disney will continue teaming with Netflix on original shows relying on Marvel IP (Luke Cage, Iron Fist, etc.), and will also continue licensing ABC shows to Netflix.
Though it's understandable that Disney wants to mull its options for Marvel/Lucasfilm, given the value of their franchises, it's very much in the company's interests to add Marvel/Lucasfilm content to the streaming service. Both due to the quality of the competition, and because a lot of Marvel/Lucasfilm material is quite popular with the kids whom the Disney service targets. One also can't forget that it's the kids' parents who will ultimately be paying for the service, and providing some popular materials that parents might also like could do much to drive sign-ups.
Given the strength of Disney's various franchises, there's every reason to think that its streaming service will be popular, provided pricing is reasonable. In much the same way that HBO's streaming offerings -- both the HBO Go service, which comes bundled with pay-TV HBO subscriptions, and the standalone HBO Now service -- are proving popular.
Just don't count on many consumers cancelling their Netflix subscriptions on account of Disney's service, given how hooked the company's 100 million-plus global subs are on its steadily-growing array of original shows and movies. And definitely don't expect them to cancel their Amazon Prime subscriptions, given the appeal of Prime's non-video services and the fact that Amazon is now comfortable pouring billions into original content itself.
Moreover, by the time that the Disney service launches, Netflix and Amazon's Prime Video will have even more customers hooked on their services, particularly overseas. Netflix added 4.1 million international and 1.1 million U.S. subs in Q2, and Amazon saw its retail subscription service revenue (dominated by Prime) grow 51% to $2.17 billion.
One can also expect Netflix, which has two years to prepare for the end of its expensive Disney deal, to have a stronger library of original films and kids-friendly original shows by 2020. The company has a $6 billion-plus 2017 content budget, and it's a safe bet that Reed Hastings' firm will direct some of the funds that it has been spending on Disney material towards content that it thinks fans of Disney franchises would enjoy.
And unlike Disney films, Netflix and Amazon original films aren't exclusively shown in theaters for several months before becoming available online. Here as elsewhere, Disney's need to protect giant older revenue streams becomes an online handicap.
Meanwhile, Disney's service is likely to hurt ratings and pay-TV affiliate fee revenue for the Disney Channel, Disney Junior and Disney XD. Perhaps more importantly, the service (like Netflix, Prime Video, Hulu Plus and the rest) gives consumers another incentive to cut the cord rather than pay for TV bundles containing only a handful of channels that they frequently watch, and in doing so serves as one more problem for Disney's very profitable Cable Networks business, which is underpinned by ESPN.
Cable Networks revenue fell 3% annually in the June quarter to $4.1 billion, with ESPN's ad revenue and subscriber declines offsetting higher per-subscriber affiliate fees. The segment's operating income, pressured by lower revenue, expensive sports-licensing deals and restructuring costs, fell 23% to $1.5 billion.
Barclays Takes Citi's Rodrigues to Head Credit Card Unit
ESPN, believed to collect over $7 per month on average for each pay-TV sub that has access to the channel, has seen its subscriber base steadily drop for several years as cord-cutting's momentum has grown. Nielsen estimates ESPN's household reach fell 3.3% annually in May to 86.9 million. This number doesn't count an estimated 1.3 million subscribers to online TV services, but either way, it's well below the 100 million-plus subs ESPN was believed to have in 2011.
The still-massive size of ESPN's affiliate fee business naturally makes Disney very hesitant to fully offer ESPN on a standalone basis, and thus end an age-old business model in which ESPN holds pay-TV providers scared of angering sports fans hostage for giant per-user fees, including for subs who don't watch a minute of ESPN. The upcoming ESPN streaming service, which doesn't feature NFL or NBA content and also might not feature ESPN's most valuable MLB and NHL content (details are light), doesn't really change the equation here.
The long-term decline of the Cable Networks business, together with the incremental pressures placed by cord-cutting and Netflix/Amazon's original content spend on ABC and Disney's studios, remain elephants in the drawing room for Disney. At this point in the online video world's evolution, the streaming services the company has planned can only reduce the pain it will face in coming years, not end it.
More of What's Trending on TheStreet: