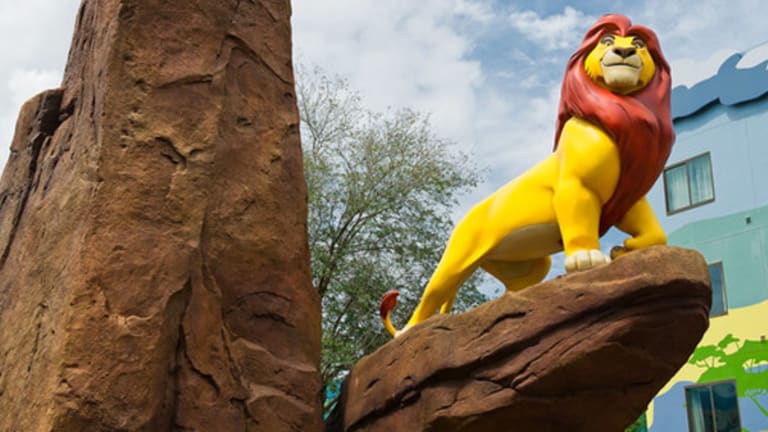 Disney Should Be 'Heralded': More Squawk From Jim Cramer
It is 'very important' that the story on Disney not be so attached to the success of ESPN, TheStreet's Jim Cramer said.
Shares of Walt Disney (DIS) - Get Report were climbing in early morning trading on Monday, after Bank of America/Merrill Lynch added the stock to its U.S.1 list, saying the company is primed to outperform in 2017. Furthermore, the release of Disney and Lucasfilm's "Rogue One: A Star Wars Story," crushed the weekend box office.
The newest Star Wars installment delivered the third-largest opening of 2016, raking in $155 million domestically. It was the 12th-largest opening of all time and the second best December opener to debut at over $100 million.
Concerning Disney's movies tentpoles, "[CEO Bob] Iger has been very adamant that these are $800 million movies and more, that's a lot of upside," TheStreet's Jim Cramer said on CNBC's "Squawk on the Street" Monday morning.
Cramer asked who wouldn't want to own Disney ahead of the release of "Guardians of the Galaxy 2," and "Pirates of the Caribbean: Dead Men Tell No Tales." The previous Guardians of the Galaxy film earned over $770 million worldwide at the box office, while the most recent Pirates of the Caribbean (On Stranger Tides) brought in over $1 billion worldwide.
"The release schedule here is extraordinary, you have quarter after quarter where you are going to have a big release," Cramer noted. "The film schedule doesn't get talked about enough and ESPN is talked about too much."
When reading the Bank of America/Merrill Lynch note on Disney Cramer points out that there is no mention of ESPN, and the loss of subscribers. "When you read this piece, it makes you think that ESPN is kind of like ABC. People used to talk about ABC and it doesn't matter anymore," Cramer stated.
He believes the analysts are attempting to write a story on Disney without so much emphasis on ESPN moving forward, "I think that's really important," he added.
Moreover, the two catalysts that could drive Disney stock higher are a potential tech-based transformation of ESPN and a more lenient corporate tax environment.
"Disney has a 35% corporate tax rate, it is a huge winner under President-elect Trump's plan and I don't think people understand. It should be heralded," Cramer contended.