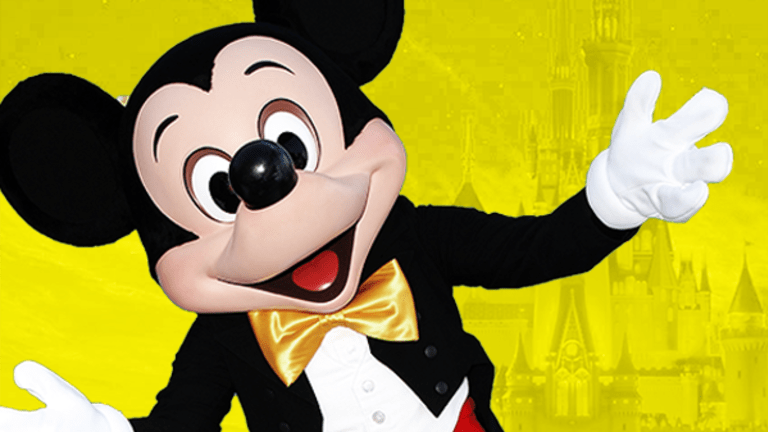 Disney Shares Tumble as Company Cuts Ties With Netflix: What Wall Street's Saying
The media giant's two new direct-to-consumer offerings lay the groundwork for a 'stronger future,' one analyst said.
Disney (DIS) - Get Walt Disney Company Report  grabbed headlines on Tuesday when it announced that it plans to part ways with Netflix Inc. (NFLX) - Get Netflix, Inc. (NFLX) Report in favor of going direct-to-consumer. 
The media giant said it would pull programming from Netflix in 2019 and launch its own streaming services. Disney will roll out an ESPN-branded streaming service in 2018, along with a separate streaming service, pegged for 2019, that will have exclusive access to new live action and animated movies, including "Toy Story 4," "Frozen 2" and the new live-action version of "The Lion King," as well as shows from the Disney Channel. Disney also said it plans to acquire a majority stake in BAMTech, the technology platform that already powers its services, for $1.58 billion.
For its fiscal third quarter overall, Disney earned an adjusted $1.58 per share on revenue of $14.23 billion. Analysts had projected earnings of $1.55 per share on revenue of $14.4 billion.
Disney's announcement marks a big blow to Netflix, given that Disney is responsible for about 30% of all Netflix viewing in the U.S.
Shares of Disney were sliding 4.9% to $101.72 on Wednesday morning. Netflix's stock was declining 2.3% to $174.29.
Wall Street analysts agreed that the announcement represents a major shift in strategy for Disney, as it's now looking to serve up content directly to the consumer. Here's what they had to say media juggernaut's big move: 

Brian Wieser, Pivotal Research (Sell, $85 Price Target) 
"We note the company's investment of $1.6 billion for 42% of BAMTech (bringing Disney's stake in the business to 75%) was not unexpected, instead occurring somewhat earlier than we thought it would have...Strategically, establishing a direct to consumer relationship is a good thing for Disney in particular and media owners in general. Important questions include a) whether or not the company can build big-enough businesses in markets that probably won't grow enough to absorb all new content and services available to consumers on top of existing ones that will likely only gradually decline b) how to establish a sufficiently differentiated product without harming relationships with incumbent distributors and business partners and c) how to do this in a manner that is at least as profitable as existing business models." 
Omar Sheikh, Credit Suisse (Outperform, PT lowered to $120 from $125) 
"Disney's decision to shift its distribution strategy towards a direct to consumer model leans into the accelerating shifts in video consumption. Ahead of us we now have a period when EPS/FCF growth will be diluted by investment, but we believe the company is laying the groundwork for a stronger future strategically, not least by putting ESPN in a stronger position to successfully renew key sports rights in 2021/22...We expect DIS to announce product pricing and investment levels in the coming months - this will determine how disruptive these branded direct to consumer services might be to Disney's linear networks."
Vijay Jayant, Evercore (Outperform $120 PT) 
"Now on the Path to Controlling Their Own DIStiny...Against the backdrop of a rapidly evolving pay-TV landscape and in the face of well-publicized structural challenges at ESPN, Disney's fiscal third quarter will be remembered more than anything for a series of milestone announcements issued in conjunction with a lackluster earnings release that signal a change in strategic direction. We like the direction the company seems to be taking and think a migration to some DTC distribution could ultimately yield large returns, albeit with some elevated risk." 
Daniel Salmon, BMO Capital Markets (Underperform, PT lowered to $90 from $95) 
"The DIS-branded DTC app will broaden consumer options for "entertainment only" products (a la NFLX and the entertainment bundle discussed by VIAB, DISCA), but ultimately we believe DIS is best served being "offensive" on this front. And if that pushes ESPN a little closer to its true elasticity of demand, so be it. By F2019, the renewal cycle should be passed its peak and the possibility of taking the main network DTC could be real."
John Janedis, Jefferies (Hold, $110 PT) 
"DIS made several strategic announcements, which in total appear more likely than not to drive long-term value for the co., in our view. While the stock may respond negatively in the near-term, the potential value creation over the next 5 years is likely
worth well above the implied ~$2-$3B in DIS' EV from the NFLX deal."