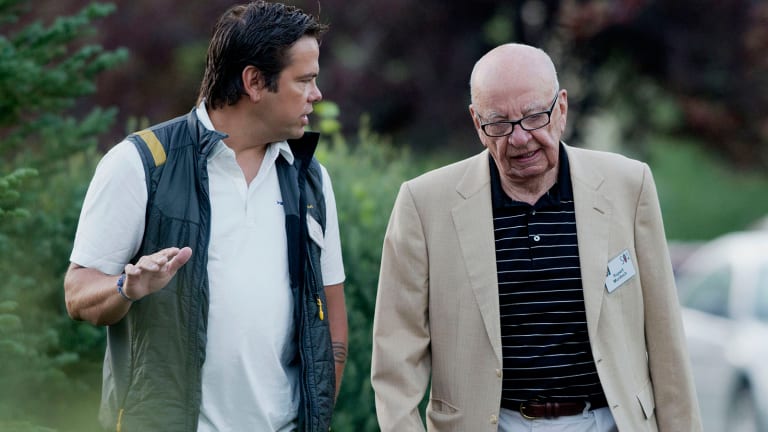 Disney Shares Rise, Sky Surges on Report of Renewed Fox Deal
Reports suggest Rupert Murdoch has revived talks to sell some of his media empire to Disney.
Walt Disney Co (DIS) - Get Walt Disney Company Report shares were indicated higher in premarket trading, while Britain's Sky plc (SKYAY) was one of the top gainers in Europe, following reports that 21st Centry Fox (FOXA) - Get Fox Corporation Class A Report  has revived talks to sell parts of its business to the House of Mouse.
The Financial Times reported Sunday that Rupert Murdoch controlled Fox, which also owns a 39% stake in Sky, Europe's biggest pay-TV operator, is back in discussions with Disney to sell both its international businesses as well as its movie studios and U.S. cable channels. 
Disney shares traded 0.71% higher in premarket trading in New York, indicating an opening price of $106.00 each. Sky shares, meanwhile, added 2.8% to top all but two gainers on Britain's FTSE 100 to change hands at 955.5 pence each, the highest in more than three months. 
Any potential deal would not only extend Disney's reach internationally, but would also likely scupper Murdoch's plans to buy the remaining portion of Sky that it doesn't already own, a process which has been hamstrung by investor indifference and regulatory roadblocks.
However, with revived bid talks, Sky could suddenly become attractive in the short term, as investors bet that either Fox or Disney will need to offer a premium to offset the potential collapse of a Murdoch-led bid.
"Under UK Takeover Panel rules, Fox cannot withdraw its bid unless it fails to gain regulatory approval, or there is a mutual agreement with Sky," wrote UBS analyst Polo Tang in a client note. "Should Disney acquire Fox's 39% stake in Sky, this will trigger a mandatory offer and it is likely it will have to be on the same terms as the Fox offer."
TheStreet's Kinsey Grant and Brian Sozzi have argued that Disney's renewed interest in Fox should come as no surprise.
"Well, that is if one attended this week's The Deal Economy conference and listened to TheStreet's founder Jim Cramer light up the mic with his Top 12 Takeover Targets for 2018.," the pair said.
"Twenty First Century Fox Inc.'s properties outside of sports and news will be bought by Walt Disney Co.," Cramer said, assigning a price tag of at least $25 billion. It would come as Disney faces decreasing value for one of its top assets in ESPN. Buying Fox's media assets would give Disney the greater scale needed to compete in the Netflix (NFLX) - Get Netflix, Inc. Report fueled era of cord-cutting."
But don't count on the ink to dry on this mega deal until after federal courts rule on the AT&T Inc. (T) - Get AT&T Inc. Report and Time Warner Inc. (TWX) deal. "I am telling you right now the Justice Department is going to lose that case," Cramer said. "I think Fox [deal] does get done," he added. "Motivated buyers, motivated sellers."
Disney CEO Robert Iger Has Created Quite the Legacy for Himself
More of What's Trending on TheStreet: