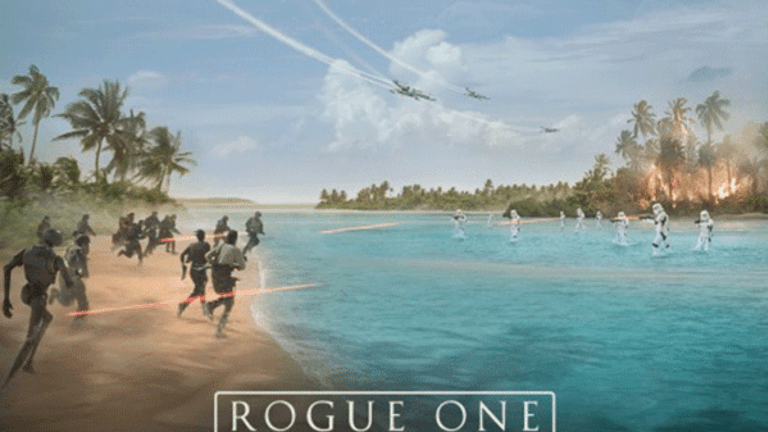 Disney's 'Rogue One: A Star Wars Story' Tops Holiday Box Office
'Rogue One: A Star Wars Story' brought in $96.1M at the U.S. holiday box office as domestic movie sales are expected to see another record breaking year.
Walt Disney's (DIS) - Get ReportRogue One: A Star Wars Story was a dominant force at the U.S. holiday box office, pulling in $96.1 million in sales, well ahead of newly released Comcast's (VIAB) - Get ReportUniversal Studios' Sing and Sony's (SNE) - Get ReportColumbia Pictures' Passengers.
Animated film Sing and sci-fi thriller Passengers - both released on Wednesday, Dec. 21, just ahead of the holiday weekend - brought in $56.1 million and $23.1 million, respectively, for the four days ended Monday, Dec. 26, according to data analysis firm comScore.
"A Star Wars Story showed impressive staying power in its second outing, grossing an estimated $96.1 million from 4,157 theaters for the long holiday weekend, easily trumping a glut of holiday titles entering the fray," Benchmark analyst Mike Hickey said in a research note this morning.
Since their debut, Sing has grossed nearly $77 million at the domestic box office and Passengers has brought in about $30 million, compared to Rogue One which has reeled in around $318.1 million since its Dec. 16 opening, says comScore.
Twenty-First Century Fox's (FOX) - Get ReportWhy Him? and Assassin's Creed lagged behind Rogue One, Sing and Passengers this weekend, grossing $16.7 million and $15 million, respectively.
Meanwhile, the domestic box office is "poised for a record-breaking year," Hickey said in his note.
ComScore anticipates that the stateside box office will hit $11.3 billion by the end of the year, beating 2015's record $11.1 billion.
"Through Monday, stateside revenues were up more than 2% and this week is expected to be a busy one for movie going," Hickey said. "Many Americans are taking the seven days between Christmas and New Year's off for vacation."
Shares of Disney were up 28 cents, 27%, to $105.43 in mid-morning trade.