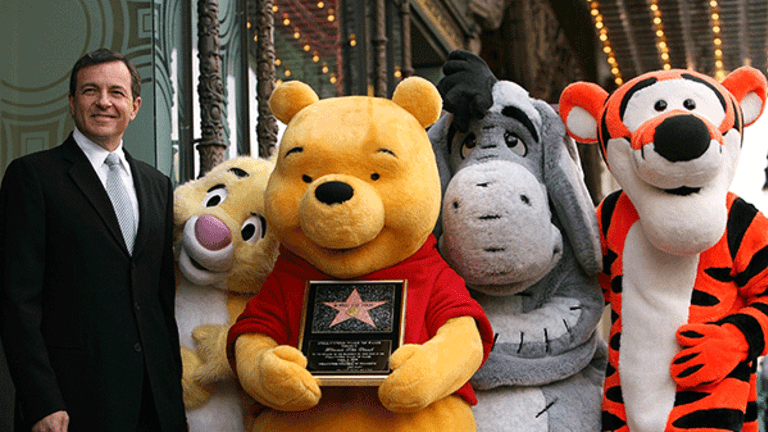 Publish date:
Disney's Dilemma: Can Anyone Replace Bob Iger?
The media giant's board of directors may have another 27 months or so to decide on a successor to its longtime CEO, but that won't make the decision any easier.
The media giant's board of directors may have another 27 months or so to decide on a successor to its longtime CEO, but that won't make the decision any easier.
Kick it down the road.
Disney's (DIS) - Get Report board of directors this week bought themselves more time before having to make the big, seemingly impossible decision as to who will succeed Bob Iger as CEO. In the coming weeks, legions of Disney watchers will attempt to read corporate tea leaves much as the CIA tried for years to gauge who would lead the Politburo during the Cold War.
No doubt much speculative attention will be placed on Disney's division heads led by Ben Sherwood, who runs its media networks group along with ESPN President John Skipper. Given that the biggest questions confronting Disney revolve around its television businesses, Sherwood's experience would seem to put him high in the running to succeed Iger. Sherwood also is said to be well-liked by Iger, which can't hurt.
Others candidates within Disney are likely to include Bob Chapek, who runs theme parks and resorts, as well as Kevin Mayer, the chief strategist whose lack of operating experience is likely to make him a hard sell for CEO. Iger ran ABC, where he worked in various capacities since 1974, later expanding his portfolio to include international operations. He was made president and chief operating officer in 2000 before being promoted to CEO in 2005. 
Facebook (FB) - Get Report COO Sheryl Sandberg is sure to be thrown into the mix, given that she has sat on Disney's board since 2010. But her lack of operational experience running a television or film business is likely to work against her.
Suffice it to say there are few secrets that are kept as tightly as Disney's succession plans. In the months following the April 2016 sacking of Iger's heir apparent, Tom Staggs, Disney's board declined to say whether it had decided on someone else or whether the former theme parks division head had become frustrated that a final decision about succession hadn't been made.
Either way, Iger, 66, once again was given a contract extension on Thursday, accepting a $5 million bonus to remain atop Disney until July 2019. Iger also will serve as a consultant for three years after that, receiving $500,000 for each of the first eight quarters and $250,000 for the last four in exchange for access to his "unique skills, knowledge and experience with regard to the media and entertainment business."
Besides helping to ease shareholder anxieties, Iger's decision to stay at the company gives the board another 27 months or so to make a final decision. In the meantime, Disney has a lot of issues to work out if the world's largest entertainment company is to remain in the catbird seat of global media.
Top on Iger's to-do list is settling on a long-term plan for ESPN, the sports titan that long generated an astounding 50% of Disney's annual profit. ESPN's importance to Disney or the pay-TV bundle can't be easily overstated. The network accounts for 32% of all sports-related TV viewing in the U.S., according to Pivotal Research Group media analyst Brian Wieser.
Yet as has been repeated ad nauseam, ESPN is losing subscribers. Disney receives roughly $7.86 per subscriber from any and all pay-TV operators -- cable, satellite and online -- that have ESPN as part of their bundle. That's the highest amount paid for any single cable TV network -- by far. The second-highest is Time Warner's (TWX) TNT at $2.09, according to media consultancy SNL Kagan.
In other words, that's a substantial business model to protect. Yet ESPN's subscriber base fell to 88.4 million at the end of 2016 from more than 100 million subscribers in 2010. Adding salt to the wound, ESPN also has seen advertising sales decline as audiences continue to fragment, spending more time on alternatives to traditional pay-TV, such as Netflix (NFLX) - Get Report as well as other online sports channels including FuboTV and FloSports. ESPN's ad revenue fell 7% in the quarter ended Dec. 31.
Looking ahead, Wall Street is forecasting a roughly 2% decline in pay-TV subscriptions, both cable and satellite. Yet the addition of new multichannel online platforms such as AT&T's (T) - Get Report DirecTV Now, Sony's (SNE) - Get Report PlayStation Vue and Dish Network's (DISH) - Get Report Sling TV are likely to offset that decline. 
In the coming weeks, they'll be joined by Alphabet's (GOOGL) - Get Report YouTube TV and a souped-up Hulu offering a similar pay-TV platform. Disney also is preparing to launch a standalone ESPN subscription service later this year, the details of which have been as hard to come by as word of who might replace Iger. 
For his part, Iger has sought to downplay the severity of ESPN's subscriber losses, asserting on Disney's Feb. 8 investor conference call that the new pay-TV platforms afford the network ample opportunities to stabilize its audience.
"My confidence in ESPN is due to a number of things, but clearly the deals that we have done with new platform owners, mostly over the top, have already yielded some nice gains," Iger said. "And that, obviously, we think gives us a chance to both attract consumers that may not sign up for multichannel service or hold consumers into multichannel subscriptions."
As for Disney's film group, Iger's work is legendary. During his 12 years at Disney, he proved doubters wrong by acquiring Pixar, Marvel and Star Wars, brands that generate billions of dollars a year in movie ticket sales, park admissions and merchandise revenue. They are the crowing achievement of his tenure.
"Disney is unique in its ability to translate intellectual property across its TV network portfolio, film studio, parks and resorts, and consumer products businesses," RBC media analyst Steven Cahall wrote in a March 24 investor note. "While the movie business will always have hits and misses, the combination of Disney live action, Pixar, Marvel and Lucas put the Disney film slate in a league of its own in terms of annual earnings generation, with a powerful link that drives operating income at parks and consumer products. In our view, this long-term structural power is one of the best pure assets in all of media."
Disney's board couldn't have said it any better. That's why deciding on Iger's replacement might take all those months of thought and discreet discussion.
Facebook and Alphabet are holdings in Jim Cramer's Action Alerts PLUS Charitable Trust Portfolio. Want to be alerted before Cramer and the AAP team buy or sell FB or GOOGL? Learn more now.