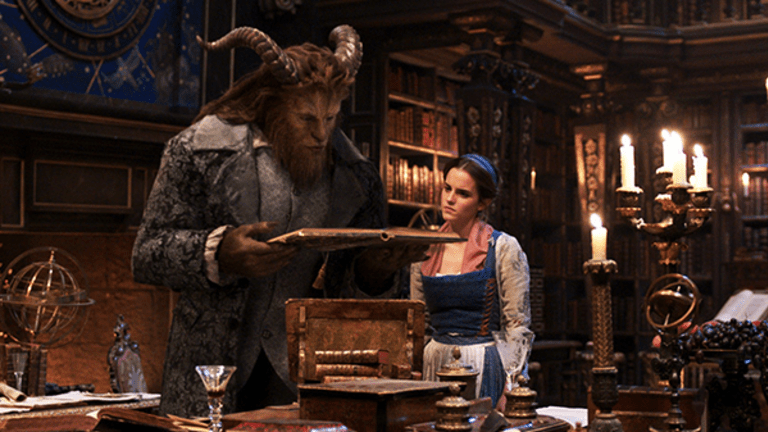 Publish date:
Disney's Beautiful, Beastly Success Prompts Estimate Increases From Nomura, Drexel Hamilton
Disney's 'Beauty and the Beast' is outpacing already bullish expectations.
Disney's 'Beauty and the Beast' is outpacing already bullish expectations.
Disney's (DIS) - Get Report   live-action remake of Beauty and the Beastbroke a number of records during its opening weekend, posting the seventh-biggest domestic opening ever at $170 million, and subsequently prompting an increase in estimates from both Nomura and Drexel Hamilton on Tuesday morning.
In a note titled "Still in Beast Mode," Nomura said it was increasing its fiscal 2017 second-quarter earnings per share estimate to $1.37 from $1.36 and its fiscal 2017 EPS estimate to $5.92 from $5.89 in light of Beauty and the Beast's better-than-expected opening. The firm didn't raise estimates further because of lower ESPN TV ratings and a corresponding drop in ad revenue for Disney's cable networks segment. 
"In addition to the box office follow-through of Rogue One in the quarter, we believe the magnitude of Beauty and the Beast's success could offset tough [year-over-year] Star Wars: The Force Awakens follow-through and Zootopia with greater success than previously anticipated," Nomura analyst Anthony DiClemente wrote. The company should cover all print and advertising expenses by the fiscal 2017 second quarter, he added. Disney's second quarter end after March.
In addition, the firm said the studio's healthy library of intellectual property, which will allow for more successful remakes, prompted it to raise Disney's calendar year 2018 target P/E multiple to 18 times, which led to a corresponding price target increase to $125 from $120. The firm also raised its fiscal 2018 EPS estimate to $6.71 from $6.62. Beyond box office success, future remakes would lead to more consumer products, as well as theme park expansions in the longer term. 
Drexel Hamilton, meanwhile, raised its fiscal 2017 EPS estimate by 3 cents to $6.06.
In "The Best and Worst of DIS's Studios," Drexel Hamilton said Beauty and the Beast was exceeding its already bullish expectations, on track to generate a $525 million U.S. box office ultimate, up from earlier estimates for $410 million and a onetime $155 million. The firm's Tony Wible, though, went on to note that television series Iron Fist could be one of the worst shows from Disney-owned Marvel, with an embarrassingly low 17% approval rating on Rotten Tomatoes after its release last weekend. While the bad reviews of the show shouldn't directly affect Disney since it sold the series to Netflix (NFLX) - Get Report , it could hurt future opportunities for Marvel to monetize the character.
"It shows that DIS's studio is not infallible," Wible added. "The studio must maintain its phenomenal run to offset TV headwinds." 
The firm went on to note that Disney's reboot strategy is clearly working, with Alice Through the Looking Glass being the only one of its six past remakes that failed to live up to expectations, grossing a measly $34 million domestically during its 2016 Memorial Day weekend opening. Previously, Disney's remake of Alice in Wonderland in 2010 garnered more than $1 billion worldwide. Other successes include Maleficent (2014, $758.5 million worldwide), Cinderella (2015, $543.5 million worldwide) and The Jungle Book (2016, $966.6 million worldwide).
Disney has plans to release an additional 11 live-action remakes of its animated classics beginning in late 2018 with Mary Poppins Returns and Mulan.
"Disney got serious about this reboot strategy after Alice in Wonderland did so well, and it's continuing to work, so they're not going to slow down any time soon," Exhibitor Relations senior box office analyst Jeff Bock said.
Drexel Hamilton maintained its hold rating on the stock, citing concerns about virtual multichannel video programming distributor -- better known as over-the-top or streaming service -- subscriber numbers diluting economics, as well as the skinny bundles trend undermining the success of sports networks such as Disney-owned ESPN. Skinny bundles give consumers the choice to purchase a cheaper bundle that excludes channels they don't watch, such as sports.
"DIS faces industry risk tied to digital disruption, cord cutting, rising programming cost, foreign exchange rates, weak ad sales, and competition with internet ad platforms," the firm said. "It must also cope with TV ratings pressure, sports renewal cost, terrorism threats and managing high expectations."
The twin notes follow one from Guggenheim last week that predicted the overperformance of Beauty and the Beast.
"We believe Disney's content offering is poised to exceed consensus expectations, beginning with the box office opening of Beauty and the Beast on March 17 and including the slate of Star Wars, Pixar, Marvel and Disney films through fiscal 2018," the note said.
The firm raised the company's price target to $128 from $118 and upgraded its stock rating to buy from neutral, partly due to its strong film lineup.