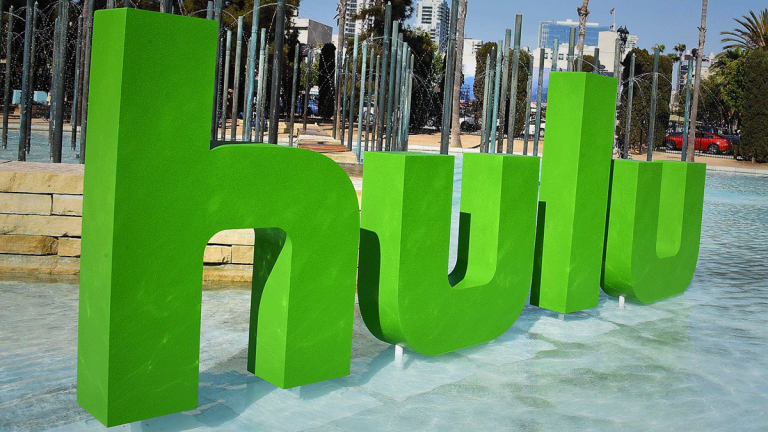 Disney Reaches Deal With Comcast to Take Full Control of Hulu
Walt Disney agrees to a deal with Comcast that will see it take control of content-streaming platform Hulu for at least $27.5 billion.
Walt Disney  (DIS)  reached an agreement with Comcast  (CMCSA)  Tuesday that will see it take control of Hulu in a deal that could value the shared content-streaming platform at a minimum of $27.5 billion.
Disney will assume control of Hulu immediately, the company said, while entering into a so-called put/call agreement that would compel it to buy Comcast's 33% stake in Hulu, which is held by NBCUniversal, at a "fair market value" as early as January 2024. That value will be "assessed by independent experts" but Disney will guarante a sale price for Comcast that values Hulu's equity at minimum of $27.5 billion, the companies said in a statement. The two companies also agreed to fund Hulu's recent purchase of AT&T's (T) 9.5% stake, splitting it two-thirds/one-third in Comcast's favor.
"Hulu represents the best of television, with its incredible array of award-winning original content, rich library of popular series and movies, and live TV offerings," said Disney CEO Bob Iger. "We are now able to completely integrate Hulu into our direct-to-consumer business and leverage the full power of The Walt Disney Company's brands and creative engines to make the service even more compelling and a greater value for consumers."
Disney shares were up 1.7% at the start of trading Tuesday to change hands at $133. 53 each, a move that extends the stock's year-to-date gain past 21.7%, while Comcast jumped 1.73% to $43.01 each.
Disney posted stronger-than-expected second quarter earnings as it continues to absorb last year's $52.4 billion acquisition of 21st Century Fox and transitions into a media streaming giant that will challenge Netflix Inc. (NFLX) in the global streaming market.
Hulu has around 26.8 million paid subscribers and 1.3 million more on a free-trial basis, up from around 25 million last year but well shy of the 62 million total commanded by Netflix.
Disney said last month that adjusted earnings for the three months ending in March, the group's fiscal second quarter, fell 13% to $1.61 per share while group revenues rose 3% to $14.922 billion, thanks in part to a 5% surge in sales at its theme parks division, and topped analysts' estimates of $14.53 billion.
Disney also said its Fox acquisition will likely dilute third quarter earnings by around 35 cents per share as the media groups integrate, with a further 37 cent hit from "the amortization of intangible assets and the step-up on film and TV assets".
Disney's near-term focus, however, remains fixed on the roll-out of its new streaming service, Disney+, which will launch in November and cost $6.99 per month with a target of gaining between 60 million and 90 million subscribers by 2024. That drive, however, is likely to cost around $2 billion and weigh on profits in the near-term, and cost the group $393 million over the second quarter.
Comcast also reported stronger-than-expected first-quarter earnings last month, but softer revenue clouded the media group's first-quarter report following the $39 billion takeover of Britain's Sky last year.
Comcast said earnings for the three months ended in March came in at 77 cents per share, up 24.2% from the same period last year and two cents ahead of the Street consensus forecast. Group revenues, however, came in at $26.86 billion a figure that missed analysts' estimates even as it rose 17.85% from last year thanks to a pro-forma contribution from Sky of $4.8 billion.
Walt Disney and Comcast are holdings in Jim Cramer's Action Alerts PLUS member club. Want to be alerted before Jim Cramer buys or sells the stocks? Learn more now.