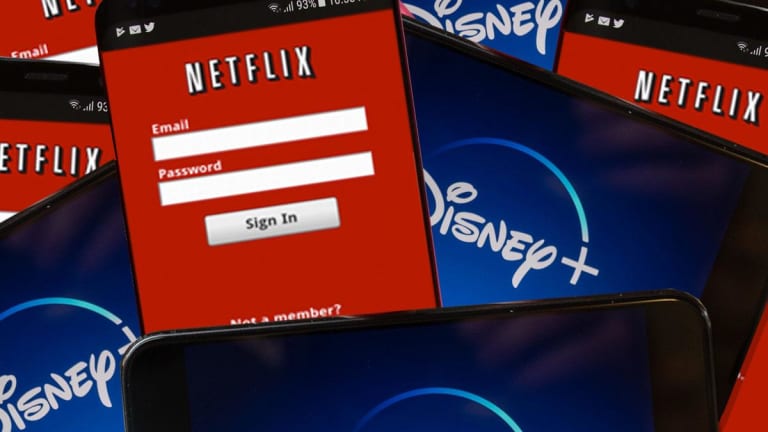 Disney+ Signs Up 10 Million Subs Since Launch: Here's What It Means for Netflix
Disney+ and other players could disrupt around 10% of Netflix's subscriber base, according to one analyst.
Disney+ is off to a strong start, but what that means for Netflix (NFLX) is a matter of some debate.
Citing "extraordinary demand" for the new service, Disney said this week that Disney+ attracted 10 million subscribers within about a day of its Nov. 12 launch. Disney (DIS) shares were trading near record highs on Thursday after having risen more than 7% on Wednesday on news of its strong debut, while Netlix was recovering after having shed about 3% on Wednesday. 
The 10 million subscriber figure bodes well for Disney's goal of accumulating 60 to 90 million global Disney+ subscribers by 2024, wrote Moody's Neil Begley on Thursday. Disney offered a range of pre-sale promotions ahead of the event, including a bundling deal with Verizon (VZ) customers and other discounts.
"While the 10 million sign-up figure most likely includes D23 (Disney fan club) members, non-paying free-trials and promotional Verizon Wireless subscribers, the overwhelming demand seems to have exceeded the company's highest expectations given the short time-frame," said Begley.
Investors are no doubt heartened by the strong launch of Disney+ and its distinctive position in the marketplace. Disney+ content, which is anchored by Walt Disney Pictures, Marvel, Pixar, National Geographic and other Disney-owned brands, is likely to appeal to children and families. Other players such as Netflix, now the leader in streaming at roughly 160 million worldwide subscribers, have a much weaker position in family-oriented programming.
So what does the blockbuster Disney+ launch mean for Netflix going forward? 
Not much, according to Netflix content chief Ted Sarandos. Asked on Thursday what the Disney+ launch means for Netflix, he said: "I don't mean to say this [as] anything but the truth, which is -- nothing, really," as reported by Variety. "Our focus has been, and it will be, on making great content people love, delivered seamlessly."
Netflix management has generally brushed off the impact of growing competition, suggesting that Netflix was already competing with Disney and others by way of linear TV. Reed Hastings said recently that the metric to watch going forward will be watch times, not subscriber counts.
"People will subscribe to a couple services, they way they subscribe to a couple news services," Hastings said at a recent New York Times Dealbook conference. "The tricky thing in this streaming war is that Apple (AAPL) and Disney aren't going to break out their revenues. You'll hear some subscriber numbers, but you can just bundle things in so that's not going to be real relevant. So the real measurement will be time -- how do consumers vote with their evenings."
But according to Wedbush analyst Dan Ives, competitors such as Disney and Apple could disrupt around 10% of Netflix's subscriber base, creating churn for some subscribers who may be inclined to try Disney or other rivals on the horizon, namely AT&T's (T) HBO Max or NBCUniversal's (CMCSA) Peacock launching next spring. There are no switching costs associated with cancelling Netflix or joining another service, and Disney has sought to lock in customers with three-year plans and other bundling options that may reduce churn.
All told, Disney "could hit its long term sub targets by 2024...potentially two years earlier at this pace in our opinion," according to Ives.
In a recent note, Needham's Laura Martin noted that typical U.S. households "have shown a reluctance to add to their 3 SVOD services," making it likely that Netflix will wind up on the chopping block for some. In addition to the standalone $6.99 per month Disney+ subscription, Disney is offering a $12.99 bundle that also includes ESPN+ and ad-supported Hulu.
Disney projected that it will add between 20 and 30 million subscribers by 2024, which could "mostly come from NFLX's 60mm US subs," Martin wrote.
Investors will also be keeping a close eye on subscriber counts in the quarters ahead and parsing out the impact of growing competition. 
Netflix and Disney are both gunning for international subscribers. Disney+, which is currently live in the U.S, Canada and the Netherlands, will roll out in Australia and New Zealand next week, and the U.K., Germany, Italy, France and Spain in March 2020. Southeast Asia could soon follow, with Disney planning to launch in India and other Asian markets in the second half of next year, according to a report from TechCrunch. In those markets, Disney+ would be merged with Disney-owned Hotstar, a leader in the Indian streaming market. 
As of October, Netflix reported 60.6 million domestic subscribers and 158 million total subscribers. In addition to Disney+'s 10 million subscribers, Disney reported last week that Hulu has 28.5 million domestic subscribers and ESPN+ has 3.5 million. 
Comcast, Disney and Apple are holdings in Jim Cramer's Action Alerts PLUS Charitable Trust Portfolio. Want to be alerted before Cramer buys or sells these stocks? Learn more now.