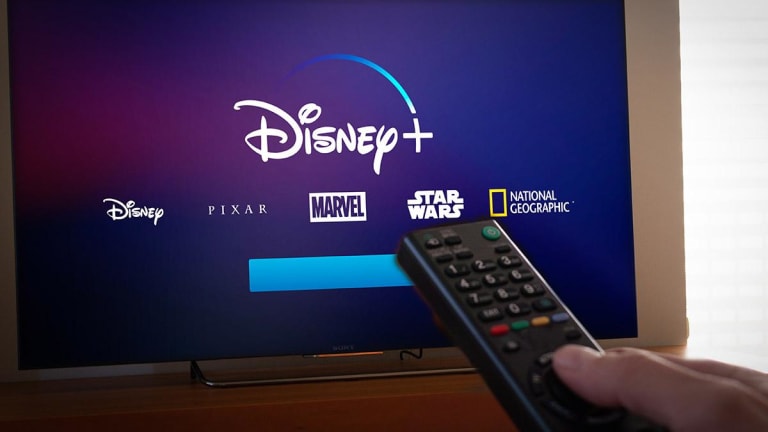 Disney+ Launches Today -- Here's What the Reviews Say So Far
For $6.99 per month, Disney+ subscribers will get access to 500 movies, 7500 episodes of library content and several original programs at launch.
For $6.99 per month, Disney+ subscribers will get access to 500 movies, 7500 episodes of library content and several original programs at launch.
Disney's long-awaited streaming service is here. 
Disney+ went live Tuesday, adding another subscription content offering into a mix that already includes Netflix (NFLX) - Get Report , Apple (AAPL) - Get Report , and Disney's own Hulu and ESPN+. Disney (DIS) - Get Report shares were up 1.59% on Tuesday to $138.91.  
By any measure, the $6.99 per month subscription gives viewers a lot of bang for their buck. Serving as the linchpin for Disney's broader direct-to-consumer strategy, Disney+ is anchored by Pixar, National Geographic, Disney Channel, Star Wars and other Disney-owned properties, and includes 500 movies, 7,500 episodes of library content and several original programs right out of the gate.  
On a call last week, Disney CEO Bob Iger told investors the strategy is to "launch big and scale fast" -- and accordingly, the media giant also offered a range of discounts to drive pre-sales, including a deal with Verizon that will offer one year free to wireless subscribers on unlimited plans. 
While there's likely enough library content to lure some consumers interested in family-friendly programming, much of the focus could fall on Disney's original content offered through Disney+. Disney plans to ramp up original programming with at least 60 original projects by year five, along with 620 movies and 10,000 episodes.
How are the reviews so far? Disney previewed some of the original shows to a handful of reviewers ahead of launch, and they're a mixed bag so far. 
On The World According to Jeff Goldblum -- a travel series starring the eponymous actor -- IGN's David Griffin described the project as lacking in depth.
"It doesn't cover enough geography or examine enough local culture to be a travelogue. It also doesn't go into enough depth about any particular topic to be considered a true exploratory docu-series," Griffin wrote. 
High School Musical: The Musical is intended as a self-referential take on the popular franchise, according to early reviews. But it doesn't quite hit the mark, according to Vuture's Kathryn VanArendonk.
"It's like if the Wikipedia page for 'intellectual property' became a sentient being and then appeared in an animated series about the Wikipedia page for "spinoff" - when you stare at it, you can see the possibility for fun, light goofiness. But mostly what you see is a Disney property chewing, swallowing, and then regurgitating itself whole," VanArendonk wrote. 
Another one of Disney's originals is a live-action remake of the beloved classic Lady and the Tramp. But according to IndieWire's David Ehrlich, the new version is "what happens when the tail wags the dog." 
"Charlie Bean's new "Lady and the Tramp" is the perfect movie to kick off the next phase of the streaming wars: It's new but familiar, safe but unsound, and somehow well-furnished but also cheap-looking. Most of all, it clearly only exists because an entertainment conglomerate felt compelled to build a platform before it had enough material to support it - because the tail is wagging the dog," he wrote. 
Outside of the content itself, customers reported technical issues with the Disney+ interface on launch day. Those issues included trouble logging in, browsing the content library and in streaming movies and shows. 
RealMoney's tech columnist Eric Jhonsa reported a host of problems across a number of different browsers and operating systems, writing: "After signing up for Disney+ on Tuesday, I tried using the service on three PC browsers and the iOS Safari browser, as well as via Disney+'s iPad and Android apps. Though the glitches varied some from one device to another, there were issues across the board."
On the plus side, when it was working properly, Jhonsa wrote that there is much to like about the user experience: the interface was clean and intuitive, the search worked well, and quality was decent across various devices. 
Year to date, Disney shares have risen 27.5%. 
Apple and Disney are holdings in Jim Cramer's Action Alerts PLUS member club.