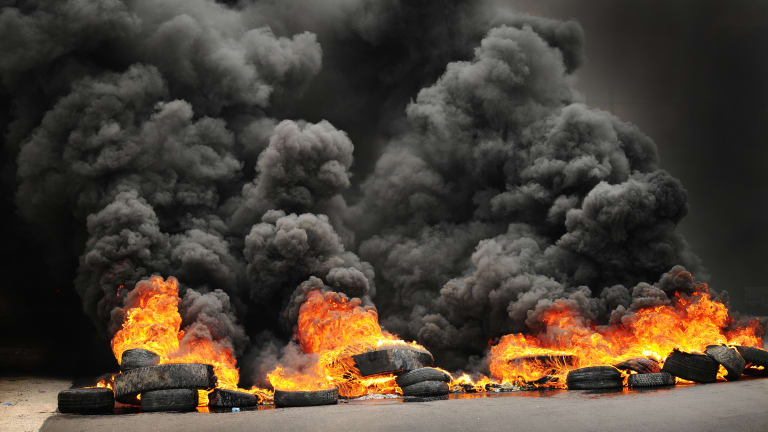 Disney Goes to War With Netflix, Apple to $1 Trillion Are the Hot Tickers: DIS, NFLX, GOOGL, AAPL
Wednesday has been an interesting one for stocks.
In non North Korea/Trump news, several stocks are likely to be red-hot among investors on Wednesday. 
Disney Dumps Netflix
Shares of video streaming platform Netflix (NFLX) - Get Netflix, Inc. (NFLX) Report  fell about 1.9% Wednesday as the Walt Disney Company (DIS) - Get Walt Disney Company Report announced that it would remove its content from Netflix starting in 2019 and start its own rival streaming service.
Disney Is Yanking Its Content Off Netflix -- Here's the New Rival Streaming Service It's Launching
Morningstar analyst Neil Macker said that the move has the potential to bring a "world of hurt" to Netflix. He said it's unclear how the streaming giant will replace the loss, suggesting it may have to pay more for premium content to attract and retain customers, as well as re-examine its strategy for acquiring customers. The company has said it plans to spend about $6 billion on content this year.
Hertz Crashed Again in the Second Quarter
Thanks Uber and Lyft. 
Hertz Global Holdings, Inc., (HTZ) - Get Hertz Global Holdings, Inc. Report CEO and president Kathryn V. Marinello said on an earnings call Tuesday that she doesn't expect growth for another six quarters.
"It's going to be another solid six quarters of hard work and investments," said Marinello. She said the company is now playing catch-up from multiple years of neglect, such as not updating the fleet or getting the right cars in the right place. "There nothing structural that Hertz can't return to."
These 13 Cool Cars From the 1980s And 1990s Are Absolutely Worthless Collectibles
Hertz reported a 2% decline in second-quarter total revenue from this quarter in 2016, or $2.2 billion, on Tuesday.
Hertz stock traded up 22% on the session.
Google Shares Not Moving Much, But Still...
When a Google (owned by Alphabet (GOOGL) - Get Alphabet Inc. Class A Report ) engineer's manifesto against the company's diversity efforts went viral over the weekend, CEO Sundar Pichai quickly denounced the memo's main idea that female employees were less suited to be engineers than male ones, and fired the employee for violating the company's code of conduct.
Interestingly, though, some employees of the Alphabet Inc. (GOOGL) - Get Alphabet Inc. Class A Report unit had a markedly different response. Several Google employees came out in support of the fired engineer, whom Google did not name but who has been identified as James Damore, who argued in his memo that women are underrepresented at the company due to biological differences, rather than sexism or discrimination. According to Motherboard, which first reported on the manifesto, some Google employees have defended Damore, saying his firing represents censorship and indicates that Google has "created a politically correct monoculture" that "shames dissenters into silence."
Google Fires Diversity Memo Author -- Here's What Top Experts Are Saying
Similar viewpoints trickled out onto Twitter on Tuesday, including one by Eric Weinstein, the managing director of Peter Thiel's investment fund Thiel Capital, who said Google is teaching women that their "path to financial freedom" lies not in coding but in complaining to human resources, seemingly asserting that Google sent the wrong message by firing Damore.
Watch TheStreet's Anders Keitz discuss the issue. 
Apple to Trillion?
Wow.
Apple Inc (AAPL) - Get Apple Inc. (AAPL) Report is teed up to become the first company to reach $1 trillion in market cap, RBC Capital analysts said in a Wednesday note.
Apple has gained $56 billion in market value since it announced increasingly optimistic guidance for its third quarter last week, bringing its current market value to $826.85 billion. RBC said Apple stock has plenty of upside left as it closes in on the mid-September launch of the 10th anniversary iPhone.
RBC said Apple's stock price has a median return rate of 15.6% in the 90 days prior to a new product cycle launch historically. Apple's strong gross margin performance and improving China sales next quarter could sustain that momentum beyond the launch of the new products.
RBC reiterated an "outperform" rating for the stock, with a $176 price target. Analysts have a base case of $10.50 in earnings per share for the third quarter, but their bull case has earnings totaling $12 per share or above.
Fossil Goes Up in Flames
The maker of mid-range-priced watches and accessories that were once trendy, Fossil Group Inc.'s (FOSL) - Get Fossil Group, Inc. Report shares plunged 25% Wednesday after the company reported wide losses and the departure of its CFO.
For the quarter ending July 1, Fossil reported a loss of 61 cents per share, well below analysts' projected loss of 33 cents per share, according to FactSet data. Sales of $596.8 million also trailed the consensus estimates of $617.9 million. The stronger U.S. dollar weighed on net sales of $8.3 million, down 13% compared to last year's Q2, and operating income decreased $4.5 million.
In the next quarter, Fossil expects to report a net loss of 11 cents to 44 cents per share, with sales declining 8% to 14%. For the full year, Fossil's net loss should hit $6.62 to $7.42 per share, including the charges for $6.50 of noncash intangible asset impairment and 60 cents in restructuring, respectively.
Defense Stocks Come On
Shares of Lockheed Martin Corp (LMT) - Get Lockheed Martin Corporation (LMT) Report , Raytheon Company (RTN) - Get Raytheon Company Report and Northrop Grumman Corp (NOC) - Get Northrop Grumman Corporation Report jumped to all-time highs midday Wednesday as threats between North Korea and the U.S. intensified.
Even as the broader equities market sank with investors fleeing to safe haven assets, Lockheed stock jumped 1.56% to $304.79, Raytheon increased 2.19% to $178.62 and Northrop traded up 1% to $272.46.
The three stocks tend to gain on war chatter, but Lockheed and Raytheon both said they've been fielding an increased number of inquiries about their missile defense products as North Korea begins testing long-range missiles more frequently, Fox Business reported.
Lockheed, which is the Pentagon's top weapons supplier, said customers who want to defend themselves against possible incoming missile attacks have put missile defense at the top of their lists.
"We are seeing significant demand signals for our integrated air and missile defense, cyber and ISR solutions driven by events going on around the world today," Raytheon said, according to Fox Business.
North Korea on Tuesday threatened to attack Guam, home to thousands of U.S. military personnel on two bases, and turn the U.S. into "the theater of nuclear war." The threat came after President Donald Trump told North Korea it would be met with "fire, fury and frankly power the likes of which this world has never seen before."
Raytheon is known for the Tomahawk missile and helped build the THAAD missile defense system with Lockheed. Lockheed sells it ships, planes and missile systems primarily to the U.S. intelligence community, the military and NASA.
Lockheed said the increased demand for missile defense systems could generate sales for years to come. Because the U.S. government sanctions purchases of weapons in a process that often lasts for years and requires approval from legislators, the windfall from today's heightened interest could last well into tomorrow.
Morgan Stanley analyst Rajeev Lalwani initiated coverage for the defense sector Tuesday with a favorable outlook. Lalwani said even with a great run in the last few months, defense stocks will continue to grow due to a high global threat environment, expanding political budgets and returns that will sustain valuations.
Game Time for Blue Apron
By: Ron Orol
Blue Apron's (APRN) - Get Blue Apron Holdings, Inc. Class A Report first earnings report as a public company comes Wednesday (it will probably be ugly). But, there is one larger issue at play. 
Snap Inc. (SNAP) - Get Snap, Inc. Class A Report , Blue Apron Holdings Inc. and companies hoping to avoid activist investors in the public market will likely receive their third blow from the world of index providers in the coming month as MSCI Inc. completes a review of whether it will continue to include companies with non-voting shares in its indices.
MSCI's proposal, issued in June, would prohibit corporations from its indices if public shareholders don't receive any votes connected to their share position or in situations where the outside "voting power" of listed shares is less than 25% of the company's total votes. MSCI plans to complete its review in the Fall.
Read full story on TheStreet's sister publication The Deal here.
Tesla Coming for Buffett
Tesla Inc. (TSLA) - Get Tesla Inc Report is developing a long-haul, electric semi-truck with autonomous driving capabilities that move in "platoons" and automatically follow the direction of a lead vehicle, Reuters reports.
The electric carmaker is said to be nearing the completion of a prototype of the trucks, according to an email obtained by Reuters between Tesla and the Nevada Department of Motor Vehicles.
Furthermore, officials from California will meet on Wednesday to "talk about Tesla's efforts with autonomous trucks," state DMV spokeswoman Jessica Gonzalez told Reuters.
Shares of Tesla were higher in after-hours trading on Wednesday. 
One person that probably isn't feeling this news is billionaire Warren Buffett. Here's why. 
Alphabet and Apple are holdings in Jim Cramer's Action Alerts PLUS Charitable Trust Portfolio. Want to be alerted before Cramer buys or sells GOOGL? Learn more now.
More of What's Trending on TheStreet: