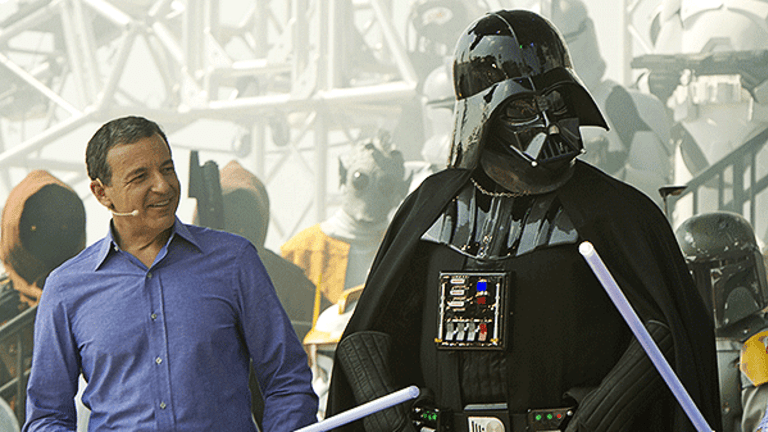 Publish date:
Disney Goes All-In on Digital With Planned Launch of ESPN and Netflix-Like Streaming Services
CEO Bob Iger said Disney now has the capability to just sell ESPN directly to consumers, if it wanted to.
CEO Bob Iger said Disney now has the capability to just sell ESPN directly to consumers, if it wanted to.
Disney (DIS) - Get Report  wants to go direct-to-consumer.
In a series of announcements on Tuesday, CEO Bob Iger said that the company is planning to leverage new technologies to sell its television shows, movies and sporting events directly to consumers while maintaining its current relationships with pay-TV operators. 
"It's high time given the technology available to us that we connect to them directly," Iger said on an investor conference call to discuss Disney's quarterly earnings. "We believe that ultimately that our ability to generate revenue and grow profits will be greater than the business models that we currently have." 
Disney, the world's largest entertainment company, announced a deal to take a majority stake in BAMTech, the technology platform that already powers its digital services. Disney will pay $1.58 billion to acquire 42% of BAMTech, a sprawling operation originally created by Major League Baseball. A year ago, Disney purchased a 33% stake in BAMTech for $1 billion.
Iger said that controlling BAMTech will allow Disney to roll-out two direct-to-consumer services that may eventually upend the media business, putting pressure on pay-TV operators as well as Netflix (NFLX) - Get Report , for which it has a sweeping licensing agreement that expires at the beginning of 2019.
By laying the groundwork to terminate its studio licensing deal with Netflix, Iger said that by 2019 the company will launch a Disney-branded streaming service that will feature its enormous library of movies and television shows. Iger said the service would include programming from Disney studios and Pixar but not Marvel or Lucas Films, makers of "Star Wars." Disney has yet to set a subscription price for the platform.
Netflix acted promptly on Tuesday to issue a statement of its own, emphasizing that it would have access to Disney films on its service through the end of 2019, and that it continues to license content from Marvel TV.
On news of the announcement, Netflix shares were falling 3.8% in pre-market trading while Disney was losing 3.7% after reporting a mixed quarter in which it beat earnings estimates but missed on revenue.
It's little wonder then that Netflix has been spending so much money to create original programming. The world's largest subscription-based video-streaming platform is expected to spend more than $6 billion in 2017 on TV serials and movies. Iger said on Tuesday that Disney won't be spending that much.
For Netflix, Disney has been a linchpin that fueled the company's growth. Disney is responsible for roughly 30% of all Netflix viewing in the U.S., Bloomberg reported, citing a company executive. With Disney launching its own branded streaming service, packed with TV serials and films, it's clear Netflix will have more competition 18 months from now.
"We made a decision to license to them and the studio output deal represented real anchor programming for Netflix before they ramped up their own programming, which they've done aggressively and quite successfully," Iger said.
Netflix's announcement on Monday that it had acquired Millarworld, the comic character creator, in its first-ever acquisition underscores the company's eagerness to own more content to retain and attract new subscribers. 
Iger also said that Disney will launch a new multi-sport ESPN subscription service in early 2018, a platform that will feature a nearly unfathomable 10,000 sporting events per year. The direct-to-consumer service could be met with consternation by pay-TV operators given that Iger said it would include programming from Major League Baseball, the National Basketball Association and assorted college sports.
More of What's Trending on TheStreet:
"This represents a big strategic shift for the company," Iger said in an interview on CNBC. "This move capitalizes on a few trends that we've seen...and we felt it was time for us to take a bigger step in that direction."
Iger declined to say that both digital services are aimed at cord-cutters but it's become clear for nearly two years that ESPN and by extension, Disney had to do more to offset the overarching declines in pay-TV subscribers. Disney's stock has been under pressure through 2017 as investors brace for more declines at ESPN, which lost 621,000 subscribers in the first quarter. Shares are up 2.7% year to date, compared to the S&P 500's 10.6% gain.
By acquiring a majority stake in BAMTech, Iger said the company would have the ability to completely remove ESPN from pay-TV services, if that made economic sense. Yet with more than 88 million subscribers, ESPN is hardly unprofitable, a point Iger emphasized.
There Is One Problem With Tesla That Should Keep It From Being Mentioned Among the Greats Like Apple
"We have the technical capability to do that," Iger said, in response to a question as to whether ESPN would ever go completely direct-to-consumer. "This lays the groundwork for the company to do many of those things."
As the cable-TV network that fetches the highest subscriber rates from pay-TV providers, ESPN has been particularly vulnerable to cord-cutting. The country's most-watched sports network laid off more than 100 on-air personalities as part of a sweeping reset in programming as it seeks to offset expensive sports rights contracts topped by the nine-year, $24-billion deal signed in 2014 with the National Basketball Association.
ESPN has a separate eight-year $15.2 billion pact to broadcast Monday Night Football that runs through 2021. 
Updated from 5:14 p.m. with additional information.
Watch More with TheStreet:
5 Cool Facts About The Dollar Bill - Happy National Dollar Day