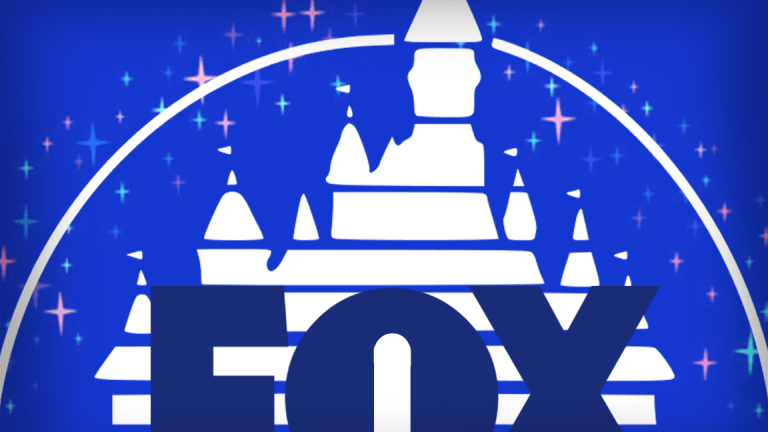 Disney Buying Fox Makes the Sports Media Market Even More Chaotic
In short order, Disney could combine Fox's sports networks with ESPN, Sports Illustrated seems poised to hit the market and The Athletic's contrarian regional push make sports a hot 2018 category.
For a brief deal moment, Joe Buck haters had hope.
Buck -- maligned by many for his owner-glorifying, master-of-the-obvious proclivities -- has been a Fox Sports fixture for a long time. Every fall come World Series time, fans of the Dodgers, Astros, Royals, Indians and Red Sox voiced their familiar complaints. And then came the news that Disney (DIS) , with its superior ESPN announcers, would buy most of 21st Century Fox (FOXA) .
Hope rose. Alas, most of are the key words here. While Disney now will assume ownership of Fox's regional sports stations, Fox itself will keep FS1, which has the rights to the World Series. If Buck haters can resume their online protests, many more may soon see what the new ESPN/Fox regional sports juggernaut may offer. 
Now, as Disney announces its final $52.4 billion deal to purchase of much of 21st Century Fox, we can see that much of what we've come to see as terra firma in sports news and sports programming will be given a good shake. And it's not just Disney/Fox. It's the question of who will own, and operate, Sports Illustrated. Further, how much will the start-up, The Athletic, change local sports coverage?
First, let's consider that the Disney/Fox deal will likely need regulatory review.
The combination of ESPN's businesses with Fox's 22 regional sports networks may be too formidable for regulators, even as it offers lots of synergies for Disney. As the Wall Street Journal assessed Tuesday, "antitrust regulators have typically focused on deals where consumers could be hurt. It is not hard to imagine pay-TV operators calling the deal anti-consumer. If a Fox-Disney merger runs afoul of regulators, sports will likely be their focus."
Why? Those valuing the Disney/Fox combination put a third of the deal's value in sports. That's largely because sports programming is a must-have in the bundles that cable and satellite companies sell customers. The bigger Disney-Fox combination could force higher fees on those companies -- which would likely be passed on to consumers.
ESPN, says the Journal, receives nearly $8 billion a year in fee revenues, given its 90 million subscribers. Yes, cord-cutting is an issue, and damaging to ESPN, but the larger comparative picture of licensing revenues still puts ESPN in a good place. Combined with Fox Sports , it could be in a great place to drive higher fees.
That's the big TV picture.
Let's look at the digital sports news category, as measured by comScore. 
With TV and Internet mating in all kinds of unpredictable ways -- and ESPN planning on launching a new streaming service, ESPN Plus, in 2018 -- digital standing assumes greater and greater profile.
Here, ESPN is already the leader, with Fox Sports, in combination with the SI Group and Perform Media, in fourth place. Perhaps significantly, that latter group's audience was down 18% in October, 2017 compared to a year earlier. Still, such major additional audience would provide even more daylight between ESPN and second-place CBS Sports, as well as with the rest of the pack.
As regulators look at scale -- and that question of potential unfair market domination -- one question that looms here, as it does in The Department of Justice's blocking of AT&T's (T) planned purchase of Time Warner (TWX) -- is how much of the domination is examined on the old side -- the TV side -- of the business, and how much with digital dominance included?
Scale is scale, sure, but how does anyone assess the relative, and combined dominances, of the TV and digital worlds? 
The gnarly issue, as in so much media consolidation: How much scale is legal and how much wanders off into the territory of unfair market domination?  The DOJ's case against AT&T only reinforces the realities and vagaries of what's legal and what's not as Internet media match up with TV. 
In fact, that held-up deal puts another significant sports player into some kind of play. Turner -- the Time Warner division that has been the point of the DOJ's objection -- also holds Bleacher Report (bought in 2012), as well as the poster boy for the challenge, CNN. Bleacher Report, which has received significant investment from Turner/Time Warner, stands at number seven in the sports news market. Furthermore, it grew 27% in digital audience year-over- year. Where will it end up, and with what kind of support as ownership questions resolve themselves?
Then, there's the Sports Illustrated question hanging in the wind. With a heavy male readership, it is, as I've written, a particularly poor fit for women's marketer Meredith, which just bought Time Inc. Who might end owning it, and combining it with what?
One keen observer of the digital news landscape offers a comprehensive perspective. 
"The possibilities for SI are interesting," Jed Williams, chief innovation officer for the Local Media Association, told me this week. 
"Of course, there's SI's back catalog of magazine content that still carries value, particularly with more traditional enthusiasts of the brand," Williams said. "But don't overlook the digital brands and assets they've built: a large video vault, a scaling podcasting network (including MMQB), vertical plays, the merchandising business, and more."
"Who could these digital/multi-platform assets benefit? Turner already has Bleacher Report, and is heavily invested in league rights, so that's one option. There's HBO and The Ringer. And then there are the emerging pure plays that may want to buy into quality audience and diversified revenue streams: SB Nation, The Athletic, and to a lesser degree Barstool Sports, though I'm unsure how SI would fit with their voice)."
The mating of new and old brands creates great parlor games. On the one hand, there's great legacy brand value. On the other, new companies find the challenge of still-transitioning print legacy brands too time-consuming. Will someone create a new formula in sports?
One new start-up formula has emerged, fairly quietly, this year. There's a brand new kid in the sports news league that doesn't appear on the comScore charts, but is beginning to roil local markets. The Athletic launched in mid-2017, and so far offers robust regional sports coverage in eight U.S. sports markets (Bay Area, Chicago, Cleveland, Detroit, Minnesota, Philadelphia, Pittsburgh and St. Louis)  and eight Canadian metros.
Two factors distinguish The Athletic. As a product, it offers comprehensive team-by-team, columnist-savvy coverage in its first markets. In addition, it has signed up some national voices such as Ken Rosenthal, who covers baseball. Its timing has been good at grabbing both national and regional talent. Rosenthal had lost part of his national Fox gig. Locally, given the rapid decline of dailies, some of the better columnists and beat reporters have jumped to The Athletic, before they could be bought out or laid off.
If the early product of The Athletic stands out, so does its business model. It's a subscription product, at $7.99 a month or a (currently) discounted $30 a year  -- with no ads. In a year that has seen a major reckoning for ad-based digital news products, the model taps the one growing support of news organizations.
Few digital-onlies -- other than highly niche products -- have tested this subscription-first route. The Athletic's gamble aims to tap that one essence that separates sports news from general news or business news: passion. Its sell -- "Fall in Love With The Sports Page Again" -- both taps that most passionate of news topics, and takes a swipe at the moribund coverage that many dailies now offer. 
What's the connection between the $8 million venture-funded, Bay Area-headquartered The Athletic and the wider national fortunes of the ESPNs, Foxes, and SIs? All seek the new revenue formulas that will lead them to growth in the 2020s. With advertising under pressure for all of them, the need to find more reader revenue, in direct and indirect (through distribution agreements) ways, is a top priority.
Big bundles and skinny bundles, streaming subscriptions, old-fashioned subscriptions. These all play new positions on the sports news business scorecard as the 2018 media season unfolds.
More of What's Trending on TheStreet: