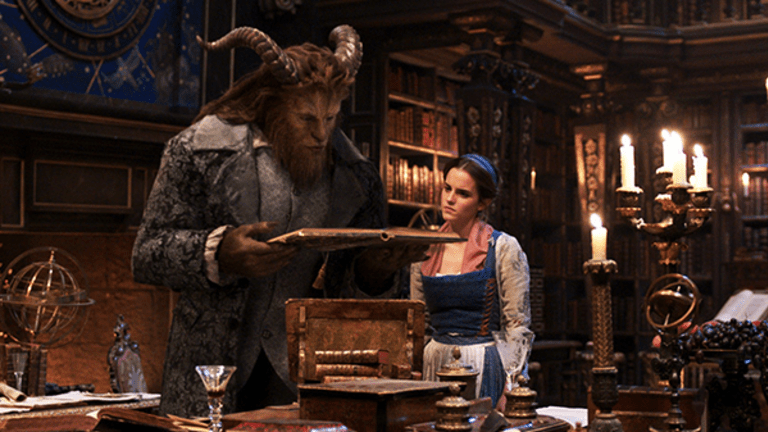 Disney Facing a Beastly Problem With Visual Effects Lawsuit
Rearden LLC sued Disney on Monday in a U.S. District Court in San Francisco.
The Walt Disney Company (DIS) has become tangled in a legal battle regarding the ownership of the rights to some visual effects technology, which could pose a threat to the entertainment giant's ability to profit from its hugely successful "Beauty and the Beast" remake, which was released this year.
Rearden LLC sued Disney on Monday in a U.S. District Court in San Francisco alleging copyright, patent and trademark infringement stemming from Disney's use of facial-capture technology used in "Beauty and the Beast," 2014's "Guardians of the Galaxy," and 2015's "Avengers: Age of Ultron," the Wall Street Journal reports.
The Silicon Valley entrepreneur Steve Perlman-controlled company is seeking injunctions to stop Disney from selling or showing these films until the two companies reach a deal.
"Disney never bothered to contact its longtime MOVA Contour service provider Rearden LLC to ask any questions or to verify Disney's authorization to use the MOVA Contour system, methods, trade secrets or trademarks that Disney knew Rearden owned," the lawsuit states, according to the Journal.
What's Hot On TheStreet
Amazon wants to upend every business, or so it seems: New day, a new business Amazon (AMZN) wants to dip its toes in. The latest looks to be the meal kit space, TheStreet reports.
In a July 6 trademark application, Amazon subsidiary Amazon Technologies Inc. revealed it's planning "prepared food kits composed of meat, poultry, fish, seafood, fruit and/or and [sic] vegetables...ready for cooking and assembly as a meal," as well as primarily grain-based offerings.
The product's tagline: "We do the prep. You be the chef." Amazon already sells other companies' meal kits, including Tyson Foods Inc.'s (TSN) Tyson Tastemakers. Martha Stewart is even offering meal kits on Amazon Fresh, the company's grocery delivery service. But, this may be the first hint of something bigger for Amazon, which would put it in direct competition with newly minted IPO Blue Apron APRN .
Elon Musk keeping it real for a change: Tesla's (TSLA) Elon Musk just gave the obsessed bulls on his company's future something to strongly consider, TheStreet reports.
Speaking at the National Governors Association Summer Meeting in Rhode Island on Saturday, Musk reiterated that shares of Tesla are trading at a level "higher than we have any right to deserve" based on optimism about the company's future.
"Those expectations sometimes get out of control," Musk added. Meanwhile, TheStreet reports Tesla could be at risk of a nasty surprise soon: the end of tax credits for electric cars in the U.S.
Procter & Gamble under siege: Peltz's Trian Fund Management plans to launch a fight for a board seat at Procter & Gamble (PG) , making it the largest company to face a proxy battle, TheWall Street Journalreported Monday.
Trian, which owns about $3.3 billion of P&G stock, is said to be seeking a single board seat for Peltz at the company's annual meeting that could take place in October. P&G have reportedly been in talks for five months, but the company is said to have rejected to name Peltz as a director last week.
Sales at P&G -- and its stock price -- have stalled due to pricing pressure and competition.
As TheStreet's Ron Orol reported in June, look for the consumer packaged goods company to announce plans for spin-offs, sales or even a swap out of business units. If major M&A doesn't come soon, a Trian director-battle or white paper chock full of activist demands could be next.
And Trian likely will demand significant M&A activity. Spinoffs and other major deals often follow when the activist investor acquires a large stake. Trian and other activist fund managers often push to have large companies break themselves up with the goal of extracting value by focusing the market on various parts of a business that might be hiding inside confusing conglomerate structures.
Here is what Orol is currently reporting.
Behind the scenes: TheStreet's Tracy Byrnes has a great talk with Carly Fiorina for our new web series "Alpha Rising." Fiorina was the first woman to head a Fortune 500 company when she became CEO and president of Hewlett-Packard (HPQ) and she was the first female officer at AT&T T . Must watch stuff.
More of What's Trending on TheStreet:
Amazon Files Trademark to Get Into Meal Kits, Continuing to Haunt Blue Apron