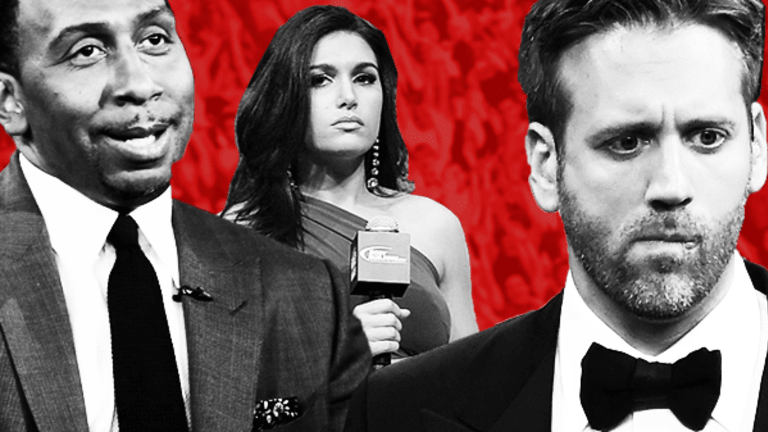 Why the Disney-Altice Battle Over ESPN Matters
Disney wants to extract higher fees for ESPN despite a drop in total viewing hours and its subscriber base. Altice wants discretion on which networks to carry. Something's got to give.
The tectonic plates are beginning to shift.
Subscribers to Altice USA Inc.'s (ATUS) - Get Free Report Optimum cable TV service could be hit with a blackout of Walt Disney Co. (DIS) - Get Free Report channels, including ESPN, if the two sides cannot forge a new programming agreement by the close of Sunday, Oct. 1, when an existing contract ends, according to a source close to the matter.
If Disney decides to withdraw its channels from Optimum cable-TV service, the blackout would affect about 3.1 million subscribers in the three-state state New York metropolitan area. Though Altice USA was created following its French owners' acquisition last year of Cablevision Systems Corp. and Suddenlink Communications Inc., these contract talks only effect former Cablevision subscribers. Altice's total footprint reaches 4.9 million subscribers in 21 states.
While the blackout wouldn't be national, the impact would ripple throughout a media industry in the midst of historic change fueled by the march of consumers and advertisers to digital platforms, and away from traditional pay-TV. Both Disney and Altice declined to comment on the talks.
ESPN, of course, is exhibit No. 1. Disney charges pay-TV operators such as Altice about $7.86 per subscriber to carry the network, according to SNL Kagan; the next most expensive cable network is Time Warner Inc.'s (TWX) TNT at $2.09. The major network broadcasters charge pay-TV providers retransmission fees that vary in price and region but hover near the level of TNT, yet far short of ESPN.
Disney is demanding that Altice pay higher fees for both ESPN and ABC despite the accelerating decline in pay-TV subscribers. ESPN's subscriber base has fallen to around 87 million nationally from a peak of more than 100 million in 2011, according to Nielsen NV. ESPN also suffered the second-worst season for its flagship "Monday Night Football" during the 2016 season as ratings declined across the league.
Altice contends that its viewers are spending less time watching ESPN on cable TV than they have in the past. Additionally, it has balked at Disney's demands that it include two college sports networks that aren't part of Optimum's baseline package. The request is viewed by Altice as particularly galling given that the SEC Network and the ACC Network broadcast games from colleges in the South, far from the bulk of its customers in New York.
But price isn't the only factor fueling the standoff. It's really about flexibility.
If actions do speak louder than words, Comcast Corp.'s (CMCSA) - Get Free Report announcement this week that it will offer a streaming skinny bundle that doesn't include ESPN starkly illustrates where the industry is headed. Comcast's Xfinity Instant TV streaming service starts at $18 per month and includes the major broadcasters -- its own NBC as well as ABC, CBS, Fox and the CW plus channels such as C-Span, QVC and HSN. Conspicuously absent are everything from ESPN and CNN to Fox News, CNBC and MSNBC. For those, you have to pay extra.
To be sure, Comcast's skinny bundle, available to its broadband subscribers, isn't for everyone. But that's just the point. Its comparative low price might just be perfect for someone who wants an easy way to watch the major broadcast networks as an addition to whatever else they like to watch: Netflix (NFLX) - Get Free Report , Hulu, Alphabet Inc.'s (GOOGL) - Get Free Report YouTube or videos on Facebook (FB) - Get Free Report .
The same idea is behind a pending bundle from Viacom Inc. (VIAB) - Get Free Report and other network owners that also will not include sports.
It's all about flexibility. And that's what Altice wants as well. To be strapped with a per-subscriber fee for ESPN above $8 only will limit Altice's ability to give the people what they might want. Importantly. Disney is demanding that ESPN remain a part of Altice's base subscriber package, limiting the pay-TV provider's ability to create skinnier bundles along the lines of Xfinity Instant TV.
For its part, Disney is insisting that it wants "fair, market-based agreements" with pay-TV providers, including Altice. CEO Bob Iger has made clear that despite increasing costs for sports rights, Disney is confident that it can extract higher fees from pay-TV operators.
"The ESPN brand is strong, and its array of sports rights is also deep and quite attractive, and so we have all the confidence in the world that as we enter our new cycle of extensions with the traditional distributors that we're in, we're well-positioned," Iger said earlier this month at an investor conference in New York. "We intend to drive a significant value in those negotiations."
Of course, the definition of "fair" and "market-based" may not be what they were five years ago when Altice predecessor Cablevision signed its current programming contract. That tension is at the root of the apparent impasse.
Disney, meanwhile, is putting pressure on Altice's subscribers by running crawl messages at the bottom of their TV screens warning of a blackout if their pay-TV provider doesn't agree to a new contract. Disney even has gone a step further by telling Optimum customers that they ought to consider getting ABC, ESPN, the Disney Channel and Freeform from digital pay-TV services such as DirecTV Now from AT&T Inc. (T) - Get Free Report or Sling TV from Dish Network Corp. (DISH) - Get Free Report . 
In response, Altice sent messages to its subscribers arguing that Disney's demands will hike their cable bills even higher than they already are, explaining that it has refused to pay an "exorbitant fee for ESPN," a request it called "anti-consumer." 
Ultimately, both sides say they just want what's best for the consumer. Customers will be waiting to see how the saga ends.
Comcast, Facebook and Alphabet are holdings in Jim Cramer's Action Alerts PLUS Charitable Trust Portfolio. Want to be alerted before Cramer and the AAP team buy or sell CMCSA, FB and GOOGL? Learn more now.
Don't miss these top stories on TheStreet: