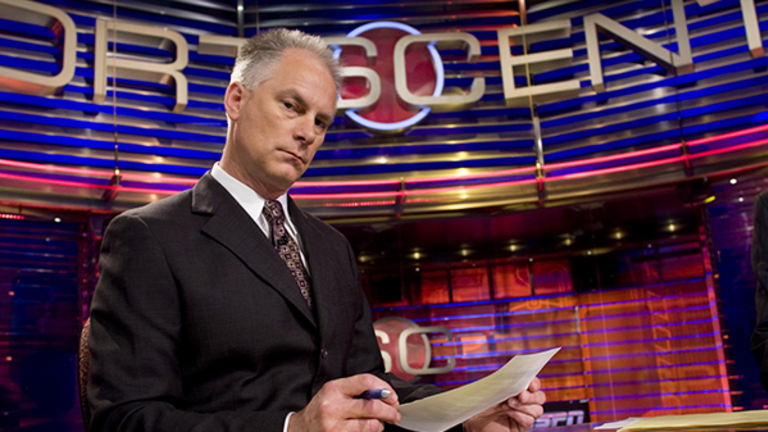 Disney Reaches Preliminary Contract Agreement With Altice, Avoiding Blackout
Altice said Sunday, Oct. 1, it had reached an agreement in principle with Disney and extended the deadine on talks to avoid a blackout.
Altice said Sunday, Oct. 1, it had reached an agreement in principle with Disney and extended the deadine on talks to avoid a blackout.
The great battle for the future of pay-TV has been kicked down the road.
Subscribers to Altice USA Inc.'s (ATUS) - Get Report Optimum cable TV service avoided a blackout of Walt Disney Co. (DIS) - Get Report channels on Sunday, Oct. 1, as the two companies said they were close enough to signing a new programming agreement to extend their contract hours before it was due to expire. On news that a blackout had been averted, Disney's shares were up 1.5% to $100 on Monday morning while Altice stock was 2.7% higher at $28.04. 
"We have reached an agreement in principle and have extended the deadline accordingly to try and finalize the terms," Altice said in an emailed statement.
Disney had warned that it might withdraw its channels from the Optimum cable service if talks reached an impasse. A blackout would have affected about 3.1 million subscribers in the tristate New York metropolitan area. Altice USA of Bethpage, N.Y., was incorporated after its French owner's acquisition last year of Cablevision Systems Corp. and Suddenlink Communications Inc., though the contract talks only affect former Cablevision subscribers. Altice's total footprint reaches 4.9 million subscribers in 21 states.
Both sides apparently got a bit of what they wanted in this latest carriage agreement.
Disney won a price hike for its largest networks, ESPN and ABC, though the increase in fees wasn't as high as the Burbank, Calif., company had originally sought, according to a Bloomberg report. Altice, meanwhile, did agree to carry two networks -- the SEC Network and the soon-to-launch ACC Network -- neither of which include universities in the New York metro area. For Disney, it's essential that it gain nationwide carriage for both networks given the high broadcast fees charged by the respective conferences.
Altice's contract talks with Disney had been watched for signs that a major pay-TV operator would push back against carrying sports networks. Sports rights remain the largest piece of the pay-TV bundle. Disney charges pay-TV operators such as Altice about $7.86 per subscriber to carry ESPN, according to SNL Kagan; the next most expensive cable network is Time Warner Inc.'s (TWX) TNT at $2.09.
For the moment, though, it appears Altice has agreed to sustain the traditional pay-TV bundle with sports networks at the top of the pyramid. Over the past week, Altice had told its customers it wouldn't allow Disney to charge exorbitant rates while citing data that showed that ESPN isn't as popular as it once was.
ESPN's subscriber base has fallen to around 87 million nationally from a peak of more than 100 million in 2011, according to Nielsen NV. ESPN also suffered the second-worst season for its flagship "Monday Night Football" during the 2016 season as ratings declined across the league. Altice also had contended that its viewers are spending less time watching ESPN on cable TV than they have in the past.
It's unclear yet whether Altice won the kind of flexibility that could enable the pay-TV operator to offer a range of so-called skinny bundles. Altice had been looking to keep ESPN under $8 per subscriber. Disney also was adamant that ESPN remain a part of Altice's base subscriber package.
More of What's Trending on TheStreet: