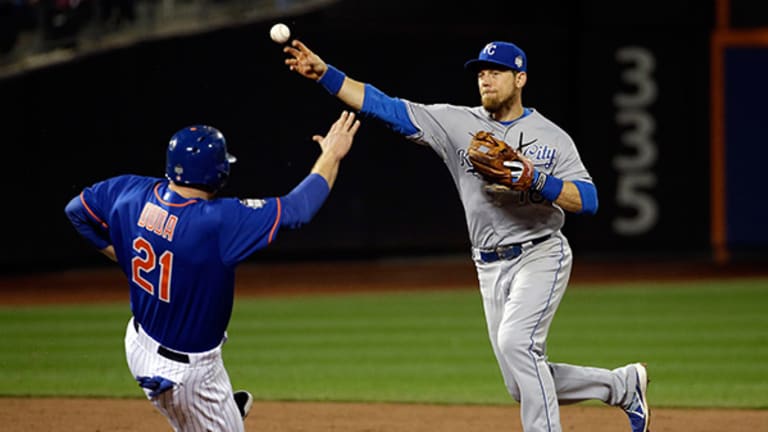 Disney (DIS) - Get Walt Disney Company Report, which on Tuesday said it would pay $1 billion to buy a 33% stake in Major League Baseball's fast-growing streaming technology business, has put together the pieces that could allow it to quickly create a viable standalone video service for its embattled ESPN sports channel, according to those with knowledge of the plans.
The deal with BAMTech merges a cache of popular sports rights that includes baseball and college football, together with a well-oiled tech team that has negotiated business arrangements with Apple (AAPL) - Get Apple Inc. (AAPL) Report, Microsoft (MSFT) - Get Microsoft Corporation (MSFT) Report and other video distributors in the past and has created apps compatible with more than 400 devices.
"Disney is getting some beachfront property," said Bernard Gershon, a former top Disney executive and president of the GershonMedia digital consultancy. 
The internet landscape is fast getting filled with streaming services that have quickly taken hold, Gershon said. CBS, which started its $5.99 a month CBS All Access service two years ago, has 1 million subscribers for a service that includes much of what folks can see for free on the broadcaster.
"Two years ago you would have been crazy to say they'd have 1 million subscribers," Gershon said. "This is moving that fast."
Disney said it will pay $1 billion in two installments to buy BAMTech and will have the option to buy control of it in the future. As part of the arrangement, the tech unit was separated from MLB Advanced Media, owned by pro baseball's team owners.
Disney is under pressure from Wall Street as its ESPN behemoth cable channel continues to lose viewers as "cord-cutters" increasingly drop their cable subscriptions in favor of getting video from online streaming services such as Netflix (NFLX) - Get Netflix, Inc. (NFLX) Report and Amazon (AMZN) - Get Amazon.com, Inc. Report Prime.
The new service could launch later this year, Disney CEO Robert A. Iger said in a conference call with analysts Tuesday.
Disney will contribute to the new ESPN-branded service the rights to games that don't appear on ESPN's brace of channels, including college football and basketball, as well as rugby and cricket matches. MLBAM will contribute rights it controls to Professional Golf Association matches and National Hockey League games, as well as an undetermined number of pro baseball games. (The NHL also has taken a minority stake in BAMTech.)
"Long term there may be an opportunity to purchase additional rights to put on this service," Iger added, "which is something long term, down the road, we will consider."
BAMTech's team of some 600 staffers have created the back-end technology that creates video streaming for Time Warner's (TWX) HBO, World WrestlingEntertainment (WWE) - Get World Wrestling Entertainment, Inc. Class A Report and the NHL. That includes creating apps for each that work on more than 400 devices, including streaming TV sets, iPods and other devices.
Although Disney and MLBAM executives are making few details available, BAMTech has negotiated the kinds of business deals with video distribution services that the new ESPN streaming service will need to get started. Some distribution services require video content providers to pay a share of revenue from subscribers, while others demand a flat fee or "bounty" based on the numbers of new subscribers that they provide to the content owner.
"The whole notion of spinning off BAMTech was to allow it to get off to a fast start and to move at the speed of the Internet," MLBAM spokesman Matthew Gould said. "Bringing on a strategic partner like Disney insures we can scale up quickly."
For all its advantages, however, the new ESPN site is no slam dunk. Disney collects billions a year in fees from cable and satellite operators for ESPN and other ESPN-branded channels and can't afford to upset them by offering popular programming that should instead appear on TV.
To generate more interest, Iger intimated the new service will "create a form of dynamic pricing" in which the consumer can pick a package of the types of sports he or she wants to see and pay accordingly. An ESPN spokeswoman wouldn't elaborate on what Iger meant.  
The biggest issue may be that only about one-third of U.S. TV homes routinely watch sports, meaning that the new service will appeal to a relatively small number of viewers, figures Blair Westlake, a former Universal TV chairman and a one-time top Microsoft executive who negotiated with content owners for the software giant's Xbox gaming console.
"You're not going to get many [subscribers] unless you give them a hook with sports they want to see," Westlake said. "But the cable and satellite operators who pay you billions of dollars a year for ESPN aren't going to be very happy if you price it too cheaply."
This article is commentary by an independent contributor. At the time of publication, the author held positions in Disney, Apple and Microsoft.