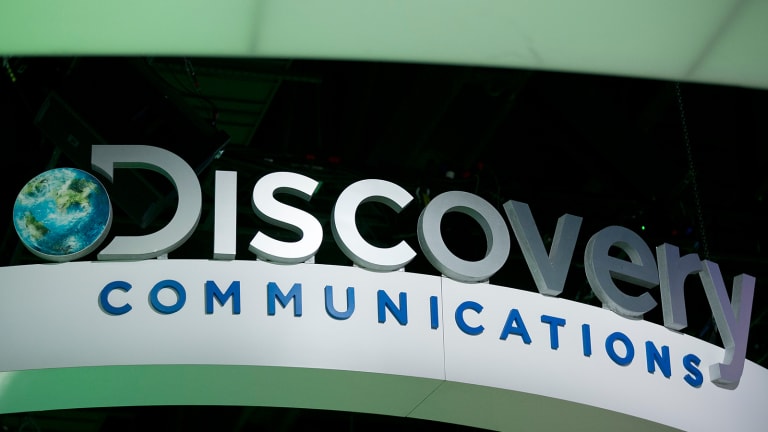 Why Discovery Stock Could Nearly Double in 2019
Wall Street has driven DISCA down some 24% since Nov. 8, but there's actually a lot to like with this media giant.
One theme that will be at the forefront in 2019 for many large tech companies will be providing great streaming content in the wake of cable TV subscribers' growing "cord-cutting" moves. I think that will make Discovery Inc. (DISCA) - Get Report a great investment -- even the though the content provider offers largely the opposite of what streaming giant Netflix (NFLX) - Get Report does and Wall Street has pretty much left DISCA for dead.
Let's check it out:
Scripted vs. Unscripted Content
Video consumers were once stuck with cable TV and plenty of channels that they never actually watched, but they now have more quality choices than ever before. For example, those who want scripted content -- dramas, sit-coms, etc. -- can find lots of high-quality series or movies on the likes of Netflix.
But while these programs are often a delight for viewers, they're extremely expensive for streaming firms to produce. Moreover, for a long time, Netflix was the only streaming game in town that was providing such content.
However, given Netflix's success, Amazon (AMZN) - Get Report now offers quality scripted content on its Amazon Video platform. Disney will also soon launch its own direct-to-consumer offering, while Apple (AAPL) - Get Report will soon provide such programming to consumers as well, likely for free.
But Discovery is a real industry leader when it comes to unscripted content - sports, documentaries, reality TV shows and the like. Certain viewers with smaller budgets are happy to pay around $8 a month for a package of Discovery networks that they already know and love.
For example, Discovery's streaming platform has a strong market share among females, reaching 20% of women who watch primetime pay TV. The company also has opportunities to attract sport lovers with its Eurosport network, while DISCA's other strong brands include Animal Planet, the Food Network and TLC, just name a few:
A Depressed Stock Price
Now, there's been little love on Wall Street recently for Discovery's stock.
After all, the company's balance sheet meaningfully weakened after DISCA acquired Scripps Networks earlier this year for roughly $14.6 billion (including debt). That forced Discovery to temporarily suspend its share-repurchase program if the firm wished to retain its investment-grade credit rating.
Shareholders became disenchanted in turn with owning a highly leveraged company which was pressing forward in the opposite direction of Netflix and its scripted peers, causing DISCA to sell off. While the stock is up a bit since the Scripps deal closed in March, it's down some 24% since peaking at $34.89 intraday on Nov. 8.
Big Cost Savings
However, Discovery told investors earlier this year that the Scripps acquisition would create large synergies, initially guiding for $350 million of cost savings. That's a significant number for a company with around a $20 billion market cap.
Fast forward half a year and Discovery recently updated that to potentially $600 million in cost savings. Moreover, these cost savings have already started to become evident.
For instance, while Discovery's pro-forma revenue was only up 2% in the third quarter, its adjusted OIBDA (a profitability metric similar to EBITDA) rose 18% year over year. In other words, Discovery is already doing tremendously well at squeezing out inefficiencies following the Scripps acquisition -- strong evidence of a terrific management team.
Coming Soon: Lower Debt and Possible Share Buybacks
But wait ... I've saved the best part for last.
While Discovery hasn't given full-year 2019 guidance yet, the company said during its third-quarter earnings call that it expects $3 billion of annual free cash flow by 2019's end or early 2020. In other words, investors who buy DISCA at current prices will pay less than 7x forward free cash flow for Discovery stock.
Discovery has also said that it'll use excess free cash flow to aggressively pay down debt over the next 12 months:
Source: Discovery company presentation
Further, the company has made clear that once its net leverage reaches 3.5x, it will very seriously consider repurchasing its stock. In fact, many people already consider the shares undervalued -- including media mogul John Malone, who bought heavily into Discovery last year and this past summer.
The Bottom Line
Add it all up and Discovery makes for a very interesting under-the-radar investment opportunity.
Remember, today's consumers expect a wider choice of entertainment than ever before, and Discovery leads in unscripted content offered at a very attractive price point. And best of all, the stock is tremendously cheap right now.
The bottom line: It's difficult for me to envision a scenario where Discovery doesn't rally from Wednesday's $26.88 closing price to eventually hit roughly $50 per share. That's a modest 12x the company's $3 billion of projected free cash flow for year-end 2019.
At the time of publication, Wiggins De Oliveira was long Discovery's DISCK share class, although positions may change at any time.