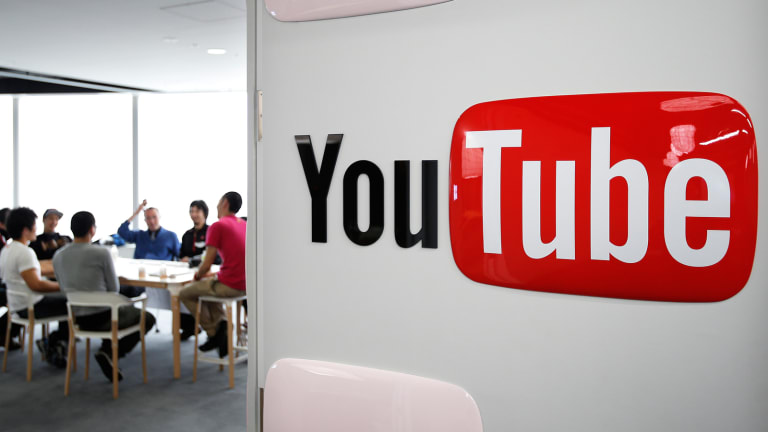 YouTube, Comcast, Discovery and Others Discuss Future of Video at CES 2018
Execs from both tech and media giants weigh in on changing media consumption habits and how they're driving and affecting their respective businesses.
Traditional media firms aren't oblivious to how online and mobile video is changing consumer behavior and upending their industry. But their prescriptions for dealing with the challenge can be very different from those of industry disruptors such as Alphabet's (GOOGL) - Get Report Google, Facebook (FB) - Get Report , Amazon (AMZN) - Get Report and Netflix (NFLX) - Get Report .
That's one takeaway from a pair of far-reaching CES talks featuring several senior media and ad execs, held at the tech conference on Wednesday in Las Vegas. The panelists included YouTube chief business officer Robert Kyncl, A+E Networks CEO Nancy Dubuc, Comcast (CMCSA) - Get Report ad chief Marcien Jenckes and Discovery Communications (DISCA) - Get Report CEO David Zaslav, along with a few others.
Changing video-watching habits was a subject on everyone's mind. Zaslav, whose firm owns quite a few cable networks and will own even more once Discovery's $14.6 billion deal to buy Scripps Networks goes through, argues Discovery's large stable of non-fiction content properties catering to "superfans" in various niches (cooking, cars, science, etc.) will help it stand out.
But he's up for finding new ways to both create and distribute such content. In addition to launching direct-to-consumer offerings a la Disney, Zaslav raised the idea of video integrated with voice-assistant platforms. One scenario he described that's bound to make Jeff Bezos smile: A cooking-show fan using Amazon.com's (AMZN) - Get Report Alexa to pull up content related to a desired food item in the kitchen, and then using Alexa to ask Whole Foods to deliver it.
New online sports offerings are also part of Discovery's strategy. But not in the U.S., a sports market Zaslav considers over-played. But rather in Europe, where Discovery's Eurosport network gives it huge reach. Zaslav wants Eurosport to create online subscription services catering to superfans of particular sports, rather than trying to be everything to everyone. "In Europe, we have a sports Netflix," he claimed.
On the other hand, in a statement that Netflix CEO Reed Hastings might quibble with, Zaslav insisted the ability of TV shows to deliver a "shared cultural experience" by being viewed at the same time by millions of viewers -- viewers who might then go on social media to discuss the show, or talk about it with co-workers the next day -- still has value.
Along a similar vein, Zaslav argued the growing fragmentation of video content is a problem that needs addressing. "Basic cable works because everyone has their favorite 6 or 8 channels ... for everyone in the household, it's something else," he said, while adding Discovery is trying to deal with the problem by curating content around brands and interests.
Kyncl, not surprisingly, took a different view. "Fragmentation is like gravity ...you should amass as much content as possible to satisfy fragmented audiences," he claimed. As Kyncl pointed out, YouTube (owned by Google parent Alphabet) deals with the incredibly fragmented nature of its video library by using machine-learning algorithms to deeply personalize what's recommended to individual viewers.
Comcast and Alphabet are holdings in Jim Cramer'sAction Alerts PLUS Charitable Trust Portfolio.Want to be alerted before Cramer buys or sells CMCSA or GOOGL? Learn more now.
Also a subject of interest: Finding new ways to pool and leverage data to improve ad targeting and content-financing decisions in a landscape where consumers are watching more ad-free content and have more choices than ever.
Kristin Dolan, CEO of ad-measurement firm 605, noted analytics is helping TV networks get better at figuring out things like how well its audience "indexes" for a particular kind of shopping, or for ad engagement in general. She also noted how Walmart (WMT) - Get Report upped its spending on an ad campaign highlighting a $2.7 billion "corporate culture" initiative after data pooled from multiple sources suggested the campaign contributed to higher Walmart spending among certain groups of viewers.
Also mentioned by Dolan: Cloud services are leading first-party data to be delivered by advertisers much faster than before. And that's allowing ad campaigns to be tested and optimized at a much faster rate.
Kyncl provided a very different use of analytics: He stated YouTube decided to reboot the Karate Kid franchise (a show will appear on the YouTube Red subscription service later this year) after finding Karate Kid-related videos had produced over 1 billion views on YouTube.
Interestingly, Menckes noted Comcast has been working with advertisers and media peers on a blockchain-based solution for securely sharing ad data, and deriving insights from it, with each other without the need for third-party data services firms (who might restrict what they share) to be involved. "We are innovating a way for pools of data to be shared," he said.
In the wake of a media M&A-filled 2017, industry consolidation was also a topic of much debate. "We think it's the golden age of mergers and acquisitions," claimed Aryeh Boukoff, the CEO of boutique i-bank LionTree. Boukoff, not quite an impartial observer here, argued smaller media firms lacking scale "will need to find a dance partner," either striking "horizontal" deals with other media firms (think Disney/Fox) or "vertical" deals with major content distributors (think AT&T/Time Warner).
Kyncl also felt industry M&A will continue. He argued the desire for more audience scale, greater content aggregation and cost efficiencies will all lead more firms to join forces.
Dubuc agreed 2018 will be a big M&A year for media, but added there's "not much left" to buy. She also suggested that media players that have strong brands and avoid trying to be everything to everyone don't necessarily need to go the M&A route. "It's knowing who you're serving, it's over-serving them and it's about being an incredible steward of brand," she said. "Know thy audience and over-serve them."
More of What's Trending on TheStreet:
What Carl Icahn Told Us Explains Why Xerox Might Merge With Fujifilm 10 Haunting Photos From Sears and Kmart Closings Sweeping the U.S. When Are Your Taxes Due? A Schedule and Primer for Filing for 2017 12 Cars Built For Your New Year's Resolutions