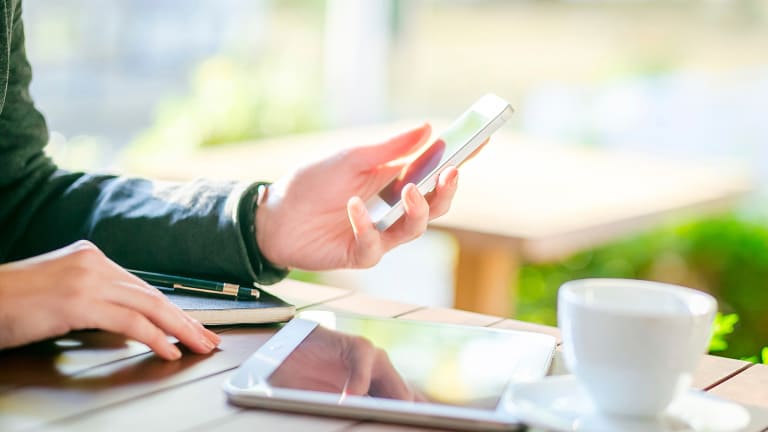 Digital Video Channels Are Taking Money From Traditional TV
TV still dominates but it faces a threat as digital video content creators push for more advertising dollars.
TV still dominates but it faces a threat as digital video content creators push for more advertising dollars.
NEW YORK (TheStreet) -- Digital video is taking more and more advertising money away from traditional television, and no assortment of newfangled shows or heavily-hyped sports events is likely to reverse the trend.
This week, 33 digital video content creators, from AOL (AOL)  and Google's (GOOG) - Get ReportYouTube to relative newcomers Vice and Stylehaul, are vying for media buyers' attention at the fourth annual Digital Content NewFronts, a pre-season ad-selling spree, organized by the Interactive Advertising Bureau and modeled on the TV networks' annual upfronts. (TheStreet.com is also participating in the NewFronts.)
"The broadcast upfront will be down by mid-single digits; cable, the same," Benjamin Mogil, an analyst at Stifel said in an email. "Money (is) flowing to NewFronts."
Total spending on digital video advertising in the U.S. is expected to surge 34% in 2015 to $7.77 billion, one-third of which will be spent on advertising flowing expressly through mobile devices, according to eMarketer. The total digital video ad market is expected to grow to $14.3 billion by 2019.
That remains small compared to TV ad spending, which is expected rise 3% in 2015 to $70.6 billion and is set to reach $81 billion by 2019. But whereas marketers had been shifting money to digital advertising out of print, billboard and other sources, dollars are shifting out of television as well.
"Some of this growth may be coming at the expense of television," Paul Verna, senior analyst at eMarketer, said in a phone interview.
Only recently has spending on online video begun to match the migration of viewers to digital platforms as advertisers have been skeptical that their online messages were having much impact. But that's beginning to change as viewers become more accustomed to digital ads and marketers become better at making the medium work for their product or service.
Digital video is "on fire," said Jon Steinberg, CEO of Daily Mail North America, in a phone interview. "It's the only area in digital where demand exceeds supply. We're sold out every month."
This year, digital video will command just 4.4% of U.S. ad spending, even though consumers are spending 11% of their media time watching videos on digital devices, according to eMarketer. Ad agencies have been reluctant to shake up the status quo and there hasn't been an abundance of premium content, or the tools to measure viewership.
But those barriers are expected to fall.
"Advertisers are increasingly comfortable with making upfront purchases of digital inventory, but key gating factors remain," Nomura media analyst Anthony DiClemente wrote in an April report, adding that he expected spending at the NewFronts to grow 64% to $1.1 billion, though that would still only be 5% of total upfront ad spending.
Sarah Baehr, executive vice president for digital media at media buying firm Carat, said she'll be interested in seeing presentations from fashion web site Refinery29 and edgy digital media company Vice.
"They are two companies with distinct points of view who are reaching millennials," Baehr said.
She said buying digital video advertising compared with purchasing television ad time was not an "either/or" decision. "We are looking at it as a holistic video marketplace," Baehr said.
Ann Bager, senior vice president of mobile and video for NewFronts' organizer, the Interactive Advertising Bureau, noted that this year's NewFronts has 50% more presenters than last year.
"We anticipate seeing more deals from the marketplace accordingly," she said in an email. "Some of those investments are expected to come from expanding ad budgets and some will impact buys on other media channels."