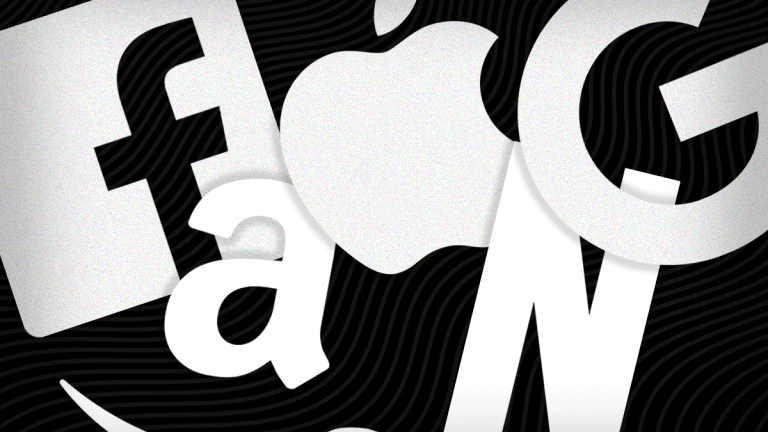 What France's 3% Digital Tax Means for Tech Giants Like Amazon and Facebook
The Organization for Economic Cooperation and Development (OECD) is aiming to hammer out new international rules for taxing tech multinationals by the end of 2020. In the meantime, France is going it alone with a 3% tax aimed at tech giants such as Amazon, Facebook and Alphabet.
France and the U.S. arrived at a compromise on the taxation of tech giants, but it's far from a settled matter. 
Shares of Amazon (AMZN) , Facebook (FB) and Alphabet (GOOGL) rose on Monday following reports that the Trump administration and France reached a deal on a new "digital tax" targeting major tech multinationals. The tax, which was enacted in July in France, slaps a 3% levy on companies that sell more than $27.86 million in digital services in the country and more than $830 million in revenues globally. The Trump Administration said that the tax "unfairly targets U.S. companies," while France and other European states have argued that top firms should pay more in taxes.  
On Monday at the G-7 summit, French President Emmanuel Macron said that U.S. and French officials worked out a compromise. Under that compromise, companies that pay the 3% tax will be able to deduct that amount once a new multilateral agreement on how to tax Internet giants is reached. Trump had threatened a heavy tariff on French wine in retaliation for the digital tax.
"Ultimately, its going to come down to some extent to geopolitics -- the amount of tax isn't going to make a dent with these tech players," said Benjamin Alarie, CEO of Blue J Legal, a predictive tax law software firm. 
Apart from France, other European nations, such as Czechia and the U.K., have proposed their own versions of a digital tax as criticism of powerful tech firms grows in the U.S. and Europe. In the meantime, however, the 36-member Organization for Economic Cooperation and Development (OECD) is also hammering out a way forward on taxation of multinational tech companies. 
"The OECD is headquartered in Paris, the French are very influential at the OECD. But the U.S. is also very influential, so it's kind of an immovable point and an unstoppable force meeting," Alarie added. 
Either way, international tax reform does not happen quickly given the multitude of interests involved. Trump, for his part, has expressed offense at the idea that U.S.-based companies should be singled out. And France likely grew impatient with the slow development of OECD rules on digital taxation, and opted to roll the dice on forging ahead on the hopes that others would come along. 
"At 3%, the goal of the tax is to collect a not-insignificant amount revenue, but not lead to massive restructuring efforts to avoid the tax immediately," Alarie explained.
At the G-20 Summit in May, the OECD adopted a "programme of work" to develop a new plan to tax multinationals. That resolution, adopted by the 129-member OECD/G20 Inclusive Framework on Base Erosion and Profit Shifting, seeks "to reach, by the end of 2020, a unified long-term solution to the tax challenges posed by digitalisation of the economy, said OECD Secretary-General Angel Gurría in a statement. 
In 2015, the OECD estimated that $240 billion, equivalent to 10% of global corporate tax revenues, had been lost due to profit shifting to low-tax jurisdictions in the digital economy. 
Still, pushback is likely from firms that are subject to the new taxes. Days ago, for example, Amazon told French small business owners by email that selling fees will be increasing by 3%, the same percentage as the new digital tax on revenues. 
"This tax is aimed squarely at the marketplace services we provide to businesses, so we had no choice but to pass it down to Selling Partners," Amazon said in a statement. "We recognize that this may place small firms in France at a competitive disadvantage to their counterparts in other countries."
For the largest tech companies, taxation is just one area of potential reform. Both in the U.S. and in Europe, antitrust investigations of possible anti-competitive behavior among big tech firms are also underway. 
Amazon, Facebook and Alphabet are holdings in Jim Cramer's Action Alerts PLUS member club. Want to be alerted before Jim Cramer buys or sells the stocks? Learn more now.