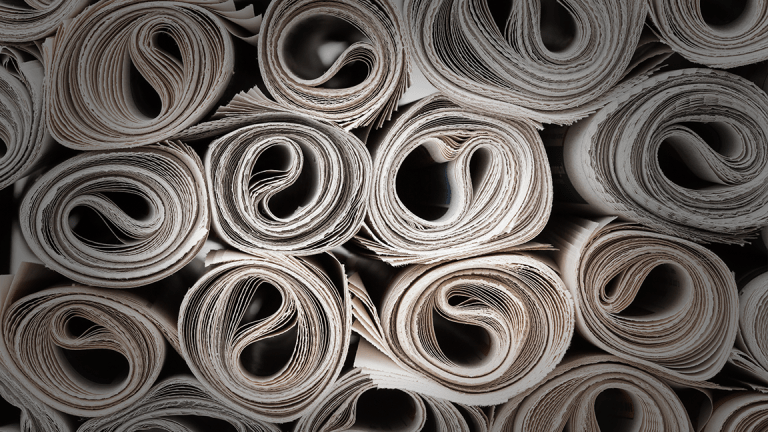 Digital First Media's CEO Steps Down; What's Ahead for the Company?
Digital First Media, the biggest cost cutter in the newspaper industry, may have just eliminated its CEO position with the departure of Steve Rossi.
Steve Rossi, who has served as CEO of the country's third-largest group of daily newspapers, Digital First Media Inc., stepped down on Monday, Oct. 23. Rossi retires from top post he took on 2-1/2 years ago. Then, in May 2015, he replaced high-profile "digital first" CEO John Paton, as the company called off its attempted sale of its more than 50 dailies.
Guy Gilmore, a career circulation executive and currently executive vice president and group head of the Eastern region, moves into the position of COO, "reporting to the board." There is no word from the Denver company on whether a new CEO will be appointed.
"Guy is the only guy, so to speak," one former company executive said. DFM, with a relatively thin corporate layer, also offers a relatively thin bench for succession. One key attribute of Gilmore's: "He may not be that popular with those who work for him, but he makes his numbers."
For now, at least, Gilmore appears to take responsibility for a company considered by its peers to be the leader in aggressive, profit margin-maintaining cost control. Alden Global Capital LLC, a New York private equity company, won full control of DFM several years ago and maintains the most strict budgeting regimen in the industry. While its profit margins top 25% in numerous markets, the company has been known to cut back on the supply of bottled water to its employees.
The ranks of those employees continues to thin. Once regional-dominant dailies such as the Bay Area's Mercury News or The Denver Post have seen newsrooms of multiple hundreds cut to fewer than 100 each.
Unlike its peers by size, GateHouse Media Inc. and Gannett Co. (GCI) , the company has made lesser investment in its digital product future, outside of its marketing services business, most prominently AdTaxi. While its peers, bigger and smaller, emphasize digital reader revenue as a top priority in reviving the local journalism business, DFM's reader revenue progress -- though not publicly reported -- appears slim.
Efforts to obtain immediate comment from DFM on Monday's changes were unsuccessful.
Gilmore inherits a company with numerous question marks.
First, it's a company that is shopping its properties. The industry's major newspaper brokers have been told by DFM to "bring them offers." In the past two years, the company has sold off the Salt Lake Tribune, The Berkshire Eagle and the New Haven Register, among smaller associated titles. For DFM, the calculus is clear, the brokers say. Can DFM obtain a purchase price yielding a multiple of 4.5 times earnings? if so, given the accelerating decline of local print advertising, DFM will entertain sales. Given the faster decline of revenue in 2017, a big question: How many more titles may be sold in 2018?
Then there's the question of DFM's Western big paper/Eastern small paper split. It is those big titles like The Mercury News, The Denver Post, Los Angeles Daily News and Orange County Register that stand as the company's biggest brands, with its smaller Eastern properties -- those run by Gilmore -- throwing off steady profits. Alden has, over time, assigned The Denver Post with a disproportionate part of the corporate overhead allocation, complicating the disposition of the company's priorities.
And there's the larger question of strategy. Given the declines in advertising, both in print and digital, what's the game plan for 2020 and beyond? Executives at DFM have noted that there's a lack of one, evidenced mostly by DFM's lack of investment both in news content itself and in digital news products for readers -- investments that might spur more subscriptions. That's led many to speculate that DFM remains a shorter-term play, and the property sales may affirm that. If however, buyers cannot be found at prices currently acceptable to Alden, it's unclear what kinds of community news products or businesses may be left in places within a few years. 
Against that backdrop, and with tight control exercised by Heath Freeman, Alden's president and DFM vice chairman, insiders don't expect much operational change under Gilmore. As a regional executive, he first oversaw the major reduction in staffing at the St. Paul Pioneer Press, now down to 49 journalists, from a height of 225 some 20 years ago, and then DFM's largely smaller paper Northeastern newspaper groups. As one erstwhile publisher of one of those groups said Monday, "I worked with him directly, and he oversaw the dismantling that led many to quit."
In that regard, Gilmore and Rossi have both accepted the unenviable duty of continuous and relentless cost-cutting. Rossi had joined the Bay Area News Group, a major part of DFM's portfolio, after serving as COO of Knight Ridder Inc. Knight Ridder sold itself to McClatchy Co. (MNI) in 2006, which in turn sold the company's Bay Area papers to what was then MediaNews Group. After a couple of bankruptcies, and much restructuring, Digital First Media -- an overall brand for what had been MediaNews and Journal Register Co. -- emerged. Rossi had moved through the ranks of the Western operations of DFM since 2006, emerging as CEO in 2015.
As Gilmore becomes COO reporting to the board, that begs the larger question of whether any successor to Rossi will be named CEO. In part, the action may be a testing by Alden of Gilmore's overall capabilities. Further, there is another more basic logic to the new structure: It saves one large executive salary. DFM has already eliminated numerous publisher and editor positions in its ranks to accomplish similar head count savings. DFM may seem, then, like a headless horseman embarking uncertainly in the darkness of publishing world in deeper decline.
Maybe that's a bit poetic to describe a corporate restructuring, but then again Halloween, a focal point of Washington Irving's "The Legend of Sleepy Hollow," is nigh.
More of What's Trending on TheStreet:
Did China Just Avoid a Major Coup? Expert Gordon Chang Weighs In