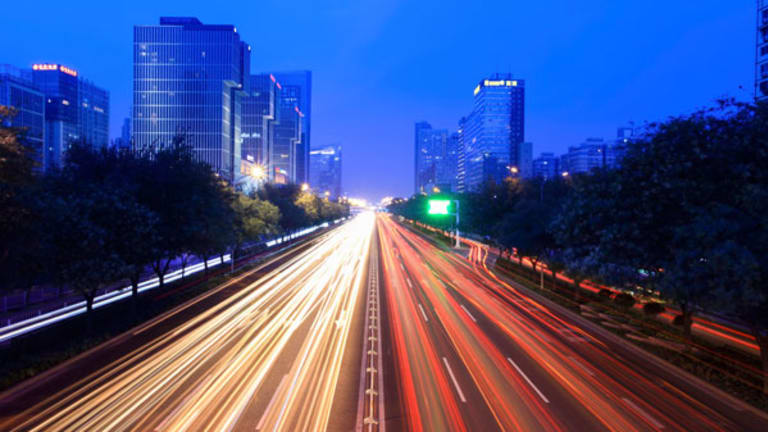 Did First Solar Just Walk a Fine Reg FD Line?
First Solar may have violated the SEC's Regulation FD, or fair disclosure rule in discussing a solar project's funding outlook.
(First Solar story updated for clarification of comments from Maxim Group and Collins Stewart analysts)NEW YORK (TheStreet) -- Shares of U.S. solar company First Solar (FSLR) - Get Free Report slid by 7% on Wednesday, possibly due to the company reportedly hinting to some investors and analysts that one of its three large-scale solar projects would not receive a loan guarantee from the Department of Energy, as first reported on TheStreet on Wednesday.
On Thursday morning, the company made it official, putting out a press release that said its Topaz project, one of the larger U.S. solar projects ever to be planned, would not receive a government loan guarantee, a day after some analysts and investors said First Solar was spreading the word.
Aaron Chew, an analyst at Maxim Group, called the company on Wednesday early in the evening for clarification of reports he was hearing about Topaz. While Chew says they did not outright tell him the Topaz DoE loan guarantee would not go through, they did indicate they now saw a "much lower probability" of it happening which to him suggested it was in all likelihood "a done deal." First Solar also told the Maxim analyst it was in negotiations with a buyer with a low-cost of capital for the project. The next morning, First Solar announced that it would not receive a DOE loan for Topaz, and negotiations with a buyer with a low cost of capital, a specific factor that could make financing attractive even without the federal loan guarantee.
That comment alone to the Maxim Group analyst the night before the press release could very well be a violation of
, said Bryn Vaaler, professional services partner at Dorsey & Whitney and Reg FD expert. On Wednesday afternoon, a First Solar spokesman was quoted in a
Marketwatch
story giving no indication that any of the First Solar projects was out of the running for a loan.
Several analysts and investors have expressed a concern that First Solar is walking a fine line in these comments, as well as frustration, citing the
Securities and Exchange Commission's
Reg FD, which stipulates that an officer or director of a company cannot make any disclosure of a material nature about its business on a selective basis.
In the end, it may be that First Solar violated the spirit of Reg FD: it may turn out that First Solar realized that it was walking too fine a line, or that there was some other form of unintentional leak and the company issued the Thursday press release as a result. Regulation FD has a safe harbor that says "If the Company learns that it has unintentionally disclosed material nonpublic information, it must publicly disseminate the information within 24 hours."
The large-scale solar project loan that First Solar was discussing with analysts a day before issuing a press release is, in fact, essential to the company's earnings outlook. Any failure to take advantage of a government loan guarantee means that First Solar has to obtain more expensive capital markets debt financing. This would result in a lower sale price to a buyer of the solar project, and in turn, lower earnings for First Solar. The company has made this point itself in previous commentary about the solar project market.
The disclosure related to First Solar's Topaz project is complicated by the fact that the market was
rife with concern about all federal loans
being offered to energy projects on Wednesday, as the House Energy Committee said it wanted to review each and every loan planned by the Department of Energy in the wake of the bankruptcy of White House-backed solar company Solyndra.
That led to speculation, including
here
, that First Solar's three federal loan guarantees faced unquantifiable political risk.
First Solar may have thought it was merely responding to market concerns in reaching out to the analyst community a day ahead of issuing a press release about the Topaz project, but others contend that the solar company, the largest in the U.S. and a member of the
, was attempting to massage bad news by giving advance warning to some selected members of the Wall Street community. There were also reports in the energy trade press that
Enbridge
might acquire the Topaz project, and Enbridge has a low cost of capital.
First Solar did not respond to several requests for comment from
The Street
about the Topaz project as this article went to press, though First Solar spokesman Ted Meyer said he was working on the request.
On Wednesday, Macquarie Securities analyst Kelly Dougherty issued a report saying that based on "recent conversations" with First Solar, it was her belief that the company would not receive a federal loan for Topaz. Dougherty did not respond to an emailed request from
TheStreet
asking when this "recent conversation" took place. First Solar IR head Pollizotto did not respond to several emails.
Solar market insiders say that as many as five analysts were called on Wednesday by the head of First Solar investor relations, Larry Pollizotto, and told beginning Wednesday morning that First Solar might not get Topaz, but they felt good about the other two projects receiving loan guarantees. First Solar still has conditional commitments for its Desert Sunlight (500 MW, $1.8 billion loan), and Antelope project (350MW, $680 million loan), and already closed a loan for its Agua Caliente project.
First Solar can contend that its comments to analysts were not specific enough to be material. First Solar can also make the case that it was speaking more about the strength of its other two projects vying for a federal loan guarantee, and not Topaz, and that it has on previous occasions spoken publicly about challenges to Topaz including potential lawsuits. Though a second solar analyst familiar with Wednesday's events said First Solar seemed to go further in its disclosures and discussion of Topaz than simply restating some of the information already public about the project. This analyst said that if there is a safe harbor, it doesn't make the way First Solar handled the disclosure any easier to swallow, and it didn't seem accidental or unintentional in the way First Solar went about discussing the project.
A First Solar investor with knowledge of the situation said the cynical read on the Topaz disclosure is that those investors lucky enough to have relationships with one of the brokerage firms told in advance by First Solar about the projects had an opportunity to front-run a piece of material non-public information. They say the company's purpose in making these selective disclosures was to attempt to "cushion" the stock from the sudden release of bad news, and cited these reasons:
1. The analysts could all say that "the news was expected." Nobody likes a surprise.
2. The analysts had a chance to pre-emptively give the company's spin.
3. First Solar could provide leading information to the analysts, who could then reach "their own conclusions" about the solar project outlook.
Reg FD expert Vaaler said analysts can make the case that they didn't get additional non-public information and just used their own intelligence to put two and two together, but added, "if they were having private conversations with spokespeople from a company where material non-public information was disclosed, then that's a problem."
Specifically, First Solar made the case that not getting the federal loan wouldn't result in a significant earnings outlook change because the potential buyer of the project has such a low cost of capital that First Solar would lose as little as 5 cents per watt in the sales price. Previous estimates from First Solar provided earlier this year to Wall Street indicated that the loss of a federal loan could result in a sales price per watt lower by as much as 62.5 cents. By some Wall Street estimates that would equate to an earnings reduction of $4 to $4.50 over two years.
The solar analyst familiar with the First Solar discussions on Wednesday said that if First Solar's commentary that the buyer would be paying only slightly less per watt for the Topaz project turns out to be accurate, First Solar can argue the disclosures it made on Wednesday are not material to earnings, though other analysts, including Maxim's Chew, are skeptical of First Solar's ability to sell the project at a price similar to as if it had a federal loan guarantee.
Collins Stewart analyst Dan Ries wrote on Wednesday morning without having spoken to First Solar, "The three FSLR projects that have outstanding 1705 loan applications (with conditional approval) are essential to our CY12 and CY13 EPS forecast for FSLR."
Ries' report was about the political risk to First Solar from the Solyndra investigations on Capitol Hill, but he commented to
TheStreet
on Thursday that clients began asking him about Topaz specifically, and attributing the reports that it wouldn't get a loan to two other firms, and speculation seemed to increase later in the day Wednesday, indicating there could have been a leak, but he never spoke directly to First Solar on the issue.
Regulation FD expert Vaaler said that several of the aspects of the First Solar issue raised red flags.
He said it's a mistake for any company to hold one-on-one calls with analysts. If it's not a violation of Reg FD, it's playing with fire. "It's not a violation to have the call, but it's a violation if anything material is discussed during the call," the lawyer said.
"If officers, directors or agents of a company disclose material non-public information to anyone on the buy or sell side and they do not simultaneously make a public announcement by press release or 8-K filing, that is a Reg FD violation. There's no two ways about it," Vaaler said.
The Reg FD expert said one defense a company has is to take the position that it's not material information and it doesn't impact shares. First Solar shares declined by 7% on Wednesday. This too, though, is complicated by the fact that the headlines about the House Energy review of all energy loans hit the wires on Tuesday night, and investors would expect this issue alone to pressure First Solar shares.
Nevertheless, a DOE loan guarantee expert told
TheStreet
on Wednesday that based on the way the loan guarantee legislation was originally written, it seems unlikely that Congress could pull funding before the deadline for the loans to close on Sept. 30, unless a specific project could not meet the conditions set by the DOE for granting a loan.
Vaaler said it's not uncommon for a corporate officer to simply mess up and blurt something out and afterwards realize what they had done, though the series of calls reportedly made by First Solar, and the fact that the calls were reportedly made by the head of IR, who should know Reg FD, wouldn't support this reading. "Anyone who is an officer, anyone in IR, they are the ones that Reg FD's message was intended for: 'get your company's act together,' " Vaaler said.
The lawyer said that the SEC has in recent years relented in prosecuting Reg FD violations as other more pressing concerns have taken up time, though the SEC has in the past levied significant fines for Reg FD violators.
First Solar shares closed Wednesday at their lowest level since 2007, though it's a slide that started well before the federal loan news and the Solyndra bankruptcy, as the solar sector is experiencing overcapacity and a pricing free fall. The free fall continued on Thursday, as the markets melted down and shares were again down by more than 7% on elevated trading volume.
One First Solar shareholder wrote to
TheStreet
on Thursday to express frustration with the Topaz disclosures, writing, "I think they were walking a fine line and apparently already knew they would not receive the loan guarantee from DOE. If that was the case, then they should have avoided passing out any reports about Topaz. That really should have been preceded by an announcement to everyone simultaneously. Then any questions of violation could have been avoided. It is clear by the way the stock traded yesterday that something was leaked. At a time in the solar industry when every effort should be made to avoid even a hint of impropriety, they go and do something like this."
-- Written by Eric Rosenbaum from New York
RELATED STORIES:
>>Why You Should Be Alarmed by Solyndra
>>Solyndra Strikes: in Jobs Speech, Obama Quiet on Green Energy