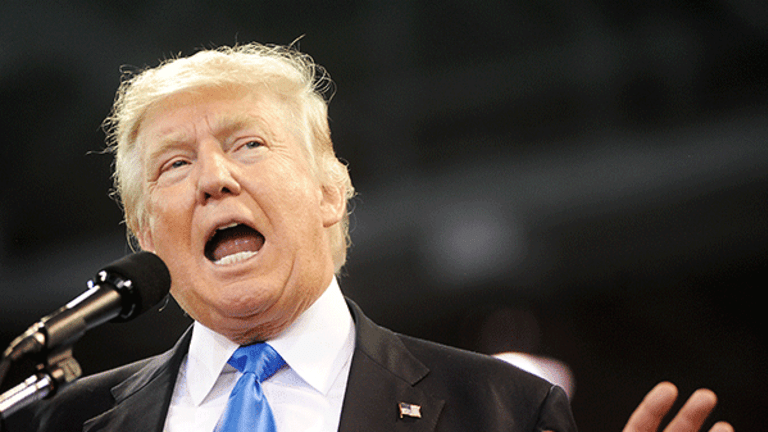 Editors' pick: Originally published Nov. 7.
Did highly publicized calls on social media by presidential hopeful Donald Trump to boycott Macy's (M) - Get Macy's Inc Report  cripple its stock? Or was it simply a stretch of bad luck? Either way, shares of the storied department store retailer have struggled mightily during the Republican candidate's bid for the White House.
The brouhaha between Macy's and Trump started in the summer of 2015, when the company said it would discontinue its Donald Trump line of menswear as a result of Trump's derogatory comments about Mexican immigrants. Macy's said it stood for diversity and that Trump's statements were inconsistent with that philosophy.
Trump wasted no time unloading on Macy's via his well-followed Twitter and Instagram (see below posts) accounts, launching his now infamous call to "boycott" the company on July 1, 2015.
Throughout 2015, Trump tweeted or retweeted some 34 anti-Macy's tweets according to a review of his feed by TheStreet. He has been far quieter this year, only tweeting about Macy's once -- it was a post (below) in January pointing out Macy's 46% stock price plunge in 2015. Dating back to Trump's initial boycott via Twitter on July 1 2015, shares of Macy's have shed an astounding 46%. By comparison, shares of Macy's mall-based rival J.C. Penney (JCP) - Get J. C. Penney Company, Inc. Report have been relatively unchanged during that same time span. 
While Trump would likely take the credit, his attack on Macy's starting in July 2015 may have just been a case of coincidence ahead of a series of bad news from the company. Amid one of the warmest winters in the U.S. on record last year that led to tepid apparel spending during the holidays, Macy's saw its fourth quarter same-store sales decline 4.3%. Adjusted for one-time items, Macy's delivered fourth quarter earnings of $2.09 a share compared to $2.44 a year earlier as it moved quickly to mark down unsold winter apparel, at the expense of profit.
The stock, which currently trades at close to $37, is down 24.6% for the past 52 weeks.
Since last year's weak holiday season, Macy's has been in full restructuring mode, in large part due to the ongoing shift to online shopping that is requiring less of a need to operate a large bricks and mortar store portfolio. Macy's said in August it will close 100 stores by early 2017, or almost 15% of its current 728 locations. The company plans to take the savings from operating these low-volume stores and reinvest them in its top-performing locations. 
More recently, Macy's announced that it sold five stores -- which opened between 1980 and 1993 -- to mall developer General Growth Properties (GGP) for $46 million.
Macy's will report its third-quarter results on Thursday, two days after Election Day.