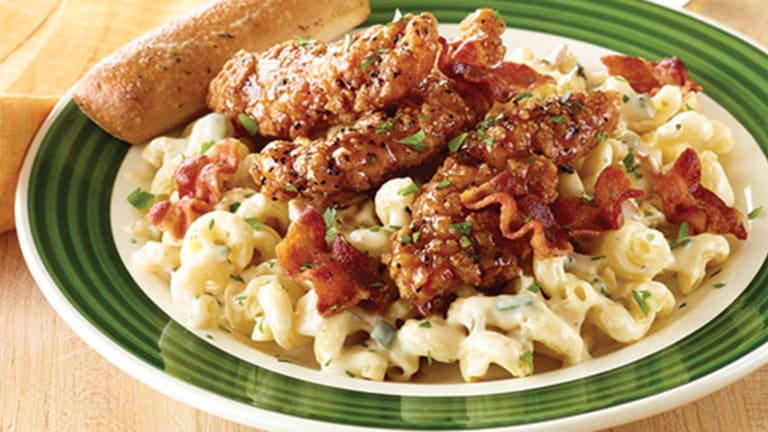 Did Applebee's Ever Have a Shot With Millennials?
A boneheaded strategy, naturally, gone awry.
Here's a question for an aging retail chain: How do you snag the elusive millennial, now the largest consumer group in the U.S.?
There are winners (Olive Garden, under Darden Restaurants (DRI) - Get Darden Restaurants, Inc. Report , and Nordstrom (JWN) - Get Nordstrom, Inc. (JWN) Report ) and there are losers (Macy's (M) - Get Macy's Inc Report ). And then there are real losers—the ones that went all in and missed the mark.
Applebee's is undoubtedly among the latter. To court a younger customer base, the prolific suburban bar and grill owned by DineEquity Inc. (DIN) - Get Dine Brands Global, Inc. Report implemented strategies like new "foodie"-oriented entrees, a more expensive menu, and marketing that positioned the chain to be a Happy Hour hangout spot.
The courtship went on for years. But Millennial America was unwooable.
Its efforts were so off-tune that in 2011, satirical website The Onion released a video titled, "New Ad Urges Hipsters to Go to Applebee's Ironically." The Onion's critique turned out to be so close to the truth, it almost didn't sound like satire. One example is the fictional fusion entrees it cited—fajitas cordon bleu—which sounded a lot like real Applebee's entrees, such as the chicken won-ton tacos. 
"If anything, people can spot a fake a mile away," Maxim analyst Stephen Anderson told TheStreet. "Applebee's lost who they were. They got rid of riblets, a customer favorite." 
Finally this year, DineEquity buckled. It announced in early August that at least 105 Applebee's will be shut down.
Applebee's "clear pendulum swing towards millennials," its president John Cywinski said in an earnings call on Aug. 10, resulted in "confusion among core guests, as Applebee's intentionally drifted from its, what I'll call, its Middle America roots."
But marketing experts are now saying that the extent of Applebee's failure goes beyond its negligence of Middle America. Applebee's, they say, never had a chance with millennials, not because many in the generation hate chains or resent unhealthy food, but because they are skeptical consumers, sensitive to contrivance.
"It is well-known [that] millennials are attracted to authenticity, even kitsch," retail strategist Carlos Arambula wrote Monday, Aug. 21 on a RetailWire forum on Applebee's conundrum. "The minute you begin to re-brand to attract millennials, the cohort can see right through the pandering and will not patronize."
In other words, if it was not in Applebee's DNA to attract millennials, it was never going to happen.
But Anderson has one vital point to add: Middle America and millennials are not mutually exclusive.
"Most of America's young people actually live in Middle America and share a lot of values with the boomers and Gen X before them," he said. "Millennials are the largest demographic group, but I think Applebee's took on the romanticized stereotype of them" [as the] affluent millennial who lives in Greenpoint, Brooklyn."
The majority of Applebee's restaurants, in fact, are nowhere near these urban cores, said Ted Wright, CEO of marketing firm Fizz. Wright worked as a consultant for an Applebee's franchise owner in St. Louis in the early 2000s. Back then, he said, there were Applebee's in Texas and Florida that threw foam parties. And in St. Louis, certain Applebee's storefronts were the social hubs of entire communities.
"Out in the 'burbs, Applebee's was like the bar you see in movies and TV shows, where everyone knew everyone's names, and when a regular dies, the bar closes for the day," Wright told TheStreet.
It's easy to imagine that in the midst of the chain's millennial-oriented rebranding, these were the customers who it turned away from. The good news, he said, is that the damage was not unequivocal—it will just take time to turn it around.
Not to mention, at least a few similar casual dining chains have gone after millennials and won on their own terms. Olive Garden, for instance, re-established itself as a destination restaurant by adding cheaper items and building up a to-go platform, Anderson said. And the Cheesecake Factory, Inc. (CAKE) - Get Cheesecake Factory Incorporated Report , which had the appeal of decadence for millennials, went for its ginormous dinners, desserts and cocktails.
Applebee's, though, is already on a path to rebound. The brand will bring back all-you-can-eat specials and increase the number of items on the "2 for 20" menu, a spokesperson told the Chicago Tribune. Gone are mockery-worthy entrees that the Onion satirized, like the sriracha turkey chile lime sauce turkey sandwich and the pork-ham-bacon sandwich.
The chain is also considering bringing back some "customer favorites." It didn't disclose which one, but our money's on the riblets.
More of What's Trending on TheStreet:
The 30 Nastiest Storms in Recent U.S. History Have Caused Mind-Blowing Damage