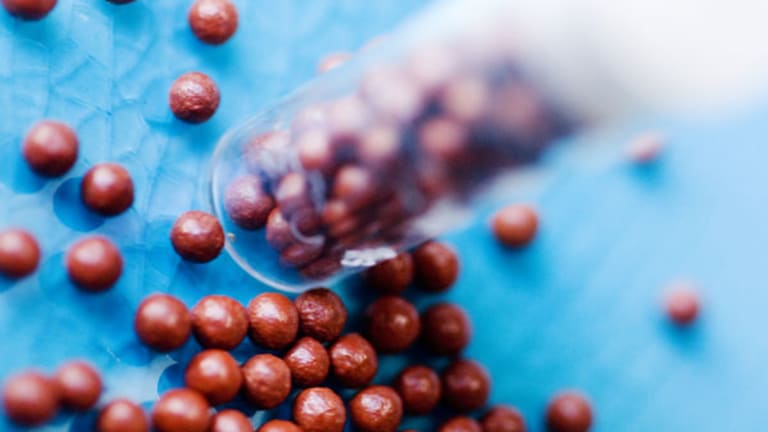 Diabetes-Drug Makers Face FDA Hurdle
The regulatory agency is alerting diabetes-drug makers, like Amylin, of new heart-safety data standards.
Concern over reports that link diabetes drugs to heart trouble is compelling U.S. drug regulators to ask diabetes-drug makers for more safety data. These requests for additional data could delay new product approvals by years and add millions of dollars to development and post-market commitment costs.
The U.S. Food and Drug Administration is reportedly sending letters to all companies with diabetes drugs in development, informing them that the agency will now require safety data prior to approval that measures a drug's cardiovascular risk.
Companies reportedly receiving the FDA letters include
Amylin Pharmaceuticals
(AMLN)
,
Vivus
(VVUS) - Get VIVUS, Inc. Report
,
Incyte Pharmaceuticals
(INCY) - Get Incyte Corporation Report
and
Roche
, according to sources familiar with the letters. All have diabetes drugs in mid- to late-stage clinical trials.
"It appears companies with drugs at the FDA --
Novo Nordisk
(NVO) - Get Novo Nordisk A/S Report
(liraglutide),
Takeda
(alogliptin) and
AstraZeneca
(AZN) - Get AstraZeneca PLC Report
/
Bristol-Myers Squibb
(BMY) - Get Bristol-Myers Squibb Company Report
(saxagliptin) -- have not yet received a letter, although discussions with industry participants lead us to believe they are coming," wrote Morgan Stanley biotech analyst Steve Harr in a note to clients on Friday. "The companies under review have the greatest uncertainty, and outcomes will impact these companies and competitors."
Novo Nordisk's drug, liraglutide, is expected to be discussed at an upcoming advisory panel meeting.
An FDA spokesperson would not comment on the letters, stating only that the agency is working on guidance on issues surrounding cardiovascular risk and diabetes drugs.
Research published in 2007 linked Avandia, a diabetes drug marketed by
GlaxoSmithKline
(GSK) - Get GSK plc American Depositary Shares (Each representing two) Report
, to an increased risk of heart attack in people with type 2 diabetes. Since then, the cardiovascular risk of all diabetes drugs has become a major concern for regulators both in Europe and the U.S.
The FDA convened an advisory panel last summer that recommended drug companies conduct long-term cardiovascular risk trials for all diabetes drug candidates, regardless of whether there was any prior evidence of a heart safety signal during clinical testing.
The new FDA letters essentially follow up on that recommendation, informing drugmakers that they must collect cardiac safety data for any diabetes drug currently in clinical studies.
The letters do not offer specific instructions on how the data are to be collected. If a company can collect the relevant safety data from existing or ongoing clinical trials, any delay caused by the FDA request may be relatively minor.
However, any company that has to start new studies to collect the heart-safety data could face significant delays and added expense.
Amylin and partner
Eli Lilly
(LLY) - Get Eli Lilly and Company Report
are co-developing Byetta LAR, also known as "exenatide once weekly," a long-acting version of their currently marketed diabetes drug Byetta. A spokesperson for Amylin confirmed the receipt of the FDA letter.
"Amylin and Lilly have discussed our submission plans with the FDA in our pre-NDA
new-drug application meeting and are confident that we have sufficient clinical data to submit an NDA for exenatide once weekly," she said.
Moreover, she added, "Available clinical trial data for both Byetta and exenatide once weekly do not indicate an increased risk for cardiovascular events."
Novo Nordisk's new diabetes drug liraglutide is currently under FDA review, with an FDA-sponsored advisory committee meeting scheduled for April 2-3, 2009. That meeting is expected to offer clarification as to what the FDA is likely to require of companies with new and pending drug applications.
"An FDA mandate for cardiovascular screening trials prior to approval for all novel diabetes drugs will slow development and increase costs (potentially making it uneconomical for some and pushing incremental capital in other directions)" wrote Morgan Stanley's Harr.
If a company has a diabetes drug in phase II studies where the increased risk of heart attack or stroke cannot be ruled in or out, the FDA may require that company to conduct a much larger and longer phase III clinical trial to definitively rule out any such heart risk. Such a trial could add years and tens of millions of dollars to the development costs, Harr writes in his note.
For other companies, the FDA may grant conditional approval of a diabetes drug but still require a post-approval cardiovascular risk study. Such an expense would reduce the near-term profit margin on any new diabetes drug, Harr says.
Mads Krogsgaard Thomsen, chief science officer of Novo Nordisk, said he expects a discussion about a post-approval cardiovascular commitment to be discussed at the April advisory panel meeting.
Merck
(MRK) - Get Merck & Company Inc. Report
recently announced that it would conduct a post-approval study of its diabetes drug Januvia in 14,000 diabetics specifically to look for increased heart safety risks.
Senior Wrtiter Adam Feuerstein contributed to this report.