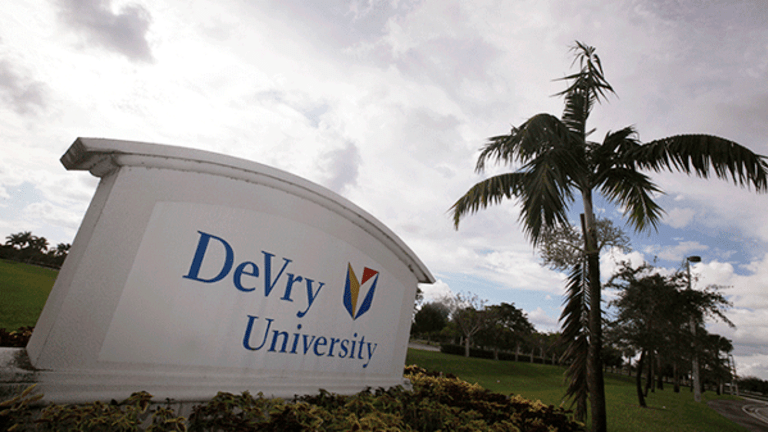 DeVry's Specialty Schools Shine as Regulatory Risk Hovers Over For-Profit Education
DeVry Education stock is a wild card for investors as suits from the Federal Trade Commission and U.S. Department of Education weigh on the company.
DeVry Edcation Group Inc.'s (DV)  international business and its specialty nursing and medical staff-training programs continue to provide a bright spot for investors even as regulatory issues and a soft market for for-profit colleges take their toll on the sector.
"They are performing well and their demand seem strong," said Trace Urdan, research analyst at Credit Suisse, who wrote in a Monday research note that DeVry's Chamberlain College of Nursing compares favorably with a private, not-for-profit schools in a resource-limited market.
"If and as demand levels off, there is no reason to believe that Chamberlain will lose share and, given its scale and likely sharper marketing skills, may even protect share better than its not-for-profit peers," Urdan wrote.
DeVry Education Group, a provider of educational services worldwide, seems to have posed a dilemma for investors.
The company's flagship institution, DeVry University, has seen an overall decline in enrollment but its medical and healthcare segment that includes the Ross University School of Medicine, and its international and professional educational segment in Canada, Brazil, Europe, the Middle East and other countries, are valuable. The university chain is also plagued by regulatory liabilities including suits from the Federal Trade Commission and U.S. Department of Education.
Since 2014, the university has closed 39 campuses and had a 23% drop in overall enrollment in 2016 as for-profit education loses its luster. DeVry's total consolidated revenue for fiscal year ended June 30 dropped 3.5% to $1.84 billion from $1.9 billion, in fiscal 2015, according to DeVry's most recent 10-k filing with the Security and Exchange Commission. 
Meanwhile, DeVry has watched peers including ITT Technical Institute and Corinthian Colleges topple under government pressure to cut funding to programs whose graduates can't find jobs that pay well, the Los Angeles Times reported recently.
While it doesn't look good on the surface for DeVry--and certainly regulatory issues remain-- the company's overall downfall in performance can be attributed mainly to a 23.0% revenue decrease within the business, technology and management segment, which offers Associate and Bachelor degrees in Business Administration and Technical Management. 
Still, there are bright spots.
Devry's Chamberlain College of Nursing, which is included in DeVry's medical and healthcare segment, saw a 20.5% increase in revenue in fiscal 2016 while its international and professional education segment had revenue growth of about 15.5% in fiscal 2016. The international division had about to $299 million in 2016 as compared to $228.1 million in 2015.
The rise is, in part, due to DeVry's Brazilian campuses. Revenue at DeVry Brasil increased 23.2% in fiscal year 2016 as compared to just 16.0% the prior year.
Strong demand for jobs in the healthcare industry, plus an acute shortage of nurses across the United States have contributed to the impressive performance of DeVry's medical and healthcare unit. Meanwhile, DeVry Brasil's acquisitions of highly ranked private Brazilian colleges Grupo Ibmec Educacional S.A. (Ibmec) and FACIMP, in December 2015 and June 2016, respectively, have driven the company's diversification and growth in the South American country.
"Brazil has a lot of private providers, which educate a majority of the higher education population in Brazil. Up until about 2014, the government of Brazil had a student loan policy that was pretty supportive of private and for-profit providers, In 2015, though, the government changed the policies, making it more difficult for students to finance their education that way. The political and economic issues facing the country also have reduced the growth of private higher education," said Dr. Kevin Kinser, professor of education at Penn State College of Education. 
"That said, it's not surprising that Brazil would be a good market for DeVry at this point, especially in comparison to the difficult market they face in the U.S..In Brazil, you don't have a public sector that is big enough to absorb a big cut-back in the private sect," said Kinser, who is also an expert on for-profit higher education and international higher education policy.
Some also believe the new CEO of DeVry Education Lisa Wardell will drive more growth for the company. In her first earnings call, Wardell stressed on the urgency of improving operational performance, with near-term goals of stabilizing revenues and growing EPS.
While there are catalysts for the stock and for the company's growth prospects, there are still dark clouds hanging over the company.
Its flagship DeVry University is being sued by the FTC, which alleges that DeVry's advertisements have misled student consumers about their likelihood of finding jobs in their field and earning higher salaries than graduates from other colleges and universities.
The Department of Education has also issued a notice of intent to DeVry, demanding that it cease to misrepresent itself in advertisements without obtaining student-specific information. 
"The danger for the company is that they could be fined and that they could be held responsible for some of the student loans being forgiven," said Urdan at Credit Suisse. "Until that gets resolved, I don't recommend investing in more shares."
DeVry did not respond to requests seeking comment.