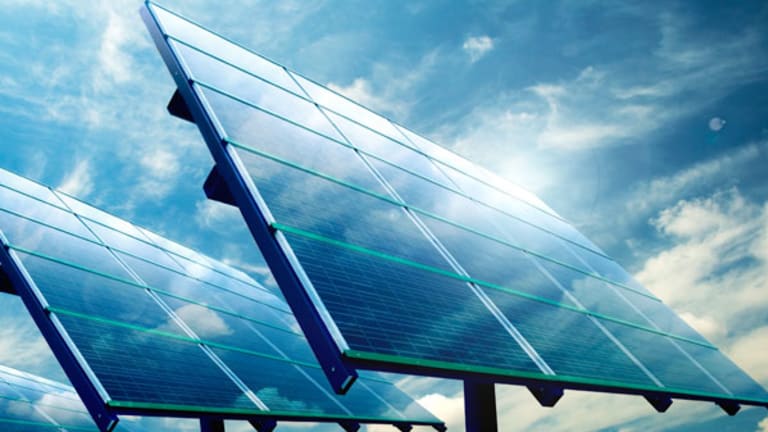 Devon's Cotton Candy
A big gas find in the Cotton Valley promises riches.
Devon
(DVN) - Get Devon Energy Corporation Report
has launched a high-stakes game of follow the leader.
Recently, the energy giant started drilling horizontal gas wells in the fertile Cotton Valley of east Texas and northern Louisiana. The company spent more money than it would on vertical wells but produced so much gas that it reaped far greater returns, too. Moreover, Devon pulled this feat off in not one but two areas of the valley, inspiring copycats to rush out and try for themselves.
"This could be a generically suitable approach for very, very large areas," says Harry Chernoff, a principal at Pathfinder Capital Advisors. "That's the real eye-popping thing."
Nearly a dozen companies plan to find out.
Indeed, Chernoff says, another giant independent --
XTO Energy
( XTO) -- actually drilled its first successful horizontal well in the Cotton Valley around the same time that Devon did.
Before then, A.G. Edwards had estimated that companies were spending $2.5 million to recover 3 billion cubic feet of gas reserves in the region. In its latest conference call, however, XTO reported that it spent $5 million on a horizontal well there and expects its recovery rate to surge to 10 billion cubic feet of reserves as a result.
Some major independents could look to follow suit. But smaller companies like
GMX Resources
( GMXR) and
Comstock
(CRK) - Get Comstock Resources, Inc. Report
could actually have more at stake.
Of the small-cap Cotton Valley players, says Chernoff, GMX has laid out the most aggressive horizontal drilling program. Meanwhile, he says, Comstock -- with fully half of its acreage located in the Cotton Valley -- boasts the greatest exposure to the region relative to its market value.
Chernoff believes that both companies could emerge as big-time winners in the end. He owns stock in them already.
"At this point, there is only one critical uncertainty: whether the same amount of gas is being recovered faster or whether more gas in total is being recovered," he says. If it is the latter, he says, "This will become the best gas resource play in North America -- ahead of anything else. It's a very big deal."
When questioned by
TheStreet.com
, Devon offered a clear response.
"We are recovering more gas," the company stated. "The initial rates are higher, and based on our production rates and early forecasting, we believe the reserves we are encountering through our horizontal well are over five times larger than the reserves we would reach with a vertical well. ... We are cautiously optimistic, but we have not drawn any firm conclusions based on the very first data point."
Devon's stock slipped 25 cents to $69.84 on Tuesday but remains near the high end of its 52-week range.
'Game Changer'
Early this month, when Devon discussed its latest results, analysts sensed something major. Indeed, one of them came right out and asked the company if its new horizontal drilling program signaled a "game changer" in the Cotton Valley.
Devon had clearly caught their attention.
Notably, by shifting from vertical to horizontal drilling on certain Cotton Valley wells, Devon spent three times more money on development costs but saw its initial production rate jump by 5 1/2 times in the process. Moreover, the company said that it could pursue hundreds of similar wells going forward.
Within two days of Devon's update, CapitalOne Southcoast analyst Richard Moorman had published a full-blown report about new opportunities in the region.
"In our opinion, investors are captivated by the promise of a significant potential change in the productivity and reserves of the massive Cotton Valley formation," Moorman wrote. "The horizontal play could bring substantial value ... making the Cotton Valley trend even more economic and considerably more robust against periodically low natural gas prices."
Thus, Moorman started looking around.
Besides Devon, he noted, two small-cap energy companies -- GMX and
Goodrich Petroleum
(GDP) - Get Goodrich Petroleum Corporation Report
-- have already secured permits to drill horizontal wells in the Cotton Valley. He said that GMX should have the results from the first of its four horizontal wells there within a matter of weeks. He predicted that Goodrich would follow up with a report on its own horizontal well there shortly afterwards.
Goodrich has in fact already offered some optimistic forecasts for that well. Just last week, the company estimated that it would spend $5 million on the well -- or twice as much as a vertical well costs -- but generate three to six times more reserves as a result.
Moorman has buy recommendations on both Goodrich and GMX. His firm has an investment banking relationship with the latter.
Stock Selection
First Albany analyst Eric Hagen likes GMX as well.
"If successful, horizontal drilling could significantly enhance project economics and increase GMX's asset value," explained Hagen, whose firm has an investment banking relationship with the company. "Although it's still too early to put numbers on the potential, based on initial results, we believe successful horizontal drilling could significantly improve full-cycle economics and rates of return."
Meanwhile, Hagen declared GMX the cheapest stock in his entire coverage universe. He has a strong buy recommendation and a $61 price target on the shares. The stock rose 2.2% to $42.56 on Tuesday.
But Goodrich has lost some fans even before completing its first horizontal well in the Cotton Valley.
Last week, SunTrust Robinson Humphrey analyst John Gerdes downgraded the company's stock from neutral to reduce following a big run-up in the shares. Quite simply, Gerdes believes that investors have overreacted to Goodrich's prospects in the Cotton Valley and overestimated the value of the company's shares in the process.
Chernoff favors GMX instead. He likes the company's current drilling prospects and its future take-out chances to boot.
"GMX offers the best prospective reserve valuation, most concentrated Cotton Valley exposure and best potential for ultimate value recognition via its announced plan to sell itself," he says. "If GMX can add horizontal success to its vertical success, it will be a big winner" down the road.
'Big Deal'
Chernoff sees another -- less obvious -- winner as well.
Comstock boasts "easily the highest" exposure to Cotton Valley acreage per dollar of enterprise value, he says. However, he adds, the company has yet to roll out an aggressive horizontal drilling program of its own.
Still, Chernoff feels, Comstock looks undervalued in the meantime. Notably, he says, the company owns a majority stake in
Bois d'Arc Energy
(BDE)
-- a fast-growing offshore producer -- that fails to show up on stock screens calculating its reserve valuation right now.
"Partly to correct this market oversight, Comstock upped its stake in Bois d'Arc to the point where it could consolidate Bois d'Arc's financial statements, making it impossible to miss the correct valuation and operations metrics," Chernoff says. "When the adjustments are made, Comstock shows up with an extremely low reserve valuation, competitive cost structure, average cash flow multiples and industry-leading leverage to the Cotton Valley play."
Chernoff is excited about the final advantage in particular.
He's eager to see whether smaller companies can duplicate Devon's success in the region. He's also anxious to find out how much Devon's own horizontal wells could boost the company's total reserves. He's curious about another possibility as well.
So far, Chernoff notes, all of the companies have been draining horizontal wells in a single zone of the highly productive Cotton Valley. However, he says, the companies could seek to recomplete horizontal wells in additional zones from the same wellbore. If they succeed, he says, they could enjoy another big jump in reserves -- and drop in production costs.
For its part, Devon says that it has not yet attempted to drill multiple horizontal wells through a single vertical wellbore. However, the company says that such strategies have been used in other formations and that it will evaluate testing the technique in the Cotton Valley as it program there evolves.
In the meantime, Chernoff expects some fresh clues about the Cotton Valley to start rolling in within a matter of weeks.
"If, by the middle of December, some of these smaller companies start reporting that they have in fact done the same thing that Devon did, this will be a very big deal," Chernoff says. Indeed, "it could be the biggest story in gas resource plays all year."