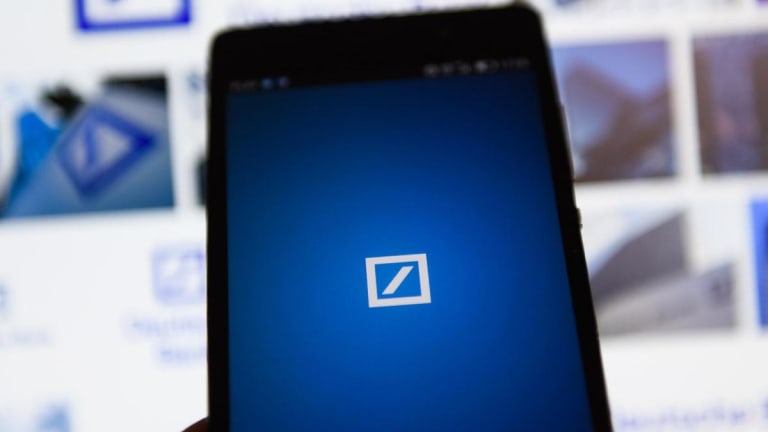 Deutsche Bank (DB) - Get Deutsche Bank AG Report shares reversed earlier gains Monday as investors reacted to the bank's $8.3 billion restructuring overhaul that will see Germany's biggest lender retreat from global equity markets and slash nearly a fifth of its workforce.
Deutsche Bank said Sunday it expects to cut around 18,000 jobs, some 20% of its global total, and create a so-called "bad bank" for around €74 billion in under-performing assets as part of the restructuring. The overhaul, which will cost the bank €3 billion in second quarter charges, will also mean lead to a €2.8 billion loss over the three months ending in June, a suspension of the bank's regular dividend and a 40% reduction in the overall asset base of the business units targeted for change.
CEO Christian Sewing called the moves "the most fundamental transformation of Deutsche Bank in decades" and said it was a "restart" that would "benefit of our clients, employees, investors and society."
"In refocusing the bank around our clients, we are returning to our roots and to what once made us one of the leading banks in the world, Sewing said in a statement published on the bank's website. "We remain committed to our global network and will help companies to grow and provide private and institutional clients with the best solutions and advice for their respective needs - in Germany, Europe and around the globe. We are determined to generate long-term, sustainable returns for shareholders and restore the reputation of Deutsche Bank." 
Deutsche Bank shares were marked 4.6% lower on the session at €6.84 each Monday, after rising as much as 4.4% at the start of trading, in a move that still leaves the stock with a one-year decline of around 29% and a market value of less than €14 billion.
Three senior executives will also leave the lender following the global restructuring, Deutsche Bank said, including investment banking chief Garth Ritchie, who's departure was announced on Friday prior to the news that his former department -- responsible for around half of the bank's revenues -- - will be split in two. 
Deutsche Bank is now targeting a return on tangible equity of 8%, to be reached by 2022, by which time it also hopes to have around €5 billion available for dividends and share buybacks.
Last week, Deutsche Bank's U.S. operations passed the Federal Reserve's annual stress tests, a series of assessments designed to see if a lender can weather a sharp economic downturn, allowing the unit to potentially boost investor payouts and return some profits to the European lender's home base.
The tests said that Deutsche Bank's U.S. operations would have a common equity tier 1 capital that would "comfortably exceed" minimum requirements in an adverse economic scenario, "and would not fall below 14.8% at any time over the nine-quarter planning horizon", the bank said in a statement. The U.S. division had $133 billion in assets as of March 31, Deutsche Bank said, representing around 8% of the lender's global balance sheet.