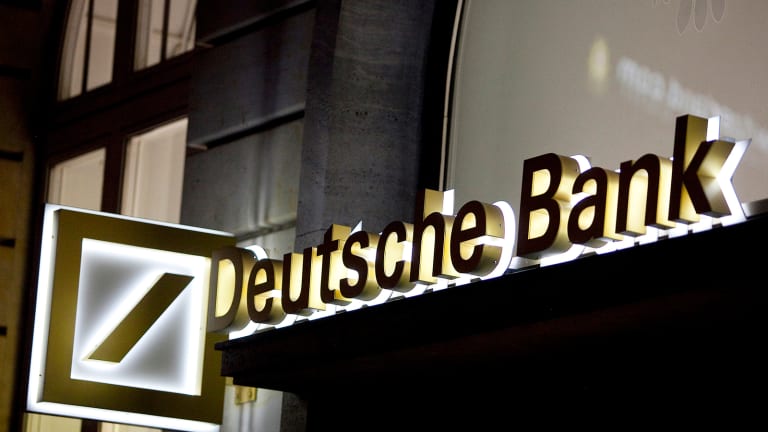 Deutsche Bank Subpoenaed in Mueller Probe Into Trump Ties With Russia - Reports
Multiple media reports suggest Deutsche Bank has been subpoenaed in Special Counsel Robert Mueller's probe into Russia meddling in the 2016 Presidential election.
Deutsche Bank AG (DB) - Get Deutsche Bank AG Report shares fell Tuesday amid reports that German's biggest lender has been asked by Special Counsel Robert Mueller to provide details on accounts held by U.S. President Donald Trump and his family.
German business daily Handelsblatt first reported the subpoena, which it said was received several weeks ago, and noted it was linked to certain loan deals with Trump or his family. The request from Mueller is likely linked to his ongoing probe into Trump campaign ties with Russia officials and any attempt to meddle in the 2016 election. 
Trump's ties to the German bank are well known and, for the most part, a matter of public record. The President's financial disclosure forms revealed outstanding loans with Deutsche Bank - mostly in the form of mortgages on some of his key U.S. assets - worth around $400 million last year. A Wall Street Journal report from March 2016 , however, pegged the total figure in the region of $2.5 billion.
Regardless of the figure, there's little precedent for an American President to have such significant financial ties for a foreign lender - let alone one that only last year agreed to pay one of the biggest corporate fines in U.S. history.
Deutsche Bank agreed a $7.2 billion settlement with the U.S. Department of Justice to settle civil claims in connection with the bank's mortgage bond activities in the run up to the global financial crisis last December, in the form of a $3.1 billion penalty and $4.1 billion in customer relief.
Germany's biggest bank was also fined £163 million ($218 million) by Britain's financial watchdog, its largest fine ever, over so-called "mirror trades" that allowed customers to potentially launder money from Russia.
The penalty followed a similar levy agreed with New York's Department of Financial Services, which fined Deutsche Bank $425 million for allowing some customers to buy stocks in Russia only to allow people linked to those customers sell the same stocks through Deutsche Bank's London office.
CNN reported last month that a DoJ investigation into Deutsche Bank had "gone dormant" and said the civil settlement agreed last year had "no connection to bank accounts held by the President or Jared Kushner, Trump's son-in-law and White House senior adviser."
Deutsche Bank shares were marked 0.25% lower in Frankfurt and changing hands at €16.09 each by 1:10 pm local time. 
More of What's Trending on TheStreet: