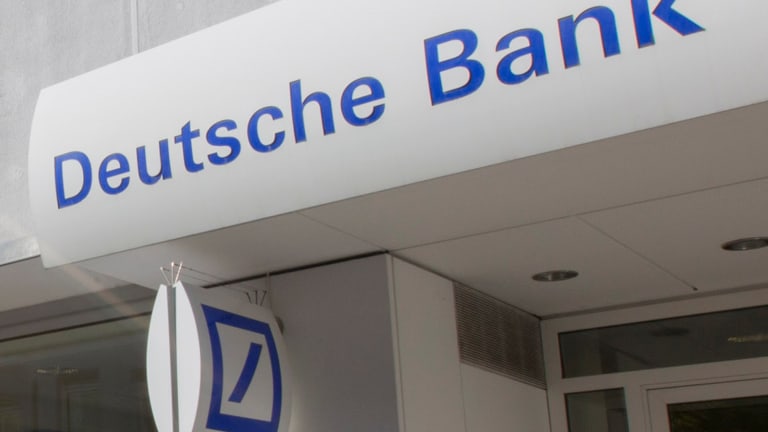 Deutsche Bank Slips Again after Soros Maneuver
Germany's biggest lender is struggling to delever and Brexit hasn't helped.
Germany's biggest lender is struggling to delever and Brexit hasn't helped.
German lender Deutsche Bank (DB) - Get Report was the second steepest faller on the Frankfurt exchange's Dax index on Wednesday (only rival Commerzbank (CRZBF) , (CRZBY) slipped further), despite reports that its former co-chief executive Juergen Fitschen and former CFO Stefan Krause have both been cleared of charges of allegedly conspiring to evade taxes in the trading of carbon emission certificates.
The fall of 1.8% to €12.59 by late afternoon was relatively mild compared with the stock's hefty declines of Friday and Monday following the Brexit vote of Thursday. Nevertheless, it follows the disclosure that major investors including George Soros and Kohlberg Kravis Roberts (KKR) - Get Report -backed hedge fund Marshall Wace had been shorting the stock ahead of the British referendum result.
Soros Fund Management took a short position of 0.51% in Deutsche Bank stock on Friday according to a regulatory filing. It had reduced that position to 0.46% by Tuesday, which reports said meant the firm had begun to take profit from the trade.
But the bank was already considered weak before the Brexit turmoil hit, as the market questioned the ability of Deutsche Bank CEO John Cryan to implement the restructuring program he announced in October. At the time he said he planned to cut the group's cost base by about €4 billion ($4.45 billion), chop its global workforce by about 20,000 and cut risk-weighted assets by €90 billion over two years. He also said he would exit certain businesses and withdraw from some of its international markets.
In its first quarter report earlier this year, Deutsche reported a revenue decline of 22% year-on-year, reflecting a challenging environment and the impact of Cryan's plan.  And he said risk-weighted assets had actually increased.
Deutsche Bank's core Tier One capital ratio was 10.7% at the end of the first quarter, compared with 11.1% in December 2015.
Berenberg Bank are among the analysts predicting that Deutsche Bank may need to raise more capital. The analysts last month said it's facing  "a vicious circle of impaired core profitability and inability to delever."
But with the stock already down 54% in the past year - slightly less than Credit Suisse (CS) - Get Report , but more than Barclays (BCS) - Get Report , Commerzbank and UBS, the Frankfurt institution could struggle to lure investors to any equity fundraising.
TheStreet Quant Ratings rates Deutsche Bank as a sell. "The company's weaknesses can be seen in multiple areas, such as its deteriorating net income, disappointing return on equity, weak operating cash flow, generally disappointing historical performance in the stock itself and feeble growth in its earnings per share," Quant Ratings noted.