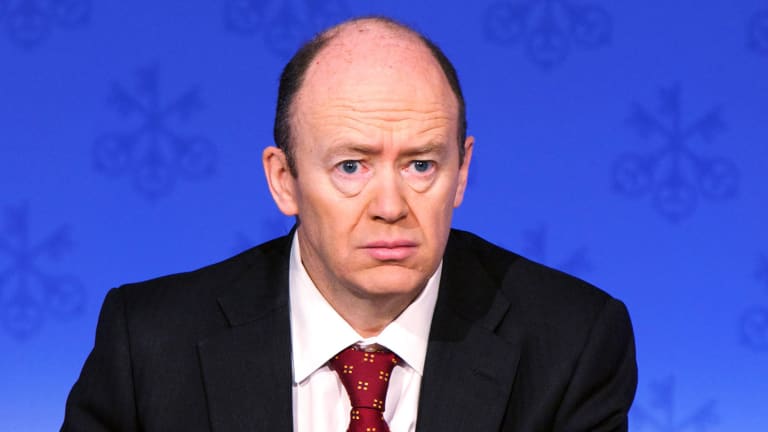 Deutsche Bank Share Plunges as Market Worries About Further Weakness
The German bank suggests that worries about its capital strength are unjustified, but the market is not so sure.
German banking group Deutsche Bank (DB) - Get Report plunged on Wednesday, at one point falling as low as €12.19 a share, down over 5.2% on the previous evening's close, as the market continued to worry that some level of capital raising might prove necessary in future.
The bank itself gave no hint of any fund-raising plans to come, as it announced marginally better than expected second-quarter net profit of €20 million ($22 million). The limited growth in its capital buffer to 10.8%, up 1 basis point, was in line with expectations.
On the contrary, CEO John Cryan (pictured), in a separate letter to the bank's employees, said its plunging share price in recent weeks had reflected misplaced concerns about the institution.
"Doubts were raised about our financial strength," Cryan wrote. "These were unjustified but they unsettled some clients and that made our day-to-day work more difficult."
Nevertheless, even while managing to sound positive during the earlier results presentation, Cryan had himself hinted that continued weakness in the wider economy might force the bank to take further action.
"We have continued to de-risk our balance sheet, to invest in our processes and to modernize our infrastructure," he said. "However, if the current weak economic environment persists, we will need to be yet more ambitious in the timing and intensity of our restructuring."
That was likely one reason the markets reacted as they did, to a result that was otherwise not unexpected.
Otto Dichtl, a managing director at brokerage and investment bank Stifel Nicolaus, said the weakness of the bank's capital ratio was still a key issue.
"There is a material risk, or likelihood," he told a Bloomberg interviewer, "that Deutsche Bank might have to go for a painful - - I guess, for the shareholder - - capital increase to underpin its solidity and give people more confidence that it actually has that time [to effect a turnaround, if the European economy does not recover quickly].
On Brexit, Cryan said the institution employs a lot of people in the U.K., but that most of its business was technically done out of the German-headquartered bank so there was no immediate need to move people out of London. Any changes would likely be driven by client requirements.
"We don't plan to do anything off our own bat," he said, but if clients wanted to be in facing an operation in the eurozone, the bank already had its headquarters in Frankfurt.
The bank's second-quarter results showed a 97.6% drop in second-quarter net profit to €20 million from a profit of €818 in the same quarter a year earlier. That was better than the the €22 million loss forecast by analysts, according to Bloomberg, but hardly inspiring. Profit before tax was €408 million, compared with €1.23 billion a year earlier.
The pretax profit figure of €408 million was down 67% after a goodwill impairment charge of €285 million as well as restructuring and severance charges of €207 million and additional litigation charges of €120 million, on top of the €5.4 billion it has already set aside for litigation charges.
However, the bank has also said there would be more litigation charges to come, but said it can't forecast the timing. Bloomberg reported on Wednesday that the bank is in talks about a settlement with the Department of Justice over its probe into the lender's pre-credit-crisis residential mortgage-backed securities activities. The DoJ has already reaped $44 billion in fines from other banks over similar activities, the news service noted.
CFO Marcus Schenck said: "We all know that we need to work though litigation, but I think the one point we can make is we're starting to see that we are getting a better grip on - - and overall visibility on - - what the overall pipeline looks like and its gradually coming down."
Overall, revenue was €7.4 billion, down 20% compared with the second quarter of 2015. Cryan said this reflected macro-economic uncertainties, including the U.K.'s Brexit referendum at the end of the quarter and a continued low-interest rate environment as well as the ongoing implementation of strategic decisions such as retreating from certain businesses.
CFO Marcus Schenk said: "We clearly face a challenging environment as we sit here today."
But both he and Cryan stressed that while conditions were challenging there would be no pull-back from the difficult "Change the Bank" restructuring course on which the bank was set. 2016 is seen as the peak restructuring year and the cost savings would begin to be evident in 2017.
The shares were recently down 3.1% at €12.49.