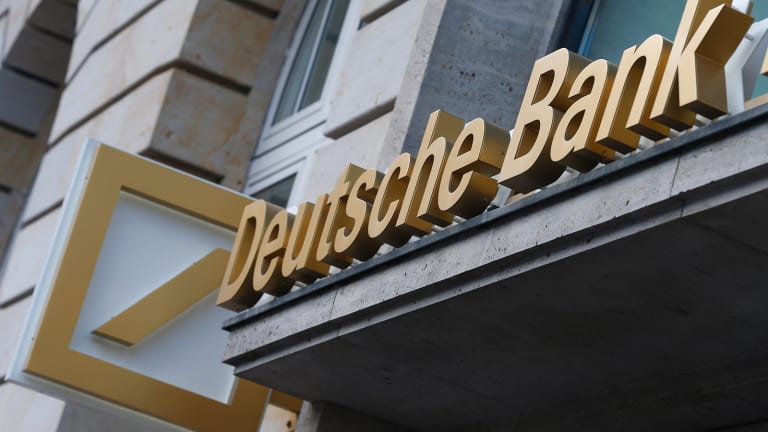 Deutsche Bank Says You Shouldn't Worry About Its Credit Derivatives
Deutsche Bank's credit-derivatives prices have soared this year. The bank says investors should simply disregard them, arguing that the market is "erratic."
Deutsche Bank (DB) - Get Deutsche Bank AG Report , the German lender hammered by negative interest rates in Europe, is mounting a campaign to thwart perceptions among trading partners and investors that its creditworthiness is deteriorating.
It now costs about $218,000 a year to buy default insurance on $10 million of the Frankfurt-based bank's debt, after a surge in the price this year. That's more than twice the average price for other global banks. At JPMorgan Chase (JPM) - Get JPMorgan Chase & Co. (JPM) Report , the largest U.S. bank, the cost for the so-called credit-default swaps, or CDS, is just $56,000. Lehman Brothers' CDS cost around $300,000 in the months before its collapse in September 2008.
Yet Deutsche Bank argues that the CDS trades aren't representative of its risk of failure. In a presentation last week, the firm said the measure is "erratic" because of a dramatic dropoff in CDS trading tied to individual companies. Most CDS trades now involve indexes that include groups of companies by certain criteria, such as credit ratings; Deutsche Bank itself has abandoned single-company CDS trading altogether, due to regulatory changes that made the practice too expensive.
"CDS spreads have had limited correlation with Deutsche Bank's cost of funding or issuance plans," the bank said. According to the presentation, Deutsche Bank's average premium on new debt is about 1 percentage point, or $100,000 for every $10 million of debt.
The pushback comes as questions have mounted from investors, credit-rating firms, customers and regulators about Deutsche Bank's ability to withstand market turmoil following a 49% plunge in its stock price over the past year. The matter is also crucial for U.S. banks, since Deutsche Bank is one of the world's largest traders of derivatives contracts, a market that helped spread financial contagion globally during the financial crisis of 2008.
Deutsche Bank CEO John Cryan has responded by pledging to simplify the lender, including plans to shrink its workforce by 35,000 employees over the next two years. The firm also plans to cut leverage -- liabilities as a percentage of assets -- to 95% by the end of 2020 from about 96.6% currently.
Convincing investors the strategy will work is another question. Moody's Investors Service cut Deutsche Bank's credit rating in May to Baa2, the second-lowest investment-grade level, citing "execution challenges" to Cryan's overhaul. In June, the International Monetary Fund said Deutsche Bank appears to be the most significant contributor to system-wide risks among the largest global banks.
The U.S. Federal Reserve flunked a unit of Deutsche Bank's U.S. operations this year on a financial "stress test" of its capacity to withstand an extreme move in global markets, due to deficiencies in risk management; supervisors also had doubts about the lender's "ability to conduct a comprehensive assessment of its capital adequacy." Capital is the buffer of extra assets required by regulators to insulate depositors from losses and prevent the need for government bailouts.
"Deutsche Bank's problems are well-known and have been well-known for a long time, so I would assume that U.S. banks have been closely managing their exposure," said Edwin Truman, a former Federal Reserve director of international finance who now serves as a nonresident senior fellow at the Peterson Institute for International Economics. "But every time one of these stories come out, they ratchet it up a little bit further."
In an e-mailed statement, Deutsche Bank said that trading partners and customers haven't backed away. The largest U.S. trading firms -- JPMorgan, Bank of America (BAC) - Get Bank of America Corp Report  , Citigroup  (C) - Get Citigroup Inc. Report  , Goldman Sachs  (GS) - Get Goldman Sachs Group, Inc. (GS) Report  and Morgan Stanley (MS) - Get Morgan Stanley (MS) Report  -- declined to comment.
EXCLUSIVE LOOK INSIDE: Citigroup is a holding in Jim Cramer's Action Alerts PLUS charitable trust portfolio. Want to be alerted before he buys or sells the stock? Learn more now.
The Federal Reserve, which regulates the biggest U.S. banks, declined to say whether it's pushing domestic firms to analyze or limit their counterparty risk to Deutsche Bank.
Whether or not Deutsche Bank's CDS prices represent legitimate risks, the instruments are used by other banks to calculate the costs of derivative trades. JPMorgan, for example, uses "the counterparty's spread in the credit derivatives market" to calculate "credit valuation adjustments," which in turn are deducted from any expected trading proceeds. That means trades with Deutsche Bank could be incrementally more expensive than, say, one with Citigroup, whose CDS cost around $75,000.
Partly due to its geographic location in the heart of Europe, Deutsche Bank has been harder hit than global rivals by the region's economic malaise and the market turmoil stemming from the U.K.'s vote in June to exit the European Union.
First-half profit plummeted 81% from a year earlier, driven partly by low interest rates that squeezed lending margins; German government 10-year bond yields, for example, are at negative 0.05%. The bank also cited lower client activity and higher costs to reserve against losses on loans to the shipping, metals and mining industries.
One of the biggest questions surrounding Deutsche Bank is whether its assets are worth less than the value recorded on the lender's books, according to David Hendler, principal at bank-analysis firm Viola Risk Advisors in Montebello, N.Y. As of June 30, the bank had 28.9 billion euros ($32 billion) of "Level 3" assets, or those that are infrequently traded and thus hard to value, according to a regulatory filing.
That's more than half of the lender's 49 billion euros of equity capital.
A New York University study in July concluded that investors were so skeptical of the value of Deutsche Bank's assets that its market capitalization amounted to just 1% of total assets. Among 39 banks in the study, only Italy's Banca Monte dei Paschi scored lower, at 0.6%.
Hendler says German authorities should move immediately to provide assistance to Deutsche Bank, before trading partners pull away en masse -- a move he predicts would spread financial turmoil across the European banking system. Based on the bank's current level of earnings, it would take the lender 14 years to build capital to an appropriate level, he estimates.
"They gotta stop pretending," Hendler said in an interview. "They need capital now."
As recently as July, Cryan told the German magazine Der Spiegel that there was no need for an immediate capital increase.
Reports that Deutsche Bank last month considered, then discarded, a merger with German rival Commerzbank (CRZBY) are disturbing, Hendler said. The Wall Street Journalreported Aug. 31 that senior Deutsche Bank executives planned to meet over the coming weekend to consider "dramatic options," including selling all or part of its money-management business.
"For them to just run around like a wounded bear looking for a cave to hide in is ridiculous," Hendler said.
In last week's presentation, Deutsche Bank said trading partners and depositors should take confidence in a new German bankruptcy law stipulating that they would get paid before senior unsecured bondholders, junior creditors and shareholders.
It's known as the "bail-in law," since it's supposed to provide an alternative to government bailouts. The bank has "total loss-absorbing capacity" of 118 billion euros, according to the presentation.
And because CDS contracts are only designed to insure senior unsecured bonds, they shouldn't be viewed as a proxy for risks facing the German bank's trading partners, according to the presentation. Similar logic applies to the lender's credit ratings, Deutsche Bank said.
"The movement in Deutsche Bank CDS spreads since early 2016 reflects the introduction of the German bail-in law," the presentation reads.
That law is scheduled to take effect Jan. 1, according to the bank.