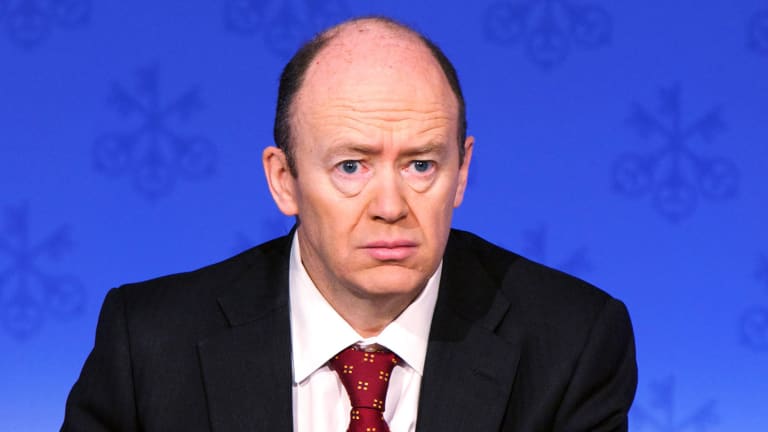 Deutsche Bank Makes Small Profit in Second Quarter
Earnings plunge 98% but analysts had expected the company to swing into the red.
German banking group Deutsche Bank (DB) - Get Report on Wednesday, announced second-quarter net profit of €20 million ($22 million), a little better than the €22 million loss forecast by analysts according to Bloomberg, but down from a profit of €818 in the same quarter a year earlier. Profit before tax was €408 million, compared with €1.23 billion a year earlier.
In a statement, CEO John Cryan (pictured) said: "While our results show that we are undergoing a sustained restructuring, we are satisfied with the progress we are making."
He continued: "We have continued to de-risk our balance sheet, to invest in our processes and to modernize our infrastructure. However, if the current weak economic environment persists, we will need to be yet more ambitious in the timing and intensity of our restructuring."
On Brexit, Cryan said the bank employs a lot of people in the U.K., but that most of its business was technically done out of the German-headquartered bank so there was no immediate need to move people out of London. Any changes would likely be driven by client requirements.
"We don't plan to do anything off our own bat," he said, but if clients wanted to be in facing an operation in the eurozone, the bank already had its headquarters in Frankfurt. 
The pretax profit figure of €408 million was down 67% after a goodwill impairment charge of €285 million as well as restructuring and severance charges of €207 million and additional litigation charges of €120 million.
However, the bank also said there would be more litigation charges to come, but said it can't forecast the timing. Bloomberg reported on Wednesday that the bank is in talks about a settlement with the Department of Justice over its probe into the lender's pre-credit-crisis residential mortgage-backed securities activities. The DoJ has already reaped $44 billion in fines from other banks over similar activities, the news service noted.
 CFO Marcus Schenck said: "We all know that we need to work though litigation, but I think the one point we can make is we're starting to see that we are getting a better grip on - - and overall visibility on - - what the overall pipeline looks like and its gradually coming down."
 Overall, revenue was €7.4 billion, down 20% compared with the second quarter of 2015. These reflected macro-economic uncertainties, including the U.K.'s Brexit referendum at the end of the quarter and a continued low-interest rate environment as well as the ongoing implementation of strategic decisions such as retreating from certain businesses.
 Revenue in the corporate and investment banking unit was €1.9 billion, down 12% year-on-year. This included revenue of €771 million from corporate finance, down 24% and €1.1 billion in transaction banking. Provision for credit losses for €115 million, up €76 million year-on-year reflecting higher provisioning on exposures in the shipping and the metals and mining sectors.
The bank recorded a loss of €349 million from the non-core operations unit compared with a profit of €223 million last year. However, the bank presented this as a positive. It said the drop in revenue was driven by progress in de-risking. It said the figure included losses from the unwinding of a long-dated derivative transaction. Although it hit the balance sheet in the second quarter it will reduce risk- weighted assets in the third quarter.
Already risk-weighted assets in the non-core unit were down 35% in the second quarter, year-on-year, at €27 billion. By the end of the year, the bank expects to reduce those risk-weighted assets by a further €20 billion - although this would cost about €1 billion to achieve. At the end of that period, any remaining non-core assets would be folded into the core bank.
Overall the bank said risk-weighted assets were €402 billion, up €1 billion on the first quarter.
Deutsche Bank's core Tier One regulatory capital ratio was 10.8%, in line with expectations, and up from 10.7% at the end of March.  However, the bank said that it would be 11.2% pro forma, if the sale of the Chinese unit Hua Xia is included. The sale is expected to complete in the second half.
CFO Marcus Schenk said: "We clearly face a challenging environment as we sit here today."
But both he and Cryan stressed that while conditions were challenging there would be no pull-back from the difficult "Change the Bank" restructuring course on which the bank was set. 2016 is seen as the peak restructuring year and the cost savings would begin to be evident in 2017.
Deutsche Bank's share was down 5.2% in early afternoon trading in Frankfurt at €12.21 a share.