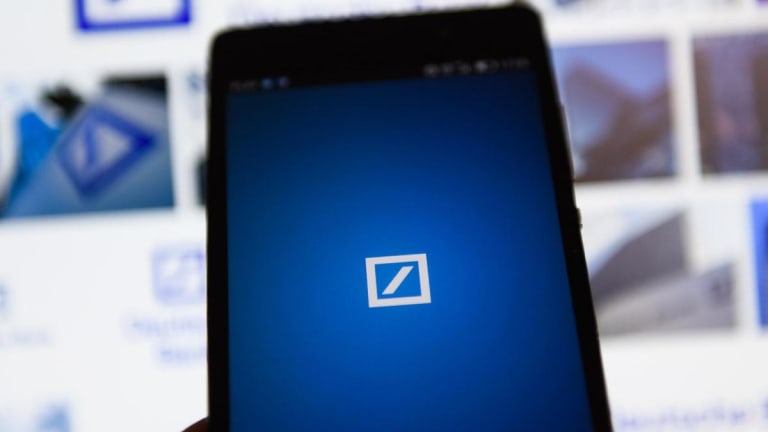 Deutsche Bank Hits Fresh Record Low; CEO Sewing Vows 'Tough Cutbacks' at AGM
Deutsche Bank shares hit a fresh record low Thursday as CEO Christian Sewing vowed to make "tough cutbacks" at the struggling lender during a speech to investors at the bank's annual meeting in Frankfurt.
Deutsche Bank (DB) - Get Deutsche Bank AG Report shares hit a fresh record low Thursday as CEO Christian Sewing vowed t make "tough cutbacks" at the struggling lender during a speech to investors at the bank's annual general meeting in Frankfurt. 
Germany's biggest bank has been beset by myriad headline risks ranging from a failed merger attempt with rival Commerzbank AG (CRZBY) , last year's warning from U.S. regulators regarding its risk management practices, a string of losses from its trading division and the planned exit of major shareholder HNA Group. It's also embroiled in a political tug-of-way between President Donald Trump and Democratic lawmakers in the House and Senate over his dealings with the bank and the possible connection to Russian interests leading up to the 2016 Presidential elections.
Sewing, however, centered his address to shareholders on the bank's return to profitability, and turnaround efforts for its loss-making equities and prime brokerage divisions. 
"We will analyse (the bank's challenges) very closely and will be just as disciplined and uncompromising with this as we are with costs," Sewing said. "This means that we will further tighten our capital allocation and implement our hurdle rates rigorously group-wide. That benefits our shareholders."
"We're prepared to make tough cutbacks," he added. "We will accelerate transformation by rigorously focusing our bank on profitable and growing businesses which are particularly relevant for our clients. That is my pledge, and you can be sure of that." 
Deutsche Bank shares were marked 2.9% lower on the session in Frankfurt and trading at an all-time low of €6.43 each by mid-day, a move that takes their one-year decline past 41.1%.
Last night, New York U.S. District Judge Edgardo Ramos ruled that Congress can legally compel both Deutsche Bank and Capital One Financial (COF) - Get Capital One Financial Corporation Report to hand over records detailing account activities linked to Trump, the now-defunct Trump Organization and three of his children. 
Earlier this week, the New York Times reported that bank staff tasked with anti-money laundering responsibilities had flagged suspicious transactions linked to Trump-controlled accounts in 2016 and 2017, an accusation the President described as "fake news".
The Times also reported that Deutsche Bank management prevented staff from reporting the concerns to U.S. authorities, with one employee claiming she was fired for red-flagging the moves in and out of accounts tied to the now-defunct Trump Foundation.
"At no time was an investigator prevented from escalating activity identified as potentially suspicious,"Deutsche Bank said. "Furthermore, the suggestion that anyone was reassigned or fired in an effort to quash concerns relating to any client is categorically false."
Last month, Deutsche Bank walked away from plans to merger with Commerzbank, with both lenders citing execution risks, capital requirements and costs related to the tie-up would outweigh any benefits in a multi-billion tie-up.
The tie-up talks, which lasted around six weeks, would have created Europe's third-largest bank with a market value of around €25 billion alongside a $2 trillion balance sheet, but were opposed by nearly every senior voice in both German and European banking.
European Central Bank regulators were also reportedly set to ask Deutsche Bank to raise fresh capital in order to mitigate any risks linked to the merger. Germany's powerful unions, as well, opposed the deal, arguing it put 30,000 jobs at risk.
"Entering into these talks was the right thing to do," Sewing told shareholders Thursday. "Right from the beginning, though, we were clear that we would only entertain this option if it made economic sense; if, by merging, we could generate higher and more sustainable returns for our shareholders and improve our offering to our clients."
!After a thorough analysis, it became clear that our own plan is the better option," he said.