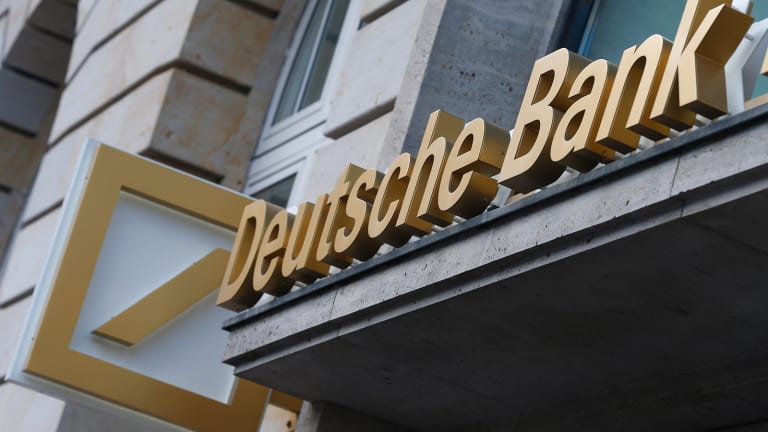 Deutsche Bank CEO Hints at Job Cuts, Suggests Computers Could Replace Employees
Deutsche Bank CEO John Cryan said most of his major banking peers have half the employees he does.
Computers could soon take over at Deutsche Bank AG (DB) - Get Deutsche Bank AG Report .
Chief Executive John Cryan hinted at the scale of his planned job cuts Wednesday, suggesting computers could take over for some of the bank's 97,000 employees.
"We're too manual, which can make you error-prone and it makes you inefficient," Cryan said in an interview with the Financial Times. "There's a lot of machine learning and mechanization that we can do."
Cryan said most of Deutsche Bank's biggest competitors employ half the number of workers that his bank does. Cryan had earlier promised 9,000 job cuts as part of a five-year restructuring plan announced in 2015. So far, 4,000 of the 9,000 layoffs have happened. That means more jobs cuts could soon be on the way.
Cryan said the ratio of bank staff who generate revenue on the front end compared to those who keep the bank afloat on the back end is "out of kilter." Cryan said in September that too many of DB's accountants spend their time "basically being an abacus," suggesting the accounting department was ready for automation.
"Every bank at the moment has a huge and burgeoning department of people who are doing the same stuff. It's not a source of competitive advantage and you're exposed to making your own mistakes," Cryan added.
Deutsche Bank stock traded higher 2.17% to $17.41 premarket Thursday. Shares have slipped 5.86% since the start of the year.
More of What's Trending on TheStreet: