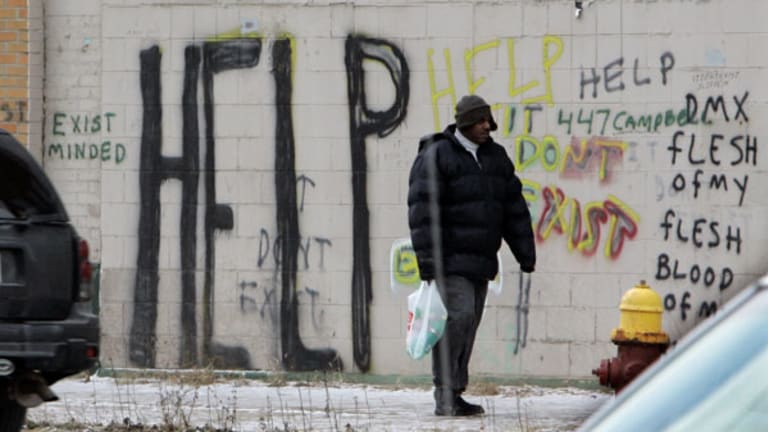 Detroit Municipal Bondholders Won't Win If Pensioners Lose
A decisive victory by creditors could backfire.
A decisive victory by creditors could backfire.
NEW YORK (
) -- Either slash the pensions of Detroit firefighters or end capitalism as we know it.
That would seem to be what is at stake in the bankruptcy of Detroit, but the city's creditors would be wise to hope for a third outcome.
"It's really premature to jump to this conclusion that it's going to be bondholders versus pensioners," says Justin Marlowe, Associate Professor at the University of Washington's Evans School of Public Affairs.
First, Marlowe says, "it's going to take some far more serious analysis than anyone has done to date on what Detroit really can and can't afford."
In other words, it's possible that when the courts finish going through Detroit's finances there will be enough money to pay pensioners and bondholders.
Nonetheless city employees, residents and creditors of Detroit will all "feel some level of pain," as a result of the city's bankruptcy, according to George Rusnak, national director of fixed income at Wells Fargo Private Bank.
The notion of sharing the pain sounds sensible enough on its face, but will the public be satisfied that the pain of a muni-bond investor is equal to that of a retired city worker? While municipalities in the past have cut back on benefits to retirees, those situations weren't as big and public as Detroit's. The potential for backlash against bondholders seems very real.
Perhaps that's one reason muni bonds have sold off broadly as an asset class. A selloff in Treasury bonds and a recent flood of municipal bond issuance have also played a role, according to John Dillon chief municipal bond strategist at Morgan Stanley Wealth Management.
All these factors together have pushed yields on triple-A rated municipal bonds to about 107.7% of U.S. Treasuries, compared to a historical average of about 83% and 95% to 100% over the past couple of years, according to Dillon
Thomson Reuters Municipal Market Data
.
As a result, Dillon argues "the top quality muni market is very attractive right now."
Undoubtedly muni bonds are cheap by historical standards when compared to Treasuries. Still, the muni market at this point is only pricing in the smallest chance the Detroit situation blows up into a massive political fight that pushes retirees ahead of bondholders in the line of those making claims on Detroit's finances.
Should Detroit's bankruptcy eventually come down to such a stark choice, putting retirees ahead of creditors would threaten the ability of municipalities to finance themselves in the future, argues University of Washington's Marlowe.
But even if they get paid, do muni bondholders want to be cast as heartless capitalists stripping retirees of their pensions?
Some probably wouldn't mind. Some probably believe public pensions are a relic of another era. Private sector workers, according to this line of thinking, have little sympathy for public pensioners, since so few private sector workers have pensions of their own.
Nonetheless, with much of the nation still smarting from the financial crisis, muni bond holders might do well to forget about ideology in this instance. Keeping the capital markets open to municipalities is crucial, but, putting moral questions aside, muni bondholders won't benefit if they are seen as robbing retirees of their pensions. If they have any hope of finding a middle ground, they above all would be wise to seek it.
Bankruptcies always involve negotiation. It isn't merely a matter of following the law to determine who gets paid what. Creditors often take as tough a stance as they can in bankruptcies, but in the case of Detroit, it is easy to see how a decisive victory could backfire.
--
Written by Dan Freed in New York
.
Disclosure: TheStreet's editorial policy prohibits staff editors, reporters and analysts from holding positions in any individual stocks.