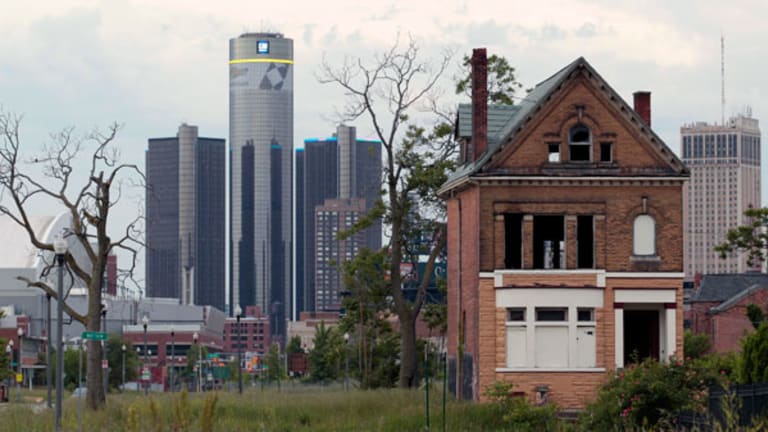 Detroit Airport Boasts New Service, Shanghai Flight Filled by Auto People
Sometimes in all the chatter about the decline of the city of Detroit and the decline of commercial aviation's Midwest hubs, the story of Detroit Metro Airport gets lost.
DETROIT (TheStreet) -- Sometimes in all the chatter about the decline of the city of Detroit and the decline of commercial aviation's Midwest hubs, the story of Detroit Metro Airport gets lost.
The announcement on Thursday that Spirit (SAVE) - Get Report will add Minneapolis service is a sign that the airport is flourishing. But it is just one of many good signs at Delta's (DAL) - Get Report second-largest hub. At Detroit Metro, Delta operates 450 peak daily operations to 132 destinations. 
Alaska (ALK) - Get Report announced Tuesday it will fly Seattle-Detroit. In December, Detroit Metro traffic grew 7.4%. Other recently announced new service includes Delta's second daily London Heathrow flight, starting this summer; the start of JetBlue (JBLU) - Get Report Boston-Detroit service in March; and a Frontier flight to Wilmington, Del., service in April.
Perhaps the most striking fact about Detroit Metro is that its No. 1 international destination, in terms of revenue, is Shanghai. Delta flies daily to Shanghai with a 269-seat Boeing 777LR. According to airport stats, the Shanghai market produces about $71 million in annual revenue, counting tickets sold at both ends.
Also, 34% of the Detroit traffic originates locally in Detroit, the highest percentage of locally originating traffic for any of Detroit's international flights, obviously a result of auto industry traffic. GM (GM) - Get Report is the largest automaker in China and Ford (F) - Get Report is growing rapidly in China, with February sales up 53%. Both have their China headquarters in Shanghai.
How frustrating it was for Detroit Airport executives to recently read a story about the shutdown of United's (UAL) - Get ReportCleveland hub which also mentioned, in passing, that the Detroit hub has suffered as well. Also, at times, people wonder whether the airport is affiliated with the bankrupt city. It isn't. 
"People seem to focus on Detroit (city's) financial situation," said Joe Cambron, director of air service development for Detroit Metro. "But the economy has really turned around here, and we've been getting new service."
Airport spokesman Mike Conway said he was a little surprised at the airport's rapid 7.4 % passenger growth in December given the contrast with the flat 0.5 % full-year growth. He thought it might simply reflect traffic pushed into December by the late Thanksgiving. But that does not account for the gain of 179,000 passengers, Conway said. Rather, Spirit, Delta and US Airways have all been growing in Detroit. "We need a couple more months to see if this is a trend," he added.
For full-year 2013, Detroit Metro traffic grew 0.5% to 32.4 million passengers.
Delta's 132 destinations from Detroit include four in Europe and five in Asia: Beijing, Shanghai, Nagoya, Tokyo and Seoul. With five daily departures, Detroit is the third-biggest U.S. hub for Asia after United's San Francisco hub and Delta's emerging Seattle hub.
Delta acquired the Detroit hub in its 2009 merger with Northwest and knew it had a jewel despite the period's terrible economy, particularly the auto economy. "Despite all of its woes, Detroit is still a very large city, in the top metropolitan areas, and an optimal hub," Glen Hauenstein, Delta executive vice president, said in a 2009 interview. "Not only is the airport beautiful, but to fly from the East Coast, it is the most direct route to Asia."
Despite the recent additions, it seems clear that Detroit's growth has not stopped. The city seems a natural candidate for service from one of the three rapidly expanding Middle East airlines. An advantage for Detroit is that EmiratesAirline, Etihad Airways and Qatar Airways all offer multiple India connections, and Detroit-India traffic totals about 120 passengers daily, the largest foreign market that does not have non-stop service.
"We're talking to them," Cambron said. "We've talked to all three of them, many times. One of our top priorities is getting more Middle East carriers." Detroit has about 400,000 residents of Middle East origin, the highest total for any U.S. city, with many from Lebanon, Iraq and Yemen. Royal Jordanian flies twice weekly to Amman.
On March 10, the same day that JetBlue begins Detroit-Boston flights, Emirates starts Boston-Dubai. "Emirates is putting a toe in the water" in Detroit, Cambron said.
For airline geeks only, here is another fascinating Detroit Metro fact: Turin, Italy, is the airport's fifth-largest European market, even though all of the service is one-stop. Annual origin and destination revenue is $16 million, up from $3.6 million 10 years ago. The reason, of course, is that Turin-based Fiat acquired a stake in Chrysler in 2009 and now owns the U.S. automaker.
Delta flies Detroit-Amsterdam four times a day, deriving annual O&D revenue of about $15 million. Last month, Delta partner KLM announced it will begin twice-daily Amsterdam-Turin service in May.
Written by Ted Reed in Charlotte, N.C.
To contact this writer, click here.