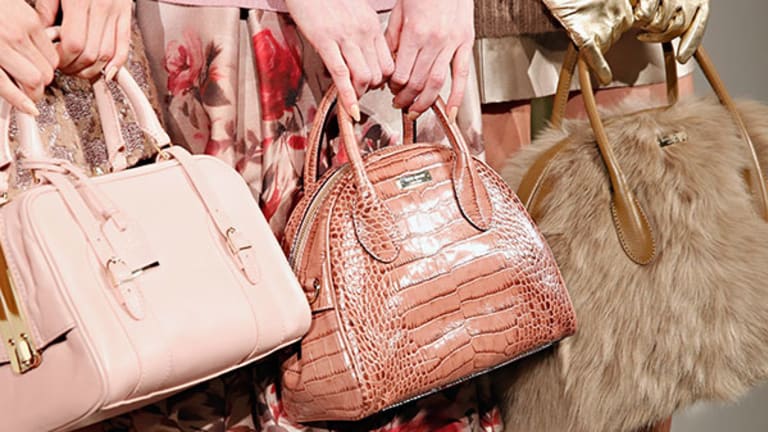 Despite Reported Efforts to Find a Suitor, Kate Spade Stock Is a Risky Investment
Shares of the luxury fashion retailer surged Wednesday to two-year highs on a report that the company was actively seeking a buyer.
Shares of fashion retailer Kate Spade (KATE) shot up to two-year highs on Wednesday following a report that the company is considering selling itself.
In fact, the spike caused trading in the stock to be briefly halted. Kate Spade stock rose 23% during Wednesday's session.
News that the company is considering a sale was first reported by Dow Jones, citing sources familiar with the matter.
High-end retailer Kate Spade has been suffering lately, thanks largely to the rise of Amazon-dominated e-commerce, increased competition from "off" brands, and heavy discount efforts. Kate Spade has damaged its trendy, upscale image by offering steep discounts and big promotions on its goods.
The company has already announced that it will close its "sister" concept stores Kate Spade Saturday and Jack Spade.
Amid plummeting profit margins, shareholders have been clamoring for the brand to go further and find a buyer. Activist hedge fund Caerus Investors has led the charge for a sale.
In November, the fund sent the company a letter strongly suggesting that it find a buyer who could "better manage the business." Although the company has declined to comment, Kate Spade is reportedly working with an investment bank and reaching out to potential purchasers.
It's possible that another luxury retailer specializing in handbags and accessories could buy the company. Amid declining sales in the luxury sector, it would make sense for companies to band together as a larger conglomerate. Coach and Michael Kors have been singled out as potential buyers.
The stocks of both companies rose slightly in Wednesday trading.
However, this doesn't mean investors should run out and grab shares of Kate Spade (or other luxury brands, for that matter).
Luxury retail has been struggling, and although merging and reforming will help companies survive a while longer, in the long run these stocks do not have bright futures. E-commerce has made driving to bricks-and-mortar locations an unpleasant-sounding proposition. 
Keep away from Kate Spade. It is too risky an investment.
---
A blistering financial storm is about to hit our shores. When it hits, weak companies and their investors will be washed away. You need to put yourself on solid ground. And that doesn't just mean changing your investment allocations or loading up on cash. I'll show you how to protect yourself and prosper when you click here.
This article is commentary by an independent contributor. At the time of publication, the author held no positions in the stocks mentioned.