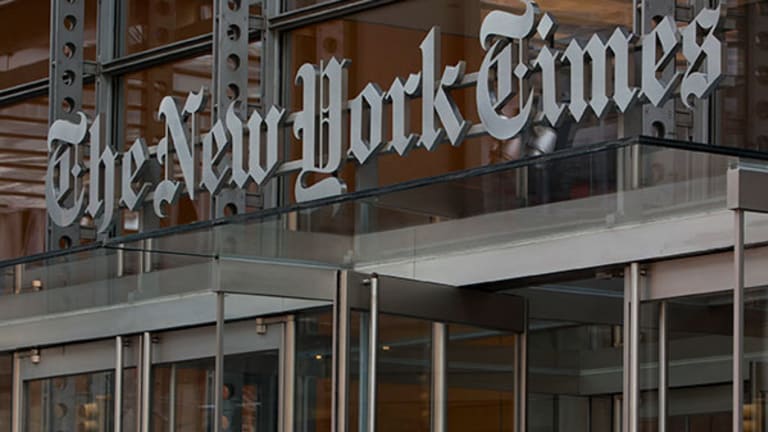 Despite Improvements, New York Times Isn't a Good Investing Story
The media company is watching its revenue fall, but it has been unable to generate enough online-advertising revenue to reverse this trend.
Editors' pick: Originally published Nov. 9.
Let's face it: Newspapers are going the way of the dinosaur.
The sad fact is that most people just aren't reading the news in print anymore.
Although many in this industry have managed to make the switch to online, they are suffering the loss of a massive revenue generator: print advertising.
And without these ads, media companies are seeing a dramatic downward slump. 
Nobody in the print media is safe. Gannett, News Corp. and TEGNA, all once top media brands, are dealing with a combination of falling print-ad revenue and digital sales that are too sluggish to bridge the gap.
Even New York Times , a $1.8 billion media behemoth and time-honored institution, is at a tipping point.
The company's shares gained about a percentage point in Tuesday trading.
The yearly topline for the company has been halved over the last decade. In its third quarter, revenues slipped 1% year over year. The fourth quarter is expected to show more revenue loss from declining print advertising sales.
But it hasn't been all dismal for the company. In fact, for New York Times bulls, there are some positives.
First of all, the company has renewed its focus on its cost structure. It has downsized staff and tried to operate within its means.
Secondly, the New York Times is still among that tiny portion of publishers whose circulation revenue is more than advertising sales.
Finally, the company is pulling out all the stops in its quest to succeed in the digital landscape: daily 360-degree videos underlining its commitment to virtual reality, selective buys like tech blog The Wirecutter, as well as marketing agencies Fake Love and Hello Society, moving away from banner ads on websites, and closing unsuccessful ventures (like the NYT Now app).
Digital is the obvious future for the company's business. However, getting there will be a challenge.
The New York Times is aiming to double its digital revenues by 2020 (to $800 million). This would probably happen at a time when print revenues progressively slow down to a trickle.
Digital ad sales, which today account for about 36% of the total advertising sales pie, must keep growing in size. Here, the New York Times has a long way to go. The company's annual earnings per share will likely decline over the next five years. 
A shrinking business, no matter how attractive from a valuation point of view, is never a smart long-term investment.
At 18 times one-year forward price to earnings, the stock isn't drastically cheap.
Peers like Gannett, TEGNA, and News Corp. are also struggling. Clearly, there's a big problem with the legacy newspaper business. And the New York Times sadly remains a stock to avoid.
---
A crisis is coming. But I've found seven companies that should continue to prosper no matter what's going on in the economy. Each one of these powerful, yet overlooked companies barely even blink when the market tumbles. And they'll skyrocket when it rebounds. You can pick up all seven for pennies on the dollar right now. Get their names here before it's too late.
The author is an independent contributor who at the time of publication owned none of the stocks mentioned.