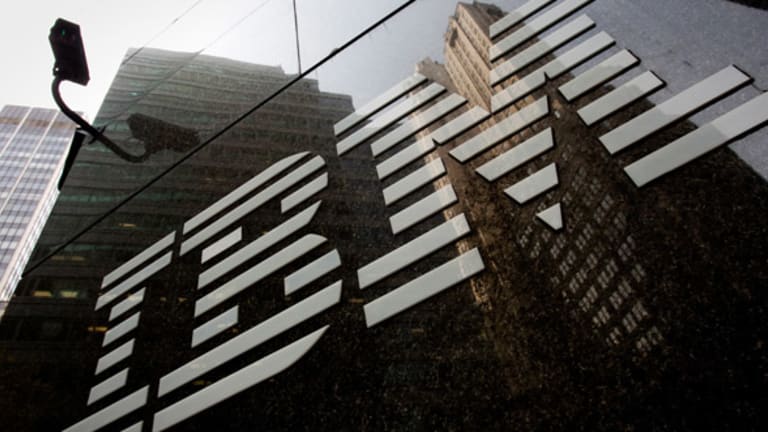 Despite IBM's Changes, Investors Should Treat the Stock With Caution
Despite beating Wall Street's third-quarter revenue and EPS estimates, Big Blue's revenue declined, and the company's gross margins are soft.
Despite beating Wall Street's third-quarter revenue and EPS estimates, Big Blue's revenue declined, and the company's gross margins are soft.
IBM (IBM) - Get Report  beat earnings and revenue estimates Monday afternoon when it reported third-quarter results, yet the stock has lost ground since then, as the chart below shows.
Why the negative reaction? 
Well, investors likely are concerned that this is the 18th straight quarter of declining revenue, that gross margins are soft and about what will happen to free cash flow in the future. Furthermore, there's concern that a lower tax rate was the real driving force behind the earnings per share boost. 
Under CEO Ginni Rometty, IBM has worked to transform itself into a tech-services and digital innovation enterprise, shifting toward more profitable areas such as cloud services, artificial intelligence (AI), analytics and security. The company has also trimmed its traditional hardware and services businesses.
For hardcore software entities like Oracle, such transformations have been difficult. But IBM over the years has driven change across its various business arms.
Revenue from these booming areas (called "strategic imperatives") increased 16% to $8 billion in the third quarter. Cloud revenue reflected a bigger uptick (44%).
However, there's a sense that this growth is also pushing costs.
Gross profit margins across Cognitive Solutions, Global Business Services, Technology Services & Cloud Platforms, Systems and Global Financing have dipped year over year in the third quarter. For the nine months ended Sept. 30, IBM's gross profit margin fell to 47.1% from 49.1%.
Even as IBM's top line fell in recent years, fat margins ensured that it managed to generate healthy free cash flows despite profits becoming smaller.
With gross profit margins showing slackening trends, probably because of the strategic imperatives reinvestment, the free cash flow scenario is now weaker.
Since fiscal 2008, free cash flow at IBM has ranged roughly between $12 billion to 17 billion a year. In the third quarter, free cash flow fell to $2.43 billion from $2.55 billion a year earlier. For the nine-month period, the decline is quite stark, at $6.85 billion vs. $7.00 billion.
If free cash flow continues to drop (as recent trends indicate), dividend growth could slow down. IBM's 3.7% dividend yield and 16 years of dividend growth in payouts is impressive. For many income investors, dividend growth is more important than the absolute yield.
For instance, IBM's diversified computer systems rival HP also sports a 3.5%-plus yield but has grown its dividend slightly faster than IBM from fiscal 2010 to fiscal 2015.
IBM's effective tax rate of 12.5% in the third quarter is amazing. It's also a reason why the third-quarter adjusted EPS of $3.29 beat consensus estimates by 6 cents. Even in its second quarter, IBM's effective tax rate was 17.8%.
If you look at IBM's third-quarter tax rate from the previous fiscal year, the effective tax rate was more than 18%.
At the earnings call, senior management at IBM spoke about winning a tax case earlier in the year; what's baffling is that with all the spade work behind it, why did IBM require a sharp fall in its tax rate to bump up EPS? This has troubled many investors and experts.
While IBM results may seem healthy at first glance, a closer examination exposes a number of issues.
Analysts at Wells Fargo Wells Fargo, RBC Capital Markets and Jefferies did not miss these inherent weaknesses. Stay cautious about the turnaround pitch until things change for the better.
---
How many times have you heard someone on CNBC say, "I actually think the economy is fine here in the United States. Buy stocks!"? If you're like many Americans, you've probably heard it more than once. But just because they're saying it, doesn't make it true. Because I can tell you with absolute certainty it's not. America is in deep trouble. And the crisis looming on the horizon has the potential to make 2008-2009 look like child's play. The window to protect yourself is rapidly closing. I'll show you how here.
This article is commentary by an independent contributor. At the time of publication, the author held no positions in the stocks mentioned.