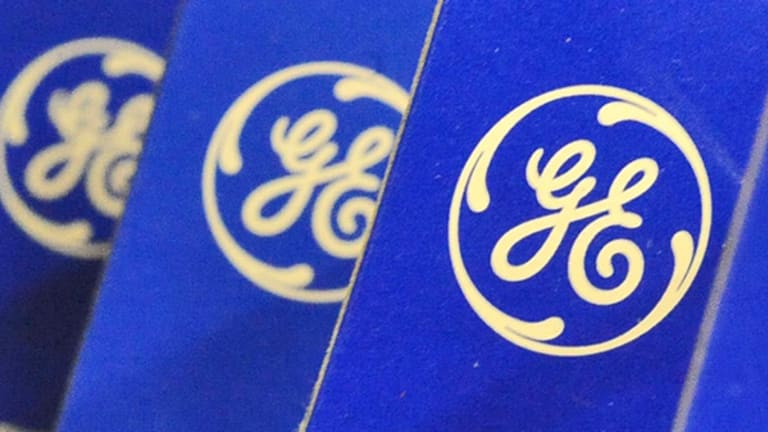 Despite Friday Swoon, General Electric Is Still an Exciting, Dynamic Stock
General Electric is far from stodgy. With a few forays into futuristic technology, this blue chip makes a great investment. Best of all? It's at a mega-discount today.
Off-guard comments from a Fed official last week led the world's stock markets to their worst performance since the U.K.'s Brexit referendum vote. With investors getting out of stocks and grabbing profits where they can, large-cap stocks like General Electric (GE) felt the brunt of the pain.
Shares of GE slipped by more than 2% on Friday and have continued to drop today, despite increased optimism in the U.S. stock market.
Is this time to get out of General Electric? After all, it's an old, boring stock, right? Right?
General Electric is a holding in Jim Cramer's Action Alerts PLUS Charitable Trust Portfolio. See how Cramer rates the stock here. Want to be alerted before Cramer buys or sells GE? Learn more now.
Not so fast. There are plenty of reasons why General Electric is still a promising profit-maker for investors. And the company is not as stodgy as you think. Instead, it's making concentrated efforts to get into some pretty futuristic technology.
It's been nearly a year since the Fed last raised interest rates, but even then it was to a still ultra-low level. Years of low rates have led to a happy stock market. But now it looks like the party's drawing to a close.
On Friday, Eric Rosengren, president of the Fed Bank of Boston, off-handedly remarked that there could be reason for the Fed to raise rates sooner, rather than later. Analysts are interpreting that to mean the Fed could hike rates as early as the September meeting, rather than waiting until December as had previously been expected.
Markets around the world went haywire as Fed-wary investors sold off. The Dow posted its largest one-day loss since June 24 and its worst weekly performance since January. Blue-chip stocks 3M and Boeing also took particularly large hits.
But General Electric presents an especially pleasing opportunity. Currently priced just over $30 per share, the classic American company has taken a hit of more than 3% since Thursday's close. And at the rate we're going today, it would not be a surprise to see the stock slump even lower, to as far as $27 per share.
That would be an excellent opportunity to grab GE at a major fire-sale discount.
General Electric is a major multinational conglomerate that operates in sectors as varied as washing machines and health care. It was probably in your father's -- and grandfather's -- stock portfolio.
But despite what many think, GE is far from a stodgy old business. In fact, the company is also currently in the news because it's venturing into the up-and-coming world of 3-D printing.
Last Tuesday, General Electric announced that it intends to purchase Arcam (AMAVF) and SLM Solutions, two European metal 3-D printer companies, for $1.4 billion. GE expects these acquisitions both to give the company a portfolio of 3-D printers and services to customer, as well as to provide cost savings on GE's existing manufacturing businesses.
The company expects plenty of growth from these purchases. By 2020, GE forecasts more than $1 billion in revenue from 3-D printing. Plus, it expects it can cut manufacturing costs by as much as $5 billion by 2026.
But 3-D printing isn't the only tech arena GE is looking to dominate. In fact, it's already a leader in the Internet of Things (IoT), having unveiled its IoT platform Predix back in 2014. As well, the company has also made heavy investments in a modern cloud platform, Cloud Foundry.
GE's forays into the cloud and IoT technology should put it in direct competition with high-tech superstars such as Cisco (CSCO) .
That's why today's price is an excellent bargain for this company that is still loaded with tremendous growth potential. When its high-tech investments start to really take off - and everyone forgets the panic about the Fed - you'll have wished you'd gotten in at today's low price.
Cisco Systems is a holding in Jim Cramer's Action Alerts PLUS Charitable Trust Portfolio. See how Cramer rates the stock here. Want to be alerted before Cramer buys or sells CSCO? Learn more now.
---
85% Accurate Trader gives his Personal Guarantee: "Give Me 9 Minutes a Week and I Guarantee You $67,548 a Year." As you can see, General Electric remains a great play for investors. But what if I told you I know a way you can see a $67,548 per year or more in profitable trades just by following this simple step-by-step process? The trader who is sharing this secret has been right more than 8 out of 10 times, turning $5,000 into more than $5 million for himself. Click here to see how easy it is to follow his lead and collect thousands of dollars in "Free Money" every month.
This article is commentary by an independent contributor. At the time of publication, the author held no positions in the stocks mentioned.