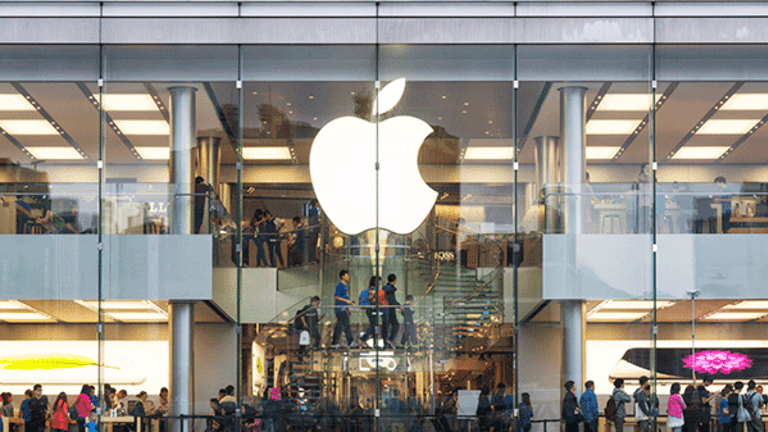 Despite Apple's Revenue Decline, the Stock Remains a Buy
Apple (AAPL) is still a great buy. Now's your chance to scoop up shares, as Wall Street unfairly punishes this great technology stock.
Apple (AAPL) - Get Apple Inc. Report  Tuesday reported results for its fourth fiscal quarter of 2016, and while the results in general looked OK, they reveal that Apple had its first annual decline in sales and profit in 15 years.
That may scare a lot of investors, considering that many of them may not have even been in the market the last time Apple reported such a decline, but this slip could add extra motivation to Tim Cook and team to step up their innovation.
Before we get to that, let's take a look at what Apple reported and then we can take a look at what opportunities the company may have down the road. (And as a bonus, I'll even throw in a list of stocks you should own before the next crash hits.)
Apple posted fiscal fourth-quarter revenue of $46.9 billion, which was down 9% year over year and slightly less than the $46.94 billion analysts had expected. It was the third consecutive quarter in which revenue declined year over year.
Earnings per share came in at $1.67, a penny higher than the Thomson Reuters consensus estimate.
Apple is a holding in Jim Cramer's Action Alerts PLUS Charitable Trust Portfolio. Want to be alerted before Cramer buys or sells AAPL? Learn more now.
Looking ahead to the first fiscal quarter of 2017, Apple CEO Tim Cook and crew expect to post revenue of $76 billion to $78 billion. That range is greater than the $75.9 billion Apple reported in the first fiscal quarter of 2016 and is also greater than the $75 billion Wall Street had been estimating.
Investors clearly weren't happy with the report, and shares slumped on Wednesday. At around 1:15 p.m. EDT, they were down 2.6%.
Even though Apple trades at relatively low price-to-earnings ratios of only 13 (based on trailing earnings) and 11 (based on forward estimates), investors still expect the world's largest company to forecast robust growth rates. The law of large numbers is playing a role here, as is the reality that Apple's top-selling product, the iPhone, is in a very competitive and saturated market space.
The issues Samsung is having with its Note 7 device could help Apple if Samsung customers decide to make the switch to Apple phones, although some customers may not want to change operating systems. And the new Pixel phone from Alphabet'sGoogle also could win over Samsung customers angry about the Note 7 debacle.
Alphabet is a holding in Jim Cramer's Action Alerts PLUS Charitable Trust Portfolio. Want to be alerted before Cramer buys or sells GOOGL? Learn more now.
So how can Apple get back on Wall Street's good side? Well, at the end of the most recent quarter the company reported it had (hold your breath now) $237.6 billion in cash. That cash pile gives Cook a number of options on how to continue to grow the company, including making acquisitions. This cash hoard is one reason why Apple remains one of the best long-term growth opportunities you can find anywhere.
Acquisitions don't always work, however. Too many times have we seen a company such as Microsoft make a huge acquisition, only to write it off a few years later after it didn't work. Apple investors would rather see nothing happen to the cash than that, but Cook needs to start doing something with that money, because at some point it becomes irresponsible if it is just left sitting in the bank.
Apple investors are sending shares lower Wednesday because Apple's robust-growth days may be behind it and it may be turning into a more mature company. But even so, it will remain very profitable. Plus, it has enough money to buy many other companies. In the end, investors should feel good about owning the stock or even buying more on Wednesday's weakness.
---
Maybe you're still not convinced and Apple isn't the right stock for you, or you already own shares and want to buy something else today. Well no problem! Here is a list of seven companies that you will profit from, regardless of what the markets do. Each one of these powerful, yet overlooked companies barely notices when the market tumbles. And they'll skyrocket when it rebounds. You can pick up all seven for pennies on the dollar right now. Get their names here before it's too late.
This article is commentary by an independent contributor. At the time of publication, the author held shares of AAPL, GOOGL and MSFT.